Updated on March 24, 1:57 p.m. (GMT+8): Improved relevancy.
Updated on November 21, 2022 5:02 p.m. (GMT+8): Added the Genshin Impact Discord server's member count.
The Genshin Impact community has grown big since it came out of its beta phase. HoYoverse's open-world role-playing game now has millions of players on PC, mobile, and console.
Because of this, the game's official Discord community has already reached its maximum member limit. You could even say the process of getting in is one huge gacha, a monetary system that Genshin Impact uses for its characters and weapons.
Despite being maxed out, there's still hope that you can join the game's official Discord.
---
---
A guide on how to join the Genshin Impact Discord server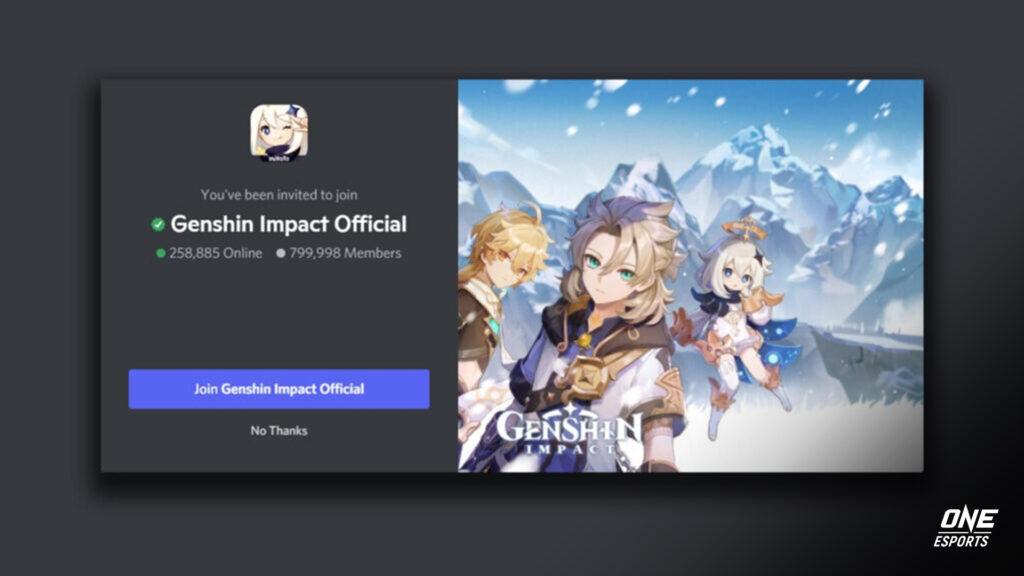 Here is a step-by-step guide on how to join the official Discord of Genshin Impact.
Go to the server by opening the Genshin Impact Discord link.
Click on the "Join Genshin Impact Official" button.
If the "Invite Expired" message shows up, simply retry after a few minutes.
---
---
You can also try joining the Genshin Impact Tavern which is the second Discord server of the game.
Their first Discord server has almost always been at max capacity, making Genshin Impact the largest Discord server worldwide. 1,000,000 is the maximum member limit for servers.
The game's Discord platform is an important platform for players to connect and exchange thoughts about the game.
HoYoverse also holds giveaways and mini-events on Discord, and has given away free Primogems, Blessing of the Welkin Moon, and even an iPhone 12 Pro Max.
Follow ONE Esports on Facebook and Twitter for more Genshin news, guides, and stories.
READ MORE: HoYoFEST Philippines 2021 made me appreciate playing Genshin Impact more