Updated on September 25, 7:25 a.m. (GMT+8): Improved relevancy. 
Genshin Impact cosplay has surged in popularity, captivating both gaming and anime enthusiasts, becoming a vibrant cornerstone of the fandom.
Created by HoYoverse, the game boasts an intricately designed world and a diverse cast of characters that have struck a chord with players worldwide. As a result, the cosplay community surrounding the game has flourished, with dedicated fans who thoroughly enjoy recreating the looks of their beloved characters.
For those seeking to portray their favorite Genshin Impact characters, Amazon offers a plethora of readily available costume sets, complete with wigs and accessories.
---
---
The best Genshin Impact cosplay character costumes, outfit, accessories, and more
---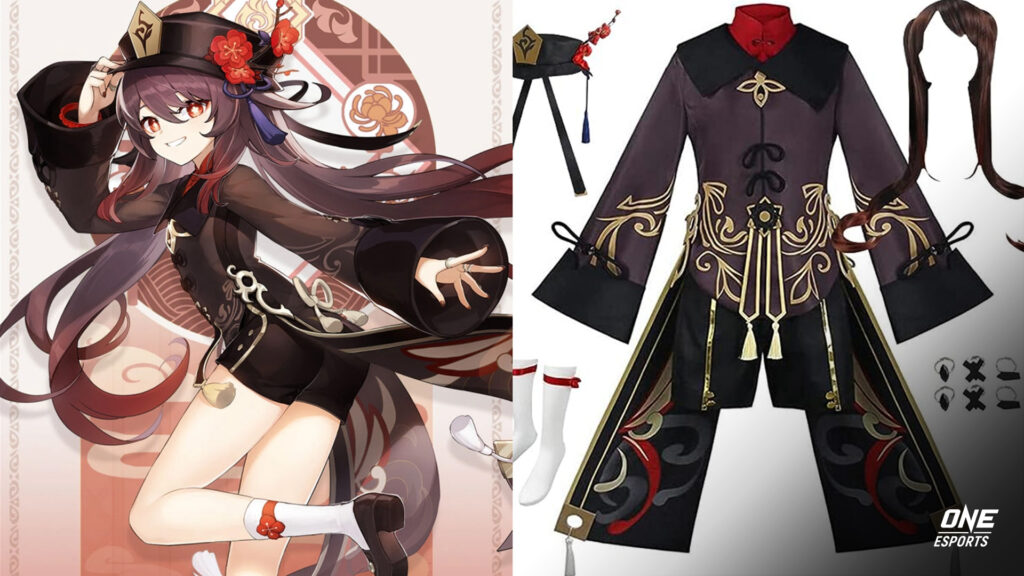 Hu Tao, one of the easiest characters to cosplay in Genshin Impact, exudes charm with her straightforward outfit comprising a pair of shorts and a long-sleeved blouse.
As the 77th Director of the Wangsheng Funeral Parlor in Liyue, a prominent region within the game, Hu Tao holds the mantle of a 5-star Pyro character, wielding a polearm with unparalleled expertise.
Her character is a delightful blend of cheerfulness and playful mischief, yet she also harbors a mysterious aura. As the Director of the Wangsheng Funeral Parlor, she shoulders responsibilities related to funeral rites and communing with spirits.
---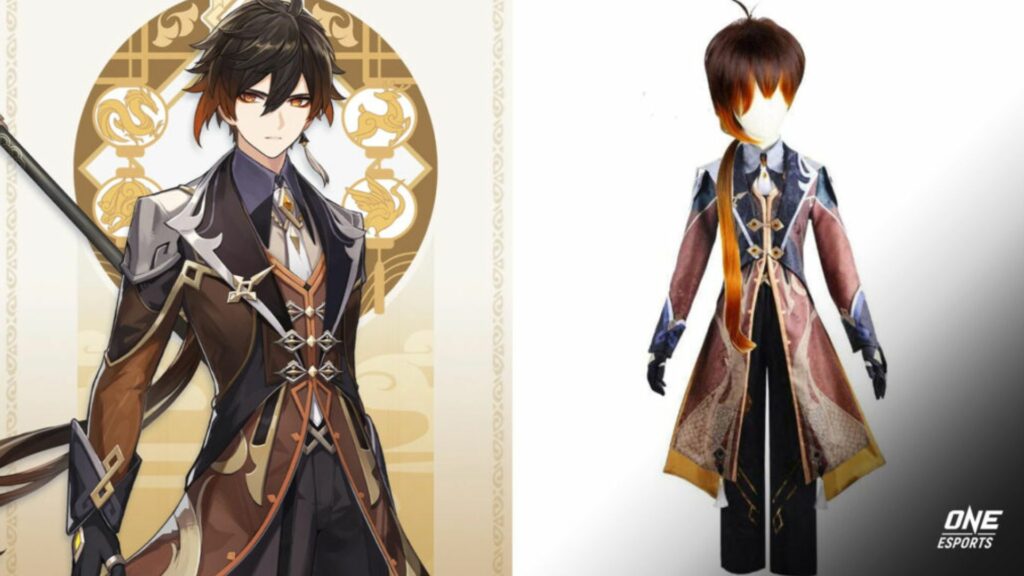 Who doesn't want to look as dapper as Zhongli? With an ensemble that exudes elegance, cosplaying the Geo Archon is guaranteed to leave every Genshin Impact fan stunned.
He stands tall with an imposing figure, draped in a flowing, black and brown robe adorned with gold and bronze embroidery, overall boasting a sense of timelessness.
Zhongli is a 5-star Geo character and a consultant for the Wangsheng Funeral Parlor in the city of Liyue. He is also known by the title "Vago Mundo." As a Geo user, Zhongli has the ability to manipulate earth and stone to deal damage and protect allies.
---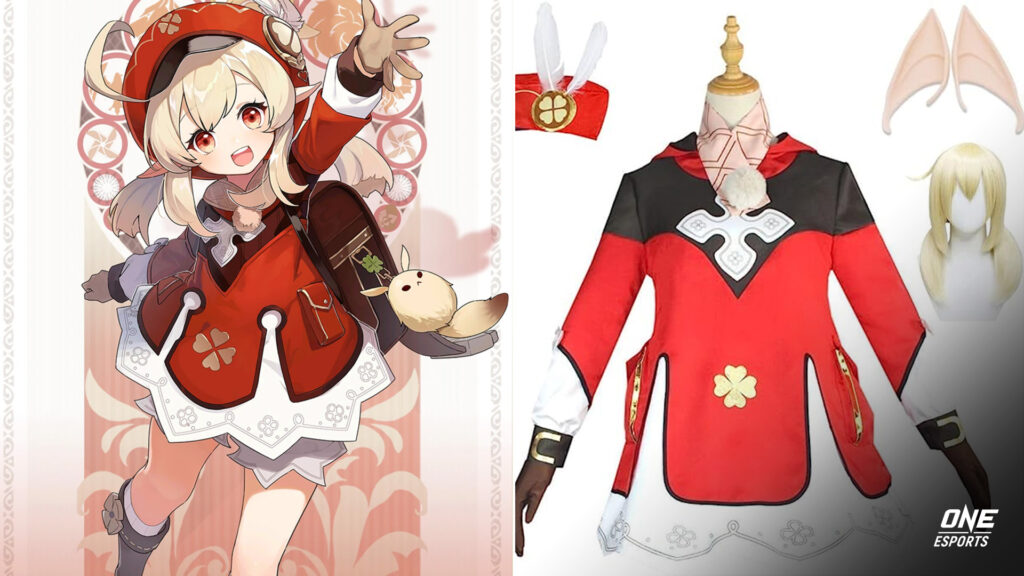 If you have a kid, a younger niece, sibling, or cousin, they will absolutely adore this charming Genshin Impact cosplay outfit of Klee.
Klee, the 5-star Pyro character, is a bundle of youthful energy who loves crafting and playing with her bombs. A powerful pyrotechnician, she finds joy in her explosive experiments, though sometimes her zest for adventure inadvertently leads to delightful chaos.
With her endearing personality and delightful antics, cosplaying as Klee offers young fans a chance to embody this mischievous pyromaniac. The costume perfectly captures her whimsical spirit, providing an experience that will surely spark their imaginations and ignite their love for Genshin Impact.
---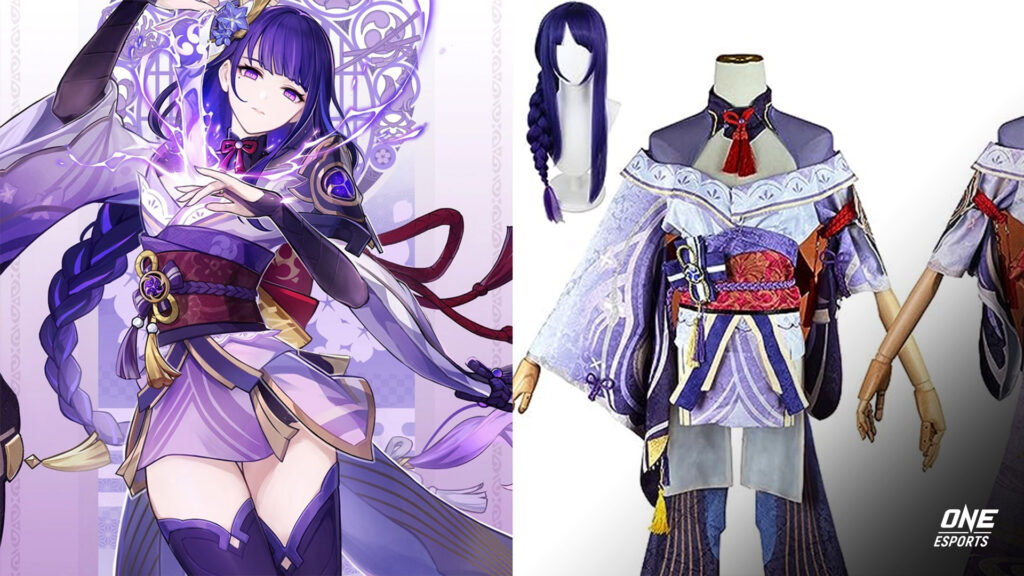 Undeniably, the Raiden Shogun stands out with one of the most impressive outfits and aesthetics in the game.
Dressed in an elaborate attire, the Raiden Shogun wears a resplendent kimono-style robe that blends shades of purple and white. The robe is intricately decorated with patterns and symbols befitting her position as the ruler of the Inazuma region. Her hair is a mesmerizing combination of deep purple and pale lavender, cascading down her back.
She is the ruler of the Inazuma region, and holds the title of the Almighty Narukami Ogosho, or Electro Archon. As an Electro user, Raiden Shogun wields power over lightning and electric energy in battle.
It's worth noting that, unlike in the game, this cosplay outfit does not include a magical sword that can be drawn from one's chest.
---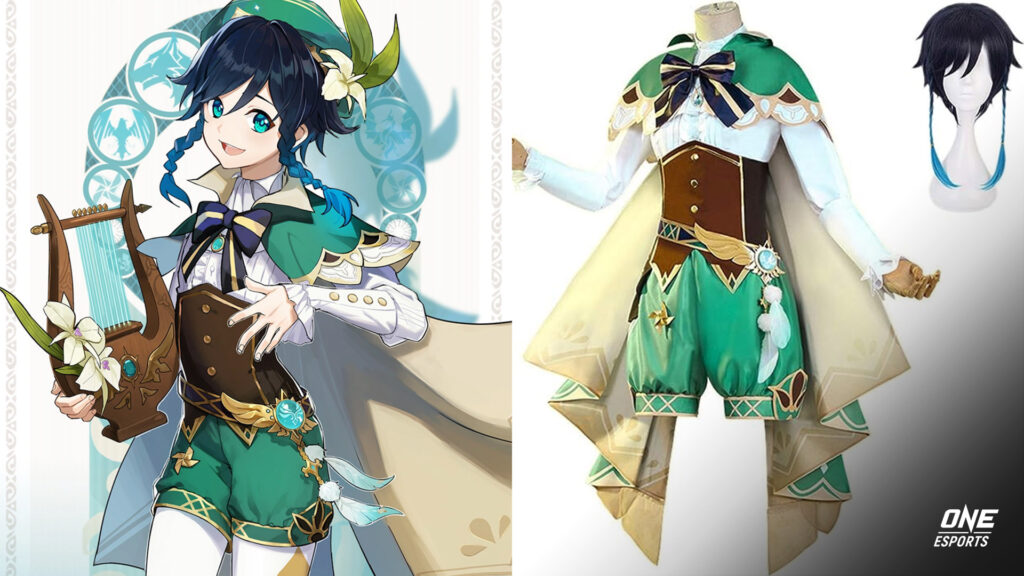 From one Archon to another, fans would surely fancy Venti's detailed wardrobe.
Known as the Archon of Mondstadt, Venti commands the power of wind, wielding its elemental might with finesse in battle.
Venti often takes on the appearance of a young bard with a carefree and mischievous personality. He loves to explore the world, observe humanity, and play his lyre to spread joy and stories wherever he goes. Despite his playful demeanor, Venti is a wise and ancient being with a deep understanding of the world's history and secrets.
---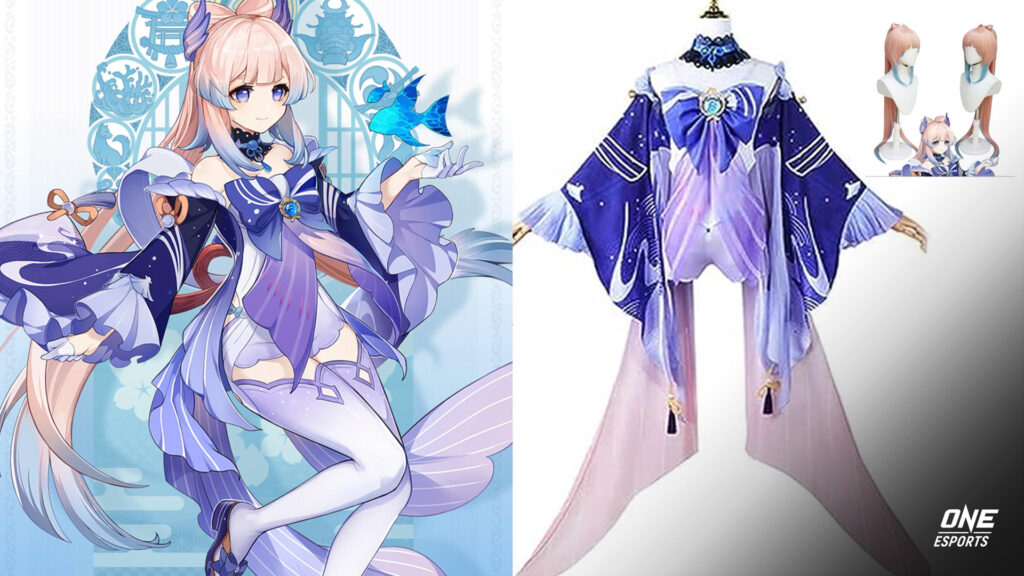 Kokomi's outfit is sure to turn heads, featuring deep purple hues that are perfectly complemented by a baby pink wig.
Kokomi is a 5-star Hydro character and the Divine Priestess of Watatsumi Island. As the Divine Priestess, she holds a significant role in the island's religious and political affairs.
---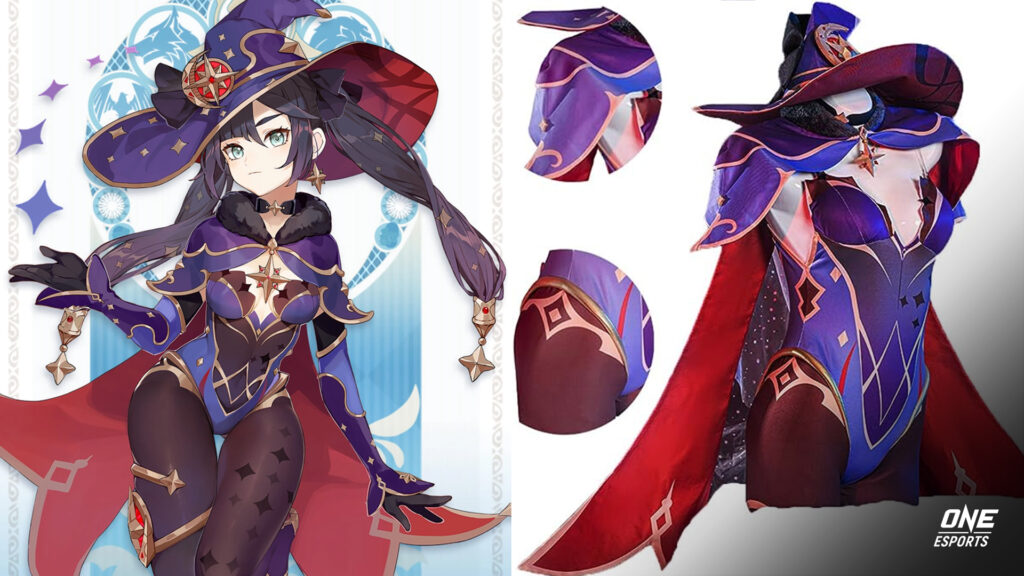 If you're seeking an alluring Genshin Impact outfit, Mona's wardrobe undoubtedly tops the list with its sheer stockings and body suit.
She wears a form-fitting body suit in deep shades of purple, accentuating her figure. The body suit is adorned with intricate patterns and golden accents, adding a touch of celestial splendor to her appearance. The suit is sleeveless, while a high collar adds a hint of regal sophistication.
Mona Megistus, commonly referred to as just Mona, is a 5-star Hydro user and an astrologist in the game. She hails from Mondstadt and works as an astrologer.
Mona is known for her mysterious and elusive personality. She often uses astrology and divination to predict the future and offer insights into various situations. Despite her sometimes serious and enigmatic demeanor, she can be quite playful and has a fondness for food with robust flavors.
---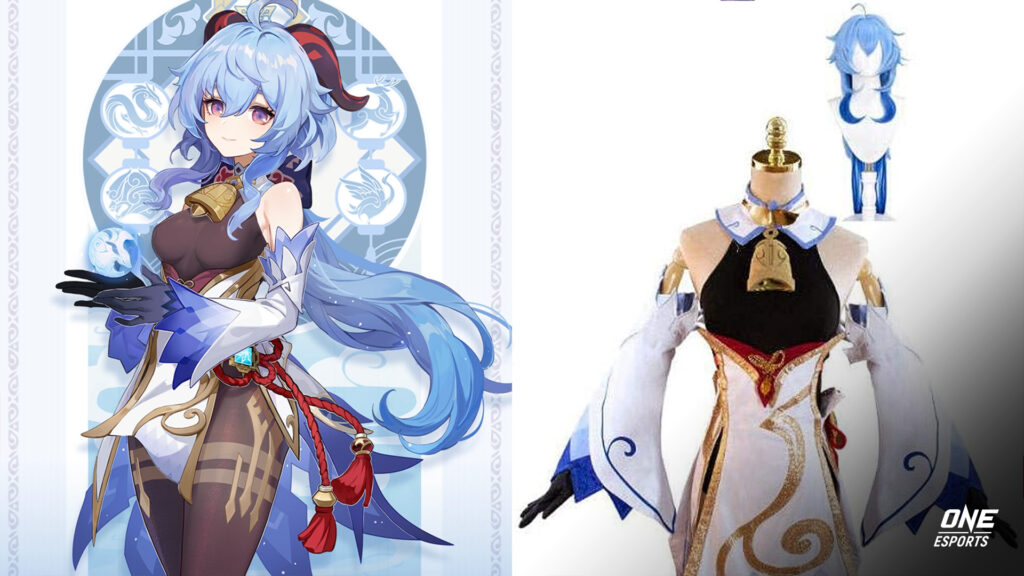 Ganyu remains an immensely popular character in Genshin Impact, particularly for her impressive combat abilities. It's no wonder that countless fans are eager to cosplay her.
Ganyu is a 5-star Cryo user and is associated with the region of Liyue. She is half-human and half-adepti, which are powerful and ancient beings that watch over Liyue.
Ganyu serves as the secretary for the Yuehai Pavilion, and she takes her role very seriously. She has a calm and composed personality, befitting her position. As a Cryo user, Ganyu can manipulate ice and cold to deal damage to her enemies and provide support to her allies.
---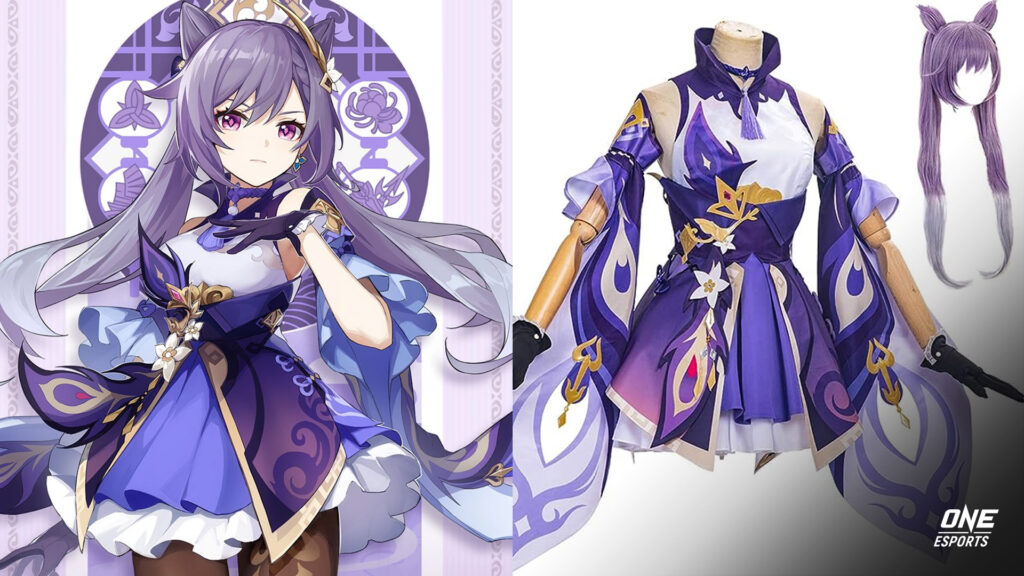 Keqing's cute outfit has earned it a well-deserved fan-favorite status among cosplayers.
Keqing is a 5-star Electro user and is associated with the region of Liyue. She holds the title of the Yuheng (Transcendent) of the Liyue Qixing, which is a council of adepti and powerful individuals governing Liyue.
Keqing is a highly skilled swordswoman. Known for her strong sense of justice and pragmatism, she is always seeking to do what is best for Liyue and its people. As an Electro user, Keqing can control electricity to deal damage to her enemies and perform quick and agile attacks in battle.
Just a heads up, some of the links on ONE Esports are affiliate links. This means if you click on them and make a purchase, we may earn a small commission at no additional cost to you. It's a way for us to keep the site running and provide you with valuable content. Thanks for your support!
READ MORE: The best gaming mouse in 2023 — Budget, wireless, FPS, and more