A Dota 2 Major is finally happening.
After the cancellation of the Winter Major and Chinese teams being unable to leave their country, the LAN event is finally proceeding—though without a full field of teams.
Still, 14 of the world's best teams have gathered to play for prize money, Dota Pro Circuit points, all to the great entertainment of us viewers.
In this power rankings, we've ranked these teams accordingly to how much of a chance they have at winning the Major, and took into consideration their regional results, or historical roster performance on LAN. Here are the Stockholm Major power rankings.
Stockholm Major power rankings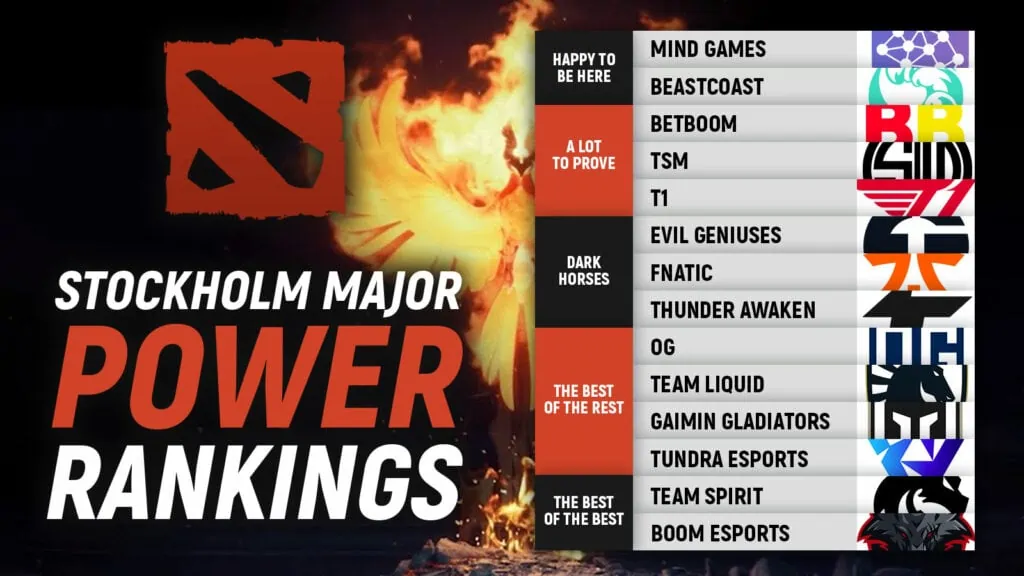 Happy to be here
A lot to prove
Dark horses
Evil Geniuses
Fnatic
Thunder Awaken
The best of the rest
OG
Team Liquid
Gaimin Gladiators
Tundra Esports
The best of the best
Happy to be here: Mind Games, Beastcoast
Mind Games
Mind Games has the dubious honor of being the only Major attendee to have lost more than they won through the qualifiers. The team lost three series and won just two, after opponents Outsiders were disqualified after one of their players drew a pro-Russian war symbol on the minimap.
While it's an unfortunate incident, Mind Games did earn their slot to the Major—and will need to outperform all expectations to qualify past the group stages.
Beastcoast
While it feels like beastcoast have consistently, well, coasted through their regional competitions, there's still hope that the old South American aggression returns.
Offlaner Adrián "Wisper" Céspedes Dobles, who carries much of the playmaking load for the team, will be a key player for them. The team still feels like they can take any team in a series and beat them—but consistency through a lengthy tournament might be difficult.
A lot to prove: BetBoom, TSM, T1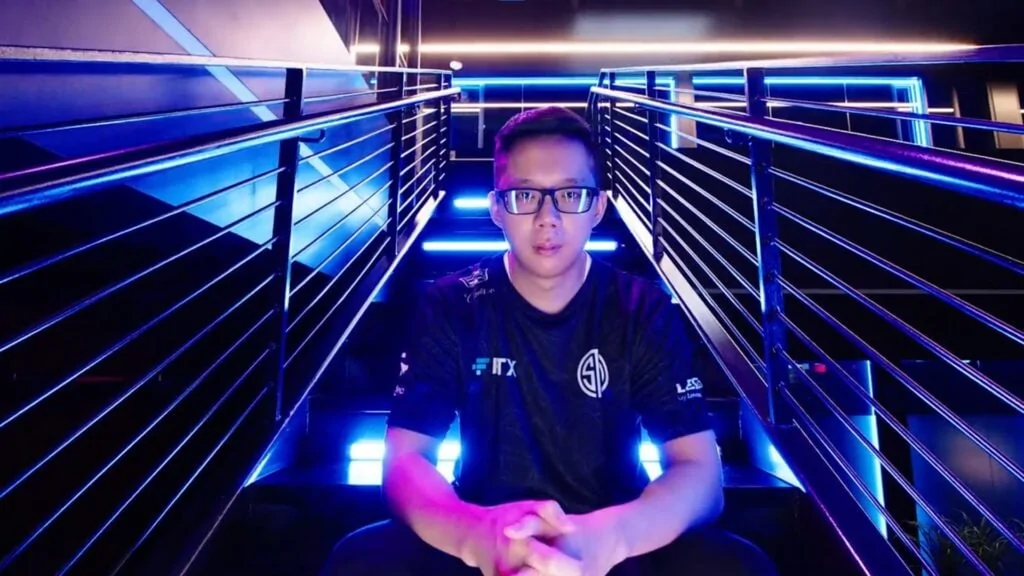 BetBoom Team
The Akbar "SoNNeikO" Butaev-led team was the biggest surprise of the Eastern European playoffs, taking down defending The International champions Team Spirit in a thrilling series to kick off their campaign. They went on to become the first EEU team to confirm their berth, through some unconventional hero picks.
But as recently as March, BetBoom lost to Team Entity in a clean sweep, a team who could only manage a 2-5 record in Western Europe. There are many doubts hanging over BetBoom—but surprise could be a strong factor in success.
BetBoom's strategies revolve around hard carry Nikita "Daxak" Kuzmin's unorthodox hero pool. Daxak played five straight games of the virtually unseen Visage in the Eastern European qualifiers, earning four wins to send BetBoom to the Major.
TSM
The former Team Undying has established themselves as a force to be reckoned with within North America, but remains somewhat of a mystery internationally.
Having kept with the same roster since 2021, TSM is a good mix of experience and youth. Captain David "MoonMeander" Tan Boon Yang's loud confidence is infectious, and the team feels like an emotionally-charged squad that goes through high and lows instead of staying on an even keel.
T1
T1, after recruiting Fillipino star carry Kim "Gabbi" Villafuerte Santos to the roster, has struggled to maintain their winning ways. The team barely scraped into the Major with a 4-3 record, and a tough tiebreaker against recently promoted Polaris Esports.
But the current roster, which has retained most of the players that made it the first SEA team to place in the top half of The International in five years, deserves some leeway. There's no better time for the team to announce that they can still hang with the best.
---
---
Dark Horses: Evil Geniuses, Fnatic, Thunder Awaken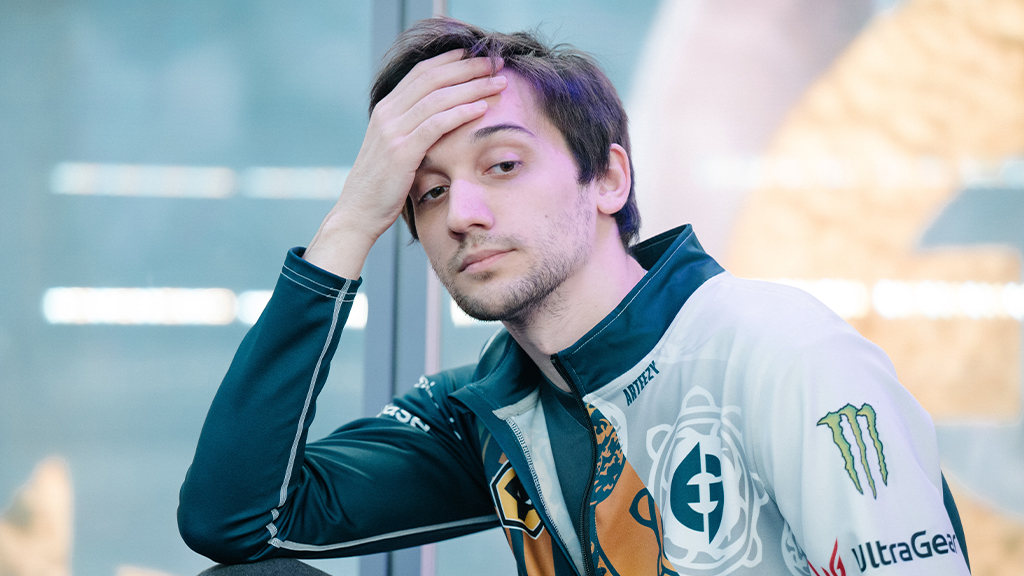 While most of these teams have dominated their regions at several points, it remains to be seen if they can hit the next gear on the international stage.
Evil Geniuses
Death, taxes, and Evil Geniuses being the top team in North America—though there was a minor blip in Tour 1, EG has since returned to form.
Many were excited and equally confused about the addition of Jesse "JerAx" Vainikka to the team, but the gamble has seemingly paid off. They are the biggest fish in a small pond, but EG has traditionally outstripped their NA rivals on the big stage. There are still growing pains, but the team doesn't seem to mind—when their eyes are firmly set on the Aegis.
Fnatic
Fnatic have continued to improve over the season, even claiming victory against BOOM Esports in a tiebreaker to cement their place as the best team in Southeast Asia for Tour 2.
Regardless, the organization's recent history on the international stage has been less than stellar. The traditional SEA powerhouse has been overtaken by their rivals in recent years, but is looking to return to prominence with a strong showing at the Stockholm Major.
Thunder Awaken
Thunder Awaken crushed through South America. While a historically weak region, SA has improved leaps and bounds over the years, ever since Valve started placing more emphasis on the region with dedicated tournaments and prize pools.
Still, it's impressive for the team to go 7-0 not once, but twice, especially against fan favorites Beastcoast. While it's easy to overhype such local dominance, expectations should be tempered at LAN.
No matter where Thunder Awaken stands at the end, whether it's an explosive podium finish or down in the dumps, this is an invaluable experience for them.
The best of the rest: Team Liquid, OG, Gaimin Gladiators, Tundra Esports
Yes, the entire Western Europe region is here. While nobody would bat an eye if they won, few would likely put any of these teams as outright favorites.
But the Western Europe region has consistently proved that they are one of the best and most competitive regions, showing up especially at LANs. Plus, Tour 2's close rankings only further muddled up their strength.
OG
Of these four teams, OG has the biggest potential to fluctuate. The team cleared through Division I with ease, dropping just twos games—both against Team Secret, a team not attending the Major.
That means they were undefeated against every other Major qualifier from Western Europe, and might replicate that performance with their budding superstars in carry Artem "Yuragi" Golubiev and midlaner Bozhidar "bzm" Bogdanov. But OG is a young team attending their first-ever Major, and it also won't be surprising to see them falter early on.
Team Liquid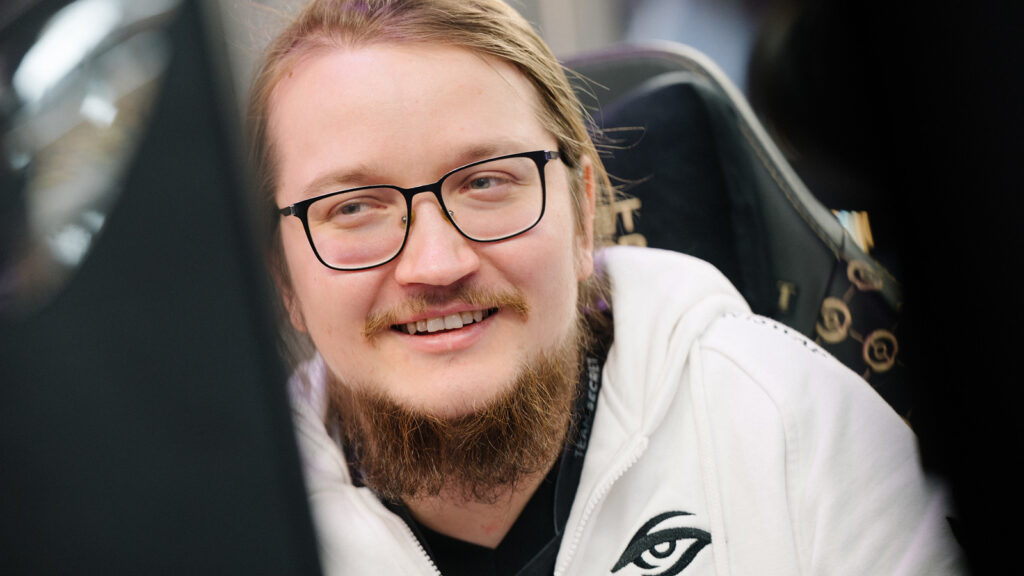 Team Liquid is perhaps the opposite of OG. The organization's new acquisitions, Lasse "MATUMBAMAN" Urpalainen and Ludwig "zai" Wåhlberg are stone-cold veterans, and the other three members have played together for almost five years.
Both Michael "miCKe" Vu and Samuel "Boxi" Svahn have excelled in their new roles. And yet, as games drag on, the team seem to lose momentum—and their vaunted experience sometimes evaporates, reminiscent of the old Alliance and Liquid rosters.
Gaimin Gladiators
Gaimin Gladiators are the new kids on the block, having instantly found success in the competitive Western Europe region. Gladiators are pearheaded by Marcus "Ace" Hoelgaard's transition to offlane, where he has become one of the most dynamic and versatile position threes, even dipping towards his old carry hero pool.
But the rest of the team are no slouches, with some of the most individually mechanically skilled players in their roles. The Gladiators are an incredibly versatile team that switches roles and heroes at will, making them difficult to predict in the draft.
Set to play their first Major, the Gladiators stock could rise to the moon after the tournament.
Tundra Esports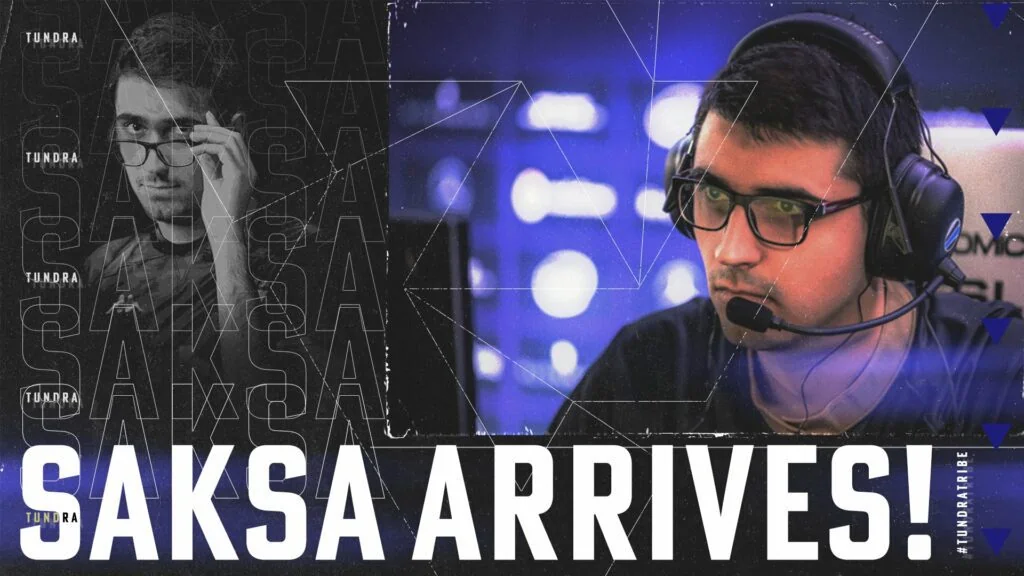 Tundra Esports also benefitted from a mid-season roster change. At first, Tundra removing their former captain for Martin "Saksa" Sazdov was under scrutiny, but the former OG player quickly proved his worth as one of Europe's best playmaking supports, especially on Hoodwink.
Tundra has turned expectations from a rudderless ship to a smooth-sailing, innovative machine. The players seem constantly on the forefront of the meta, and are willing to experiment with strange cores and supports in the vein of former The International champions OG.
Despite making it to several grand finals, the team has yet to get over the hump to first place, which puts them just a tier below the top dogs.
The best of the best: BOOM Esports, Team Spirit
Team Spirit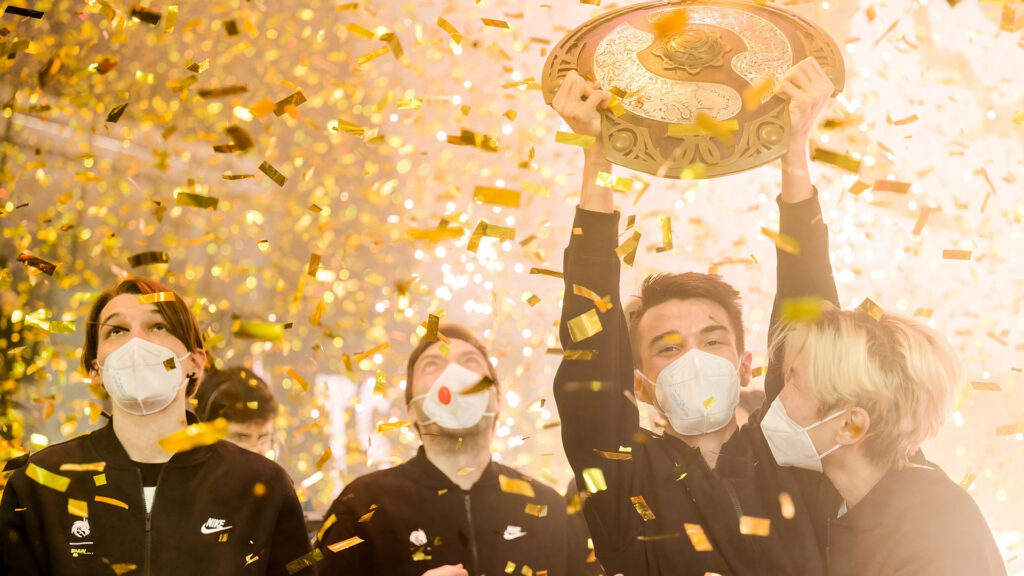 Team Spirit needs no introduction. The defending International champions headed into the new season with zero roster changes, immediately showing their mettle with an undefeated showing in Tour 1.
The second Tour didn't go quite as smoothly, with a loss to BetBoom a blemish on their perfect record. But equally impressive was their resilience in the lower bracket, stomping three teams in six straight games to claim a Major slot.
It's difficult to bet against the champions that still seem so young and hungry for more—and the first Major of the season in a difficult time is fuel for the unstoppable fire that is Spirit.
BOOM Esports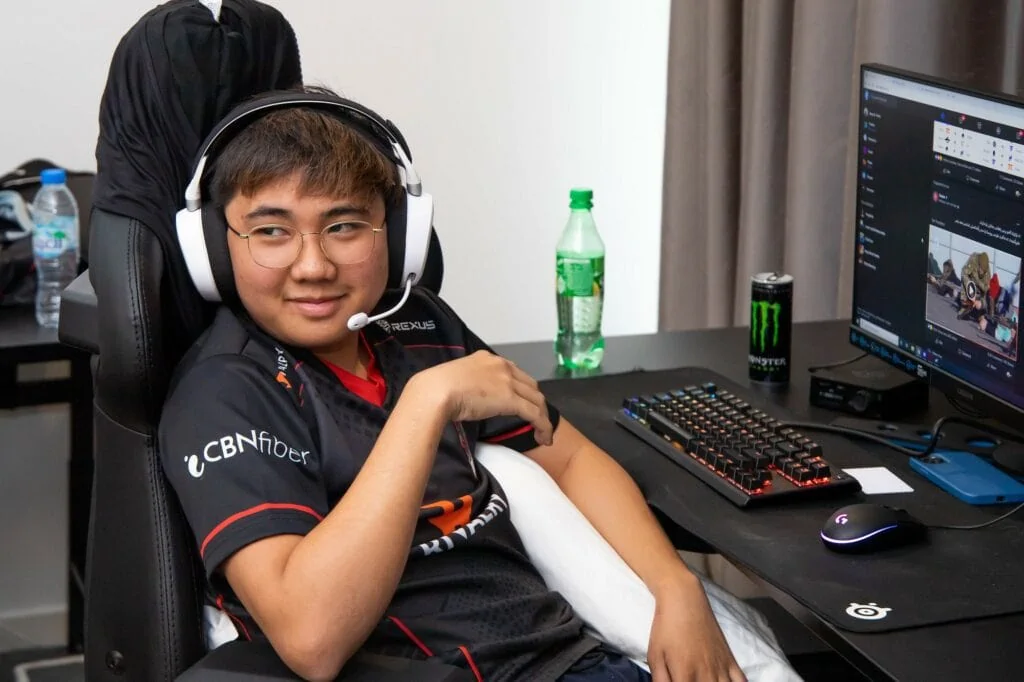 BOOM 's success comes from a hyperactive, aggressive playstyle led by rising midlane superstar Erin Jasper "Yopaj" Ferrer.
The team's positions two to four are filled with playmakers that are always willing to take the fight, while hard carry Souliya "JaCkky" Khoomphetsavong often benefits from the space to farm up a storm.
It's a winning strategy that has turned BOOM into relentless, hungry beasts, with their win at the Gamers Galaxy Dubai Invitational announcing the young squad to the world as the pride of Southeast Asia—and maybe even more.
READ MORE: Win a year of Dota Plus with the ONE Esports Fantasy ESL ONE Stockholm Major Challenge