Outsiders were disqualified from the Dota Pro Circuit Eastern Europe playoffs after one of its players, Ivan "Pure" Moskalenko, drew a Z on the minimap.
Outsiders is the Virtus Pro squad competing under a different name for the DPC Eastern Europe playoffs, likely due to the organization's ties to ESforce Holding, a Russian holding company.
In game two against Mind Games—an Ukrainian organization—yesterday, the 18-year-old drew a Z on the minimap, a symbol that's heavily associated with support for Russia's invasion of Ukraine.
---
---
The move drew immediate backlash from the community, leading to Beyond the Summit to disqualify the Outsiders team from the tournament.
---
---
Virtus Pro terminates Pure's contract despite apology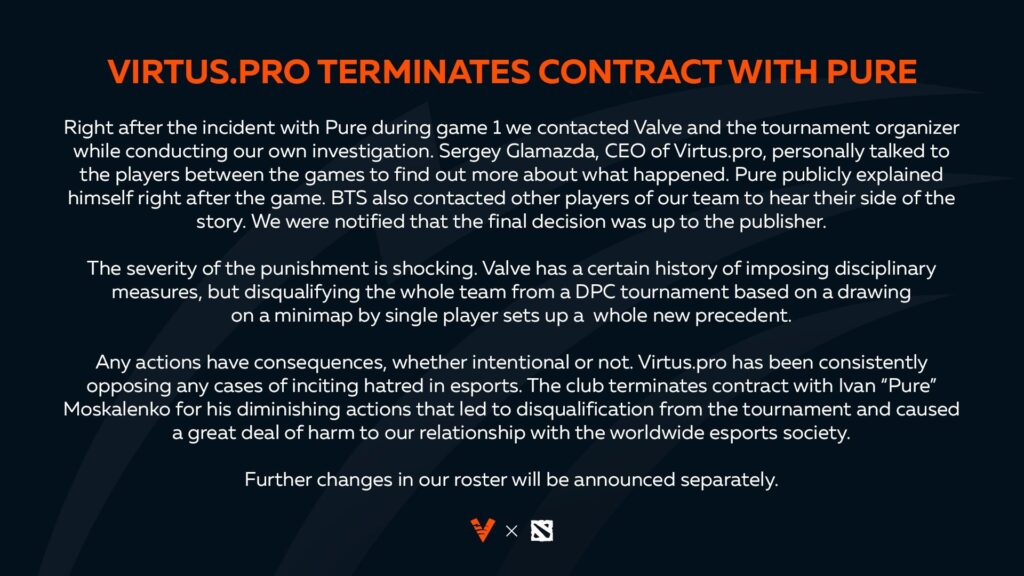 Pure quickly released an apology, but irreparable damage had been done. Just one day after the apology, Pure was terminated from Virtus Pro, according to a statement released by the Russian esports organization.
VP was the 18-year-old's first professional team, which he played with for five months.
Regarding the disqualifcation of the team from the playoffs, VP found "the severity of the punishment shocking."
"Valve has a certain history of imposing disciplinary measures, but disqualifying the whole team from a DPC tournament based on a drawing on a minimap by a single player sets up a whole new precedent."
VP wrote that the organization "has been consistently opposing any cases of inciting hatred in esports," and thus terminated Pure's contract after his actions caused disqualification and VP's standing in the esports community.
READ MORE: Kaka joins Royal Never Give Up Dota 2 roster