If a Stockholm Major berth is on the line, what are you willing to pull out to win the game? In Kenny "Xepher" Deo's case, he transformed a support Pugna into a walking ambulance that was outfitted like a tank.
T1 and Polaris Esports finished the DPC 2021/2022 SEA Division I Tour 2 tied for third. With a Major slot on the line, both teams battled in a competitive tiebreaker, with T1 eventually taking it 2-0 after two tough games that went over 50 minutes.
In game two, it was T1 Xepher's Pugna who stole the show, leveraging the strength of his hero to keep crucial allies alive through tough teamfights.
---
---
Xepher's tanky Pugna was a mobile fountain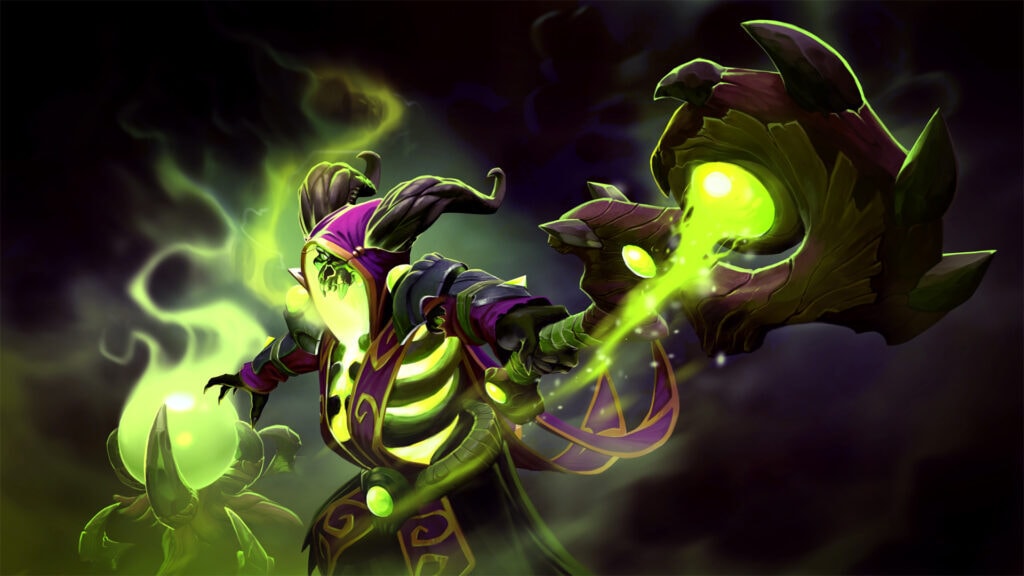 Tranquil Boots
Force Staff
Glimmer Cape
Black King Bar
Heart of Tarrasque
Pugna is fast becoming one of the competitive meta's premier supports, and is also our choice for being one of the best support heroes to win MMR with in the current patch. One of his biggest strengths is replenishing teammates' health and mana, a godsend for heroes that guzzles their resources in order to fight.
Imagine you're a Storm Spirit, and you've just used all your mana using Ball Lightning to zip in. You're completely spent, and are doomed to basically be an empty husk for the ensuring fight.
But it turns out, all you need is a good suck to get back to your usual self.
For Karl "Karl" Matthew Baldovino's Storm Spirit, Xepher was constantly there to prop him back up. This let T1's midlaner be even more reckless with his mana usage, allowing him to keep up the aggression and stay on the map instead of needing to be conservative.
Karl opted to max out his mana reduction this game, spamming Null Talismans and an Arcane Blink. Since Life Drain heals a static amount, having a lower mana pool and more mana reduction is a more efficient way to restore and use mana.
Xepher was mostly responsible for keeping his allies topped off on both health and mana. It's a superb heal, limited only by Pugna's own health, taking in order to give to others.
To solve the issue, Xepher went full tank—buying Black King Bar and Heart of Tarrasque. Black King Bar gives him the freedom to stand and channel for the duration of his spell immunity, uninterrupted by opponents' spells. Heart of Tarrasque kept him at full HP, which means he could constantly Life Drain his allies, even allowing him to run straight into enemies fearlessly.
By virtue of going Heart of Tarrasque, the position four had so much health regeneration that he could Life Drain at will. When allowed to sit back, Xepher easily negated any damage that Polaris was able to dish out to his cores.
With the target painted on his back, Polaris' heroes chose to blow their load on him while defending their last barracks, using multiple ultimates and Black King Bars.
Unfortunately, Xepher took so long to go down that it gave T1's other heroes free rein to execute their game plan, leading to an easy teamfight, and a match win followed soon after.
The win meant that T1 secured the series 2-0, taking third in the DPC 2021/2022 SEA Tour 2 and the final Major berth for the region. Polaris, meanwhile, will have to take solace for being good enough to hang with the top dogs after just promoting from Division II last Tour.
READ MORE: The 3 best support heroes to win MMR in Dota 2 patch 7.31