After dominating cinemas around Japan and parts of Southeast Asia, the highest-grossing movie in One Piece history, One Piece Film Red, has finally landed in the United States.
Toei Animation went all out with the anime movie's promotion, making sure to make a statement in the city that never sleeps.
On October 8, One Piece took over dozens of digital billboards at Times Square in Manhattan, New York City. The brief presentation had attendees and NY-based fans screaming for joy after seeing their favorite characters come to life on the massive LED screens.
---
---
One Piece Film Red takes over New York Times Square, wows anime fans and tourists alike
To quote Whitebeard's famous last words, "The One Piece is real," and it's in Manhattan!
Thousands of tourists gathered in Times Square to witness the rare sight of an anime franchise taking over multiple digital signs in the Big Apple. For a good two minutes, One Piece fans stood and stared in awe as Eiichiro Oda's creations lit up the screens of Midtown Manhattan.
The presentation started with a short montage of major story arcs from the anime series, namely the Marineford Arc, Fish-Man Island Arc, Punk Hazard Arc, Dressrosa Arc, Whole Cake Island Arc, and, the latest one, Wano Country Arc.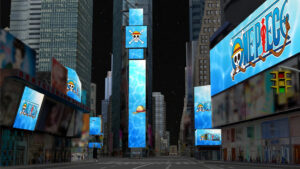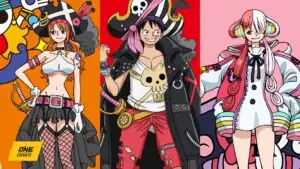 This was immediately followed by a showcase of the most iconic One Piece wanted posters, with the protagonist and the Straw Hat Pirates' captain, Monkey D. Luffy, taking over the center screen on the 25-story One Times Square building.
The rest of the crew also appeared one by one in their One Piece Film Red outfits.
The crowd went wild when the chief of the Red Hair Pirates, Shanks, popped up on the digital billboards. His appearance was followed by his daughter and one of the movie's protagonists, Uta.
Watch the full New York Times Square takeover below.
---
---
One Piece Film Red follows Shanks, one of the Four Emperors and Luffy's childhood hero. It also introduces Shanks' daughter, Uta, a new character in the franchise dubbed as "the world's greatest diva."
The movie broke records during its premiere in Japan in August, earning over US$48 million in just 10 days to become the highest-grossing One Piece movie of all time. Riding on its massive success, Toei Animation teamed up with clothing brand Uniqlo and watch company Solvil et Titus to bring fans official movie merchandise.
One Piece Film Red will be released on November 4 in US theaters nationwide.
---
Follow ONE Esports on Facebook for more anime news.
READ MORE: You've watched One Piece Red, now how about an actual watch?