Tick tock, tick tock. Time is running out! Have you seen this year's biggest anime movie? If not, then now's the best time to see Toei Animation's One Piece Film Red!
Toei Animation and watch company Solvil et Titus have teamed up to release limited-edition One Piece Film Red watches in celebration of the movie's launch. The new collection features gorgeous timepieces inspired by film protagonists Monkey D. Luffy, Shanks, and the mysterious new character, Uta.
Check out Solvil et Titus' limited-edition One Piece Film Red watches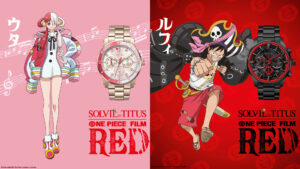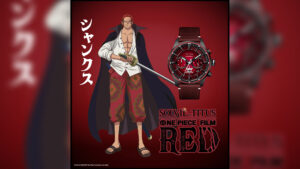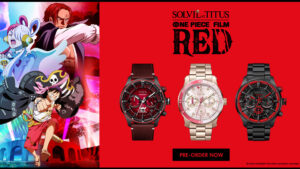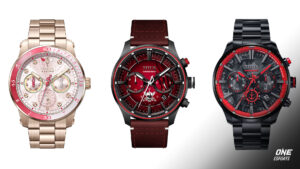 There are three designs to choose from in this collection.
Luffy's watch comes in a sleek black base with bright red details on its body. The scar on his chest can be spotted on the crown in red, while a silhouette of the Straw Hat Pirates is engraved on the other side.
Two of Luffy's quotes, "I'm gonna be the king of the pirates!" and "No! I'm on a winning streak of 183 games!" are printed on the watch to remind fans of the main character's great words.
---
---
A visual contrast to Luffy's watch is the Shanks watch, which is a dark red color with black details. The scar on Shanks' left eye is printed on the burgundy gradient dial, as well as on the watch's crown.
Shanks and Uta's dialogue in the movie, "There is no peace or equality in this world," can also be read on the dial.
Uta's bright and cheerful personality is perfectly encapsulated in her watch design. It shows a two-toned red and white aluminum bezel design fashioned after her hairstyle. The hour and minute hands, as well as Uta's wings, glow in the dark.
One of Uta's quotes in the movie, "Luffy, don't be a pirate anymore" is engraved at the back of the watch.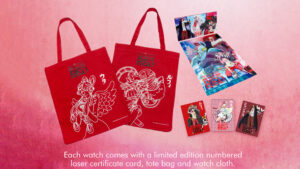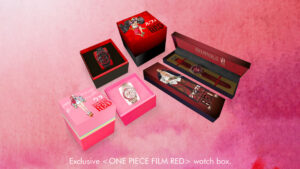 Each timepiece comes with a laser card as the certificate of authenticity, a tote bag, and a watch cloth. It's the perfect gift for your fellow One Piece fans (or even for yourself) as it comes in a lovely gift box.
Solvil et Titus and One Piece Film Red watch prices
| | |
| --- | --- |
| MODEL | PRICE |
| "Luffy" Chronograph Quartz Stainless Steel Watch W06-03303-001 | US$460 |
| "Shanks" Chronograph Quartz Leather Watch W06-03303-002 | US$400 |
| "UTA" Multi-Function Quartz Stainless Steel Watch W06-03304-001 | US$445 |
| Full set – 3 pieces | US$1,305 |
Fans can preorder this collection here.
How to join Solvil et Titus and One Piece Film Red's giveaway and win anime merch for free
You can score a limited-edition One Piece Film Red tote bag and watch cloth for free when you join Solvil et Titus' giveaway. Simply follow these steps:
Visit the giveaway contest page here.
Answer all three questions correctly. Fill in your personal details as well.
Click submit.
The first 25 participants to answer all questions correctly from September 1 to September 14 are entitled to free One Piece Film Red collaborative merchandise.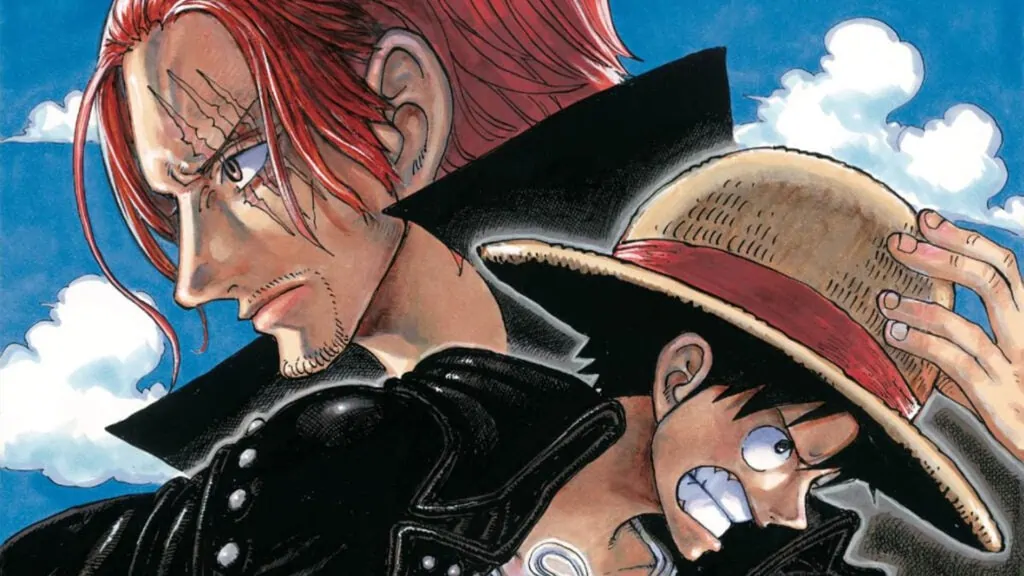 The movie focuses on the Red Hair Pirates and Shanks, one of the Four Emperors and Monkey D. Luffy's childhood hero. It also introduces Shanks' daughter, Uta, a new character in the franchise dubbed as "the world's greatest diva".
It is directed by Aya Komaki and Code Geass director Goro Taniguchi. The screenplay was written by Gantz: 0 writer Tsutomu Kuroiwa.
On August 16, it broke records as the highest-grossing movie in One Piece history at JP¥7 billion in total box office revenue in Japan during its first 10 days.
Here's where you can watch One Piece Film Red, now showing in theaters around the globe.
READ MORE: One Piece Film Red is officially the highest-grossing movie in One Piece history