Updated on April 14, 11:02 a.m. (GMT+8): Improved relevancy
Genshin Impact has amped up its elemental gameplay with Genius Invokation TCG.
Genius Invokation lets travelers build their own decks — featuring their favorite characters and weapons — and play card battles with friends and the people of Teyvat.
In addition to the benevolent warriors of each nation, players can obtain strong enemy character cards through Tavern Challenges.
Here's a quick guide on how to unlock the Tavern Challenges in Genius Invokation, including tips and tricks on how to beat these iconic enemies.
---
How to unlock Tavern Challenges in Genius Invokation TCG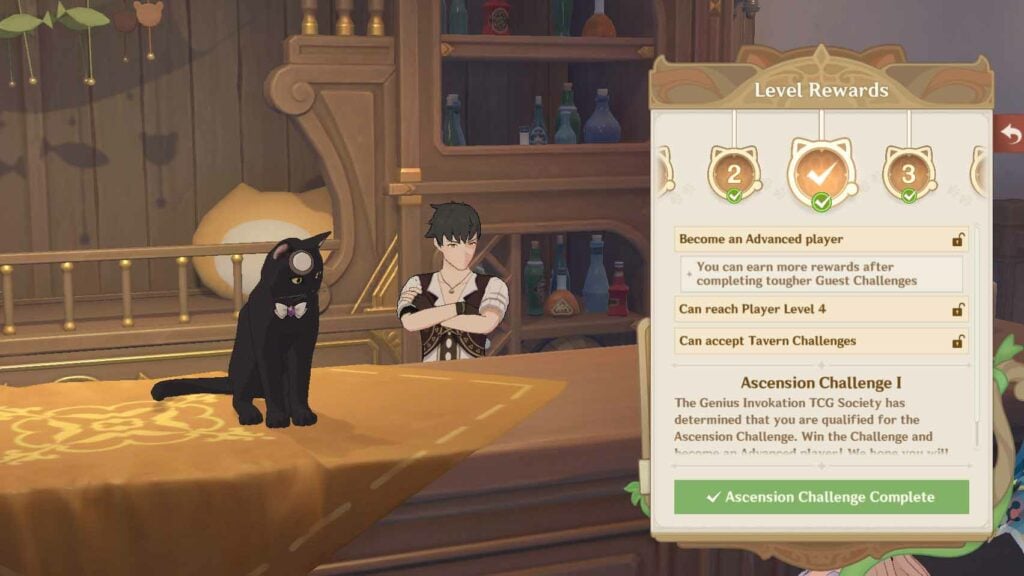 You can access Tavern Card Challenges through Prince, the Duel Saint of Cats, in Cat's Tail. To unlock Prince, you must first complete the "Battlefield of Dice, Cats, and Cards" tutorial quest.
Tavern Challenges are only available after passing Ascension Challenge I. You can achieve this by gaining experience through winning Adventure and Guest Challenges.
Interact with Prince
Click on "Start a Tavern Card Challenge"
Select your desired opponent
Click on "Go to Challenge"
Choose your Active Deck
Click on "Go to Challenge" again
Here's a quick table of the challenges, their level prerequisites, and their rewards: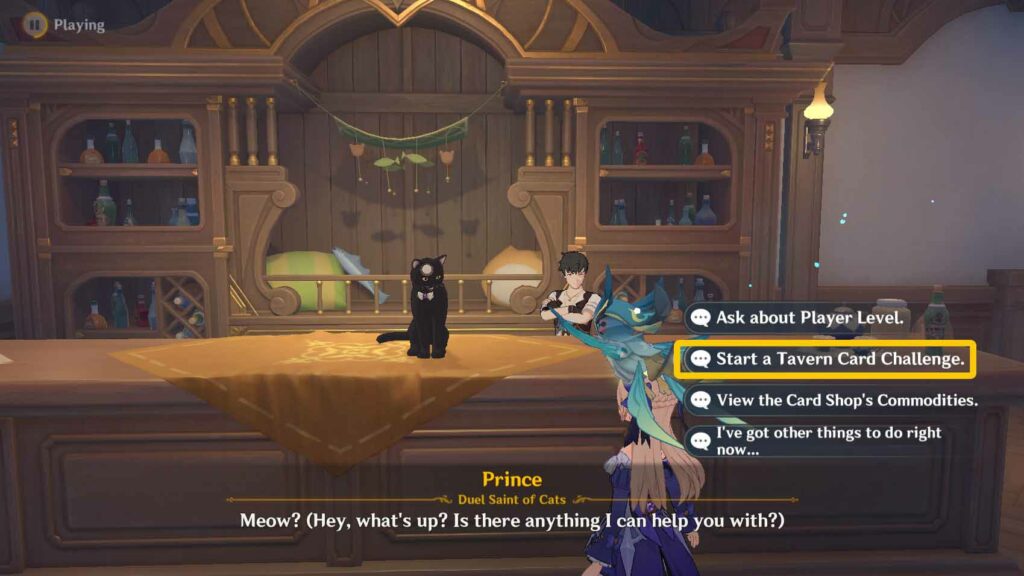 CHALLENGE
LEVEL REQUIREMENT
REWARDS
The Oceanid's Concern
Level 3
1 Rhodeia of Loch card
2 Streaming Surge cards
The Agent's Test
Level 4
1 Fatui Pyro Agent card
2 Pain In Full cards
Mirror Maiden's Journey
Level 5
1 Mirror Maiden card
2 Mirror Cage cards
Stonehide Lawachurl's Rest
Level 6
1 Stonehide Lawachurl card
2 Stonehide Reforged cards
Maguu Kenki's Origin
Level 7
1 Maguu Kenki card
2 Transcendent Automaton cards
Jadeplume Terrorshroom's Parade
Level 8
1 Jadeplume Terrorshroom card
2 Proliferating Spores cards
---
---
Tips on how to defeat Tavern Challenges
Study your enemies
Tavern Challenges are more difficult than your usual overworld duels with hilichurl decks. These battles feature stronger opponents with special rules that give them an advantage.
For example, Rhodeia of Loch is immune to Frozen, Stun, and Petrification. What's more, the 30 HP boss is also imbued with the Hydro status. In this situation, it'd be best to use a Pyro character who can trigger the Vaporize reaction on her.
You can view these details in the Stage Introduction right before you accept the challenge.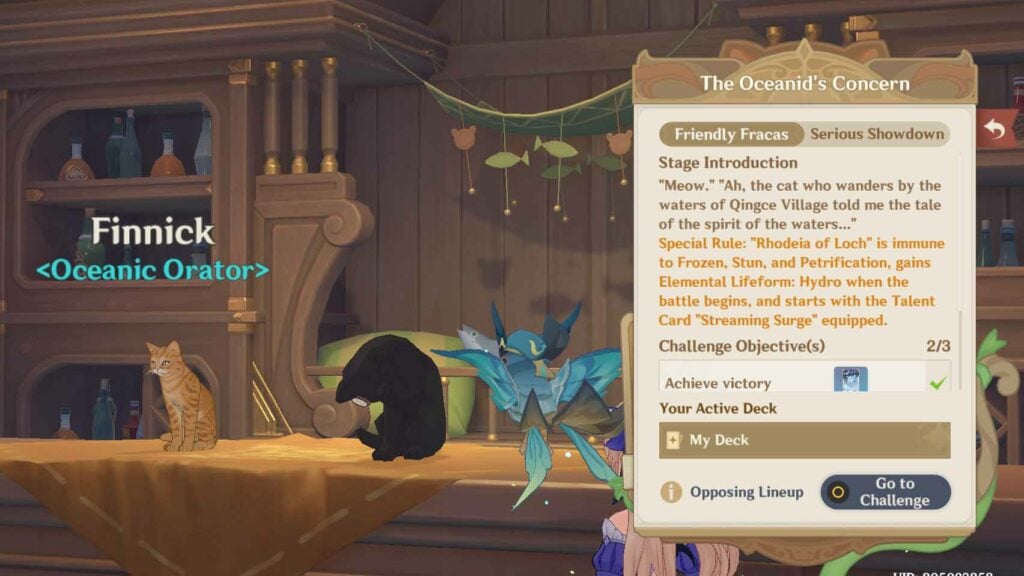 Stock up on healing cards
While most fights will only feature one or two character cards, these cards will likely cast shields and summons that can prolong the action and end phase.
The best way to keep yourself alive is to fill your deck with healing cards, such as Favonius Cathedral and Mushroom Pizza.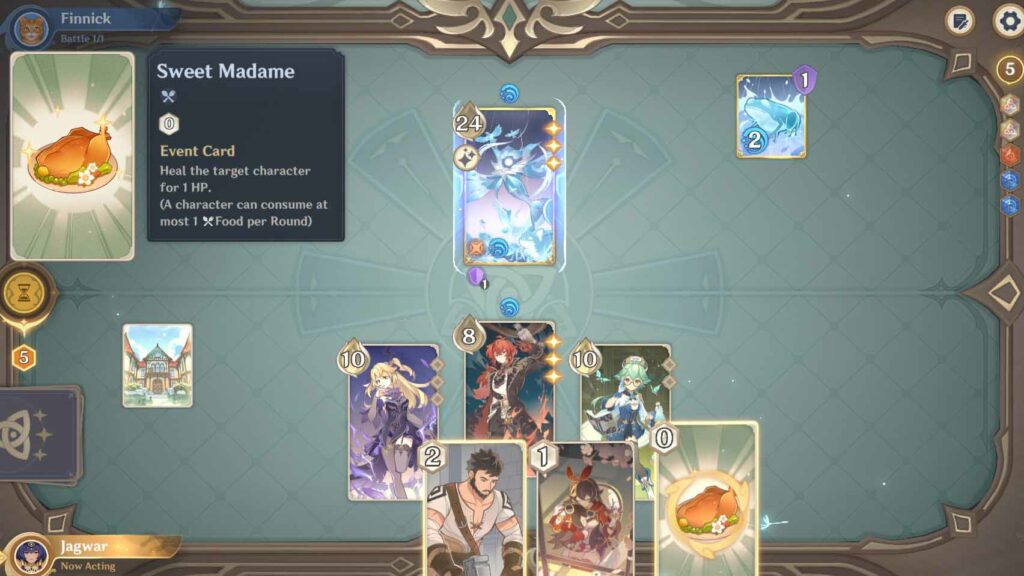 Prioritize reactions for maximum damage output
For dishing out the most damage, utilize character cards that counter your opponent's element. If the enemy is imbued with Pyro, you can field either Hydro or Cryo to maximize the bonus from Vaporize or Melt attacks respectively.
It's important to note that not all opponents are imbued with an element, so make sure you always field two character cards that create a strong reaction together.
Learn more about how to play the TCG with this guide to Genius Invokation.
Follow ONE Esports on Facebook and Twitter for more Genshin news, guides, and stories.
READ MORE: The 5 best action cards that you need to have in Genshin TCG, Genius Invokation