Another day, another five million dollars earned for developer HoYoverse.
Genshin Impact version 3.2 featured the first banner run of Nahida, the highly-anticipated 5-star Dendro Archon from Sumeru. The pint-sized Catalyst user's release was also paired with the rerun of Pyro Bow user, Yoimiya.
Just a day into its release, the double banner skyrocketed to the top of the Genshin charts, amassing over US$5,111,000, breaking the previous record set by Venti's banner rerun.
---
---
Nahida and Yoimiya beats Venti as the top banner for day one Genshin Impact sales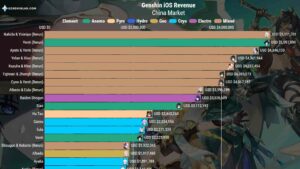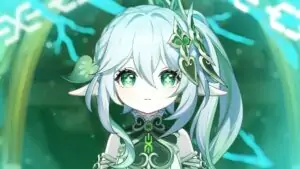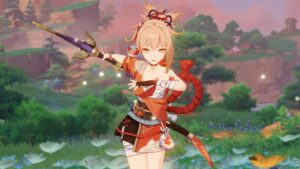 According to Genshin Lab's revenue charts for Chinese iOS users, the Dendro-Pyro duo surpassed the Anemo Archon by US$4,000. The Venti rerun and the double banner now stand as the only two banners to rack up over US$5 million on the first day.
The V3.2 tag team also overtook the Kamisato Ayato and Venti (rerun) banners (US$4.8 million), bringing in the most revenue from a double banner at launch.
While the cute Dendro Archon is already breaking records on day one, it's important to note that Venti is still one of the biggest cash cows for the gacha game.
The drunken bard has a total of three banners in the top ten. His rerun is the top solo banner in Genshin Impact, with Electro Archon Raiden Shogun's first banner (US$3.5 million) as a distant runner-up.
Previous banners had a duration of three weeks. Within this basket, Venti's original run ranks fourth with a total of US$30 million. Raiden Shogun reigns supreme in the overall charts, taking first place with a double banner with Kokomi (US$33.5 million), and second place with her first banner (US$33 million).
Even though the banner runs now have a shorter duration of two weeks, the V3.2 pair still has a chance to topple Raiden Shogun and take top spot on the sales chart.
Nahida and Yoimiya will be available on the "Moongrass' Enlightenment" and "Tapestry of Golden Flames" Character Event Wishes respectively until November 18.
Follow ONE Esports on Facebook and Twitter for more Genshin news, guides, and stories.
READ MORE: How to unlock Dendro Hypostasis: Location, best team composition, counters