Traveler, how would you like to see your hopes and dreams up in the night sky, bursting into colorful flames across Teyvat?
All you need to do is come to Inazuma's Naganohara Fireworks, where the Queen of Summer Festival, Yoimiya, resides.
The fireworks shop owner is the featured 5-star character in the Genshin Impact version. 2.8 event wish banner "Tapestry of Golden Flames".
Blessing players with their pulls is an adorable and timely Yoimiya cosplay by Genshin Impact fan 琉璃璃Ruri.
Adorable Yoimiya cosplay lights up entire Teyvat
琉璃璃Ruri dressed up in Yoimiya's orange kimono and sarashi (traditional chest binder) with a pair of geta (wooden clogs). Paying close attention to the character's intricate and complex design, the Chinese cosplayer painted tattoos of flowers, fishes, and swirls on her left arm and shoulder.
With a bright expression and a warm smile on her selfies, 琉璃璃Ruri perfectly portrays Inazuma's fireworks queen.
---
---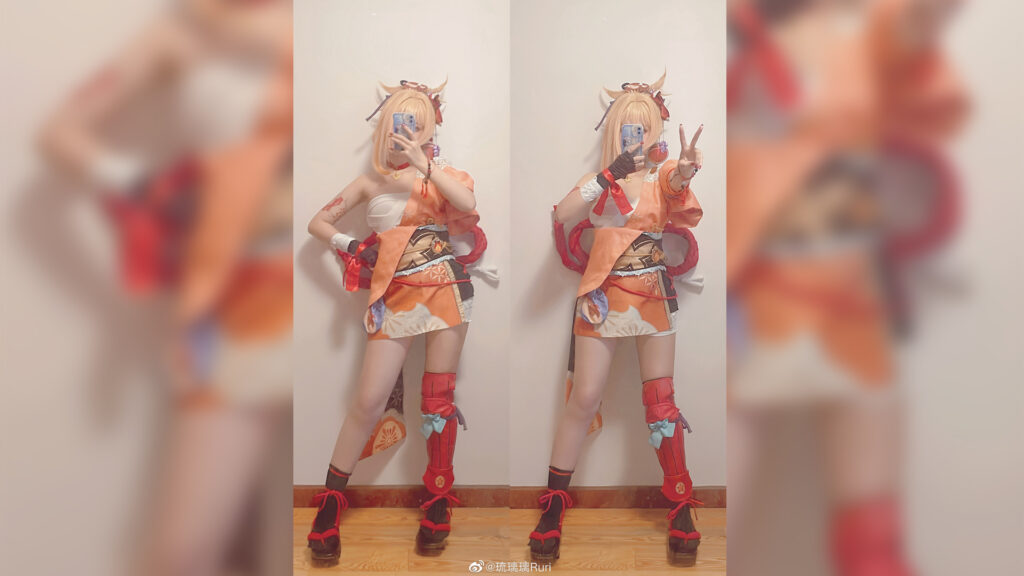 Yoimiya Naganohara is a 5-star Pyro bow user and the owner of Naganohara Fireworks, a shop located at the center of the Inazuma region. She is a sought-after pyrotechnician, hired by the Yashiro Commission during official events.
Her event wish banner will be available until August 23.
Follow 琉璃璃Ruri on her Weibo and Douyin accounts.
READ MORE: Genshin wish guide: 7 commandments you need to follow