Genshin Impact Version 2.4 is almost here, with plenty of new features and content for everyone.
The return of Zhongli's banner is perhaps the most anticipated event for all players, especially since his character debut last December earned the most revenue at US$15.5 million from both Android and iOS users on a single day.
Wanna know why he is worth all your precious Primogems? We'll give you five reasons.
---
5 reasons why you should absolutely blow all your Primogems on Zhongli
5. Zhongli is the best Geo character in the game right now
Out of the six Geo characters in Genshin Impact (traveler not counted), Zhongli stands out the most. He is the first five-star Geo character introduced by miHoYo, accompanied by a fantastic trailer with sick beats from Yu-Peng Chen.
He is an S-tier character combat-wise. His Elemental Burst, Planet Befall, is very reliable in solo quests, dungeons, and even in the Spiral Abyss, for it deals a ton of Geo AoE damage.
Any enemy struck down by the meteor will be rendered immobilized, making him quite the crowd control prince. With the right artifacts and weapon, he can be an insane damage dealer.
---
4. You'll basically own a god in your party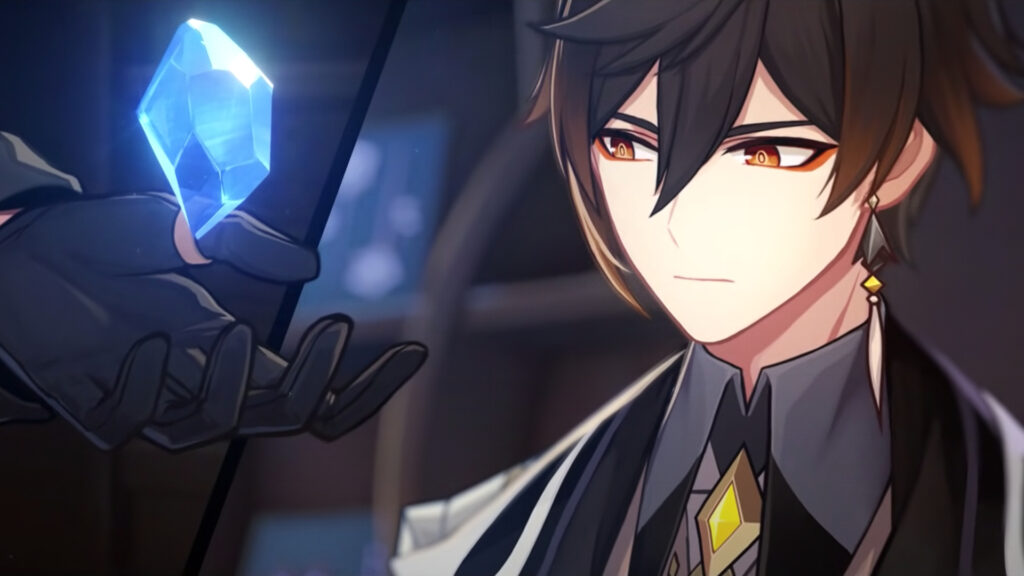 SPOILER ALERT!
If you have been closely following the game's Archon quests, you're probably already familiar with Zhongli's godly background.
Zhongli (who also goes by the name Rex Lapis and Morax) is the vessel of the Geo Archon in the game. He is the god of contracts, war, and wealth and prosperity.
He used to have the power to create limitless Mora (the currency in Genshin Impact) through the power of his Gnosis, but gave it up to the Cryo Archon Tsaritsa through a peaceful contract.
---
3. He can fit almost any team composition
Zhongli is good as a DPS character, but he is even better as a support.
After receiving buffs in Version 1.3, the Vago Mundo's Jade Shield is now stronger than ever. His shield exceeds that of Noelle's, especially when you consider its duration and cooldown timer during a battle.
Jade Shield also reduces the enemy's resistance to physical and elemental attacks by 20% on top of its 150% damage absorption.
Overall, he is a very versatile Geo character who can fit almost any team composition. We suggest including the other five-star character Albedo (or any other of your decent Geo characters) to maximize the Elemental Resonance Enduring Rock, which gives your team increased shield strength.
---
---
2. His big pillar can do a lot of things
Since his debut, Zhongli's Elemental Skill, Dominus Lapidis, has already become quite a memorable sight in all of Teyvat. His pillar is very handy whenever you're farming since it helps efficiently mine all the crystals in a certain area.
It can also be very useful not just in combat, but also in creating funny memes and content. Use his pillar as a diving board, as a vital piece in creating risqué symbols with your co-op friends, or to do the Japanese kabedon (cornering someone romantically) with one of the NPCs — the choice is yours.
Additionally, his pillar has been spotted in real life too, repurposed either as a body pillow or as part of a celebratory cake.
For existing Zhongli users, this is now your chance to raise him to his first constellation, which gives you an extra pillar during combat.
---
1. Zhongli is the best husbando in Genshin Impact
Long locks, hazel eyes, and a mysterious smile — who could even resist Zhongli?
Most players consider him as the best husbando character out of all the boys in Genshin Impact. He is also very well-mannered, save for matters that require Mora, of course.
Need we say more? Go ahead and open the event banner and let your Primogems do the talking!
READ MORE: 5 hidden Genshin Impact Easter eggs you probably didn't know about