After dropping their opening match against Xerxia Esports, OpTic Gaming went on to win their next three series, advancing into the upper bracket semifinals of Masters Reykjavik 2022.
On their way there during the upper bracket quarterfinals, OpTic finally got their revenge against fellow North American squad The Guard, the team they lost to during the grand final of the VCT NA Stage 1 Challengers Playoffs.
Without a doubt, OpTic have played exceptionally well together, and it is Jaccob "Yay" Whiteaker's and Victor "Victor" Wong's key performances on Chamber and Neon that are catching teams off guard in Iceland.
---
OpTic Gaming gets their revenge against The Guard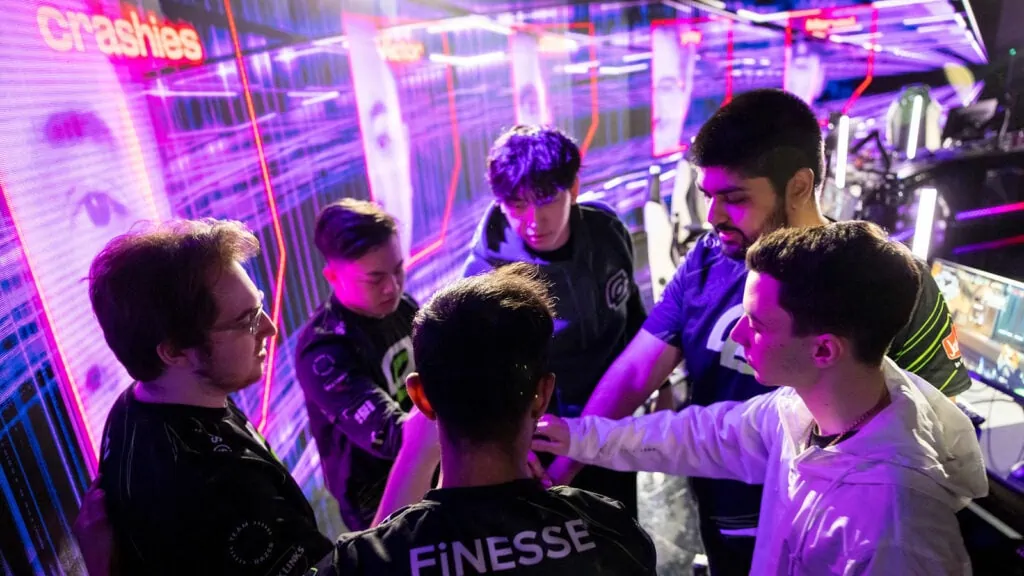 OpTic proved to be the better North American squad on Day 6 of the tournament after winning 2-1 in the upper bracket quarterfinals.
Yay on Chamber showed that he is one of the best aimers at the start of their match against The Guard. He secured an early ace on Icebox, which gave him enough credits to purchase an Operator on the third round.
During Shahzeb "ShahZaM" Khan's watch party, the Sentinels team captain praised Yay for his ability to hold sites and get early kills, which gave OpTic the man advantage early in rounds.
He also explained to his viewers how teams should always look to win every round they can.
"You play to win the round you're in, that's why he bought an Op," shared ShahZaM. "Having an Op increases the odds of winning the round as much as possible. It's not a free round to throw away, it's a free round to win."
ShahZaM was alluding to how most teams opt to buy Spectres and Sheriffs, along with light shields, during their bonus round to secure their economy for the following one. Instead of saving their money, OpTic invested in an Operator and Vandal against The Guard's full buy round.
This decision paid off as Yay was able to give his team map control on the Operator after getting early-round kills. It also caused The Guard to play hesitantly, as they had to guess which angles Chamber was holding.
OpTic took a 9-3 lead at halftime, which eventually concluded to a 13-7 victory. Yay's Chamber was the MVP on Icebox with an ACS of 304 and a KDA of 23/13/2.
Even though they dropped second map Haven to The Guard, OpTic bounced back by winning the decider on Fracture, 13-11, thanks to Victor's stellar performance on Neon. With strategic use of the speedy duelist, he was able to draw The Guard's attention, while his teammates capitalized on his distraction plays.
Victor also applied pressure on the enemy team's flanks. He used Neon's Fast Lane wall to get past The Guard's Trademark anti-flank traps, pairing it with her High Gear to sprint towards and surround the enemy team.
---
---
How Yay's Chamber and Victor's Neon are catching teams off guard at Masters Reykjavik 2022
There were a lot of questions concerning the Valorant meta going into the first international LAN event of the year. While teams in North America were quick to adopt Chamber as a viable replacement to Jett, the contenders in Iceland have yet to follow this trend and still heavily rely on Valorant's knife-wielding duelist.
Jett is currently the favored agent at Masters Reykjavik with a 68 percent pick rate. However, OpTic have shown that they can win without Jett, an agent they've only selected twice.
In fact, the North American powerhouse squad has a higher win rate percentage with Chamber at 71.43 percent and Neon at 75 percent, while Jett remains at 50 percent.
At the Masters Reykjavik pre-tournament press conference, Yay expressed that Chamber is a surprisingly underrated choice among the other regions. On the other hand, Neon is a strong agent in the current meta, despite the speedsters' low pick rate in pro matches.
Regardless of their opponents' agent comps, OpTic have found success playing around Chamber and using Neon as a formidable pocket pick.
The North American powerhouse squad will have another chance to prove their agent comp meta against DRX, one of the top teams in the world. They will face the Korean squad in their upcoming upper bracket semifinal match on April 18, 3:30 a.m. GMT+8 | April 17, 12:30 p.m. PDT | April 17, 7:30 p.m. GMT.
You can view the full match schedule for Masters Reykjavik 2022 here. All matches are broadcast on the official Valorant Twitch and YouTube channels.
READ MORE: Sentinels TenZ: 'DRX is better at using utility together than The Guard'