Both on and off stage, one star Valorant player has made a name for himself in a rather unusual way.
Besides being a VCT Stage 3 Masters Berlin champion, and the best Viper player in the world, Ayaz "nAts" Akhmetshin is also known for carrying around his trusty panda plushie with him everywhere he goes.
And I mean everywhere. On stage, backstage, walking from his ride to the tournament venue, and even during our ONE Esports interview.
After Gambit Esports pulled off the biggest comeback at Valorant Champions 2021 by winning nine rounds in a row against Team Vikings, nAts spoke with us about how he juggles being a university student, pro player, and his relationship all at the same time.
---
---
nAts is studying law in a university while pursuing a pro Valorant esports career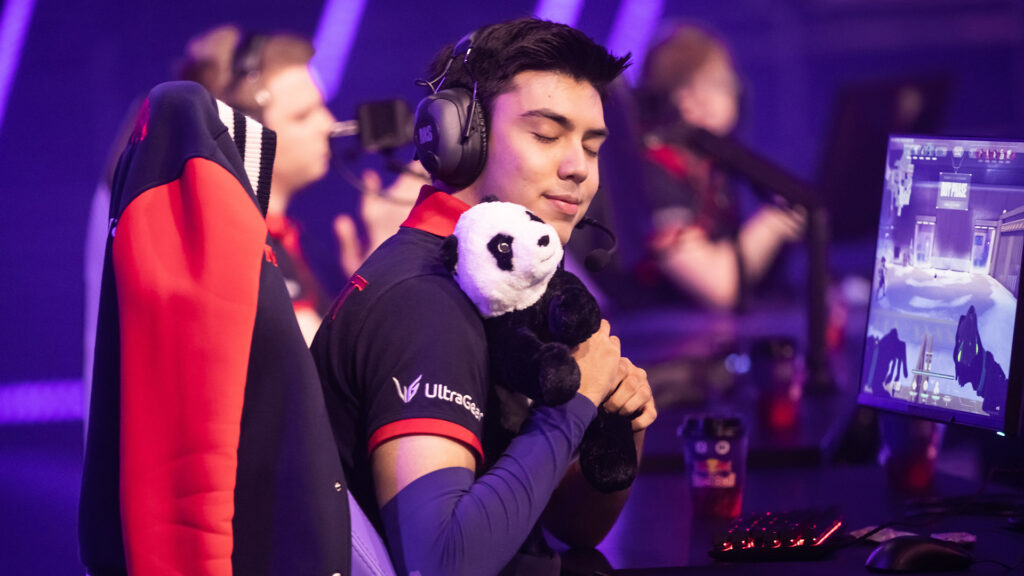 The story behind his special "panda buff" began when the team suffered a loss to Acend, after which nAts and his manager visited a shop. He browsed the toys on display and ended up buying two pandas, one for himself and one for his girlfriend.
He then named his panda after his girlfriend, which gives him a sense of confidence during tournaments.
"I talk with her every day, before the matches, and on other training days," nAts shared with ONE Esports. "It helps me a lot because I have someone who's very close to me [in addition to my family]."
"18 years ago, I didn't have a girlfriend. For me, it's my first relationship, and it means a lot to me," he added.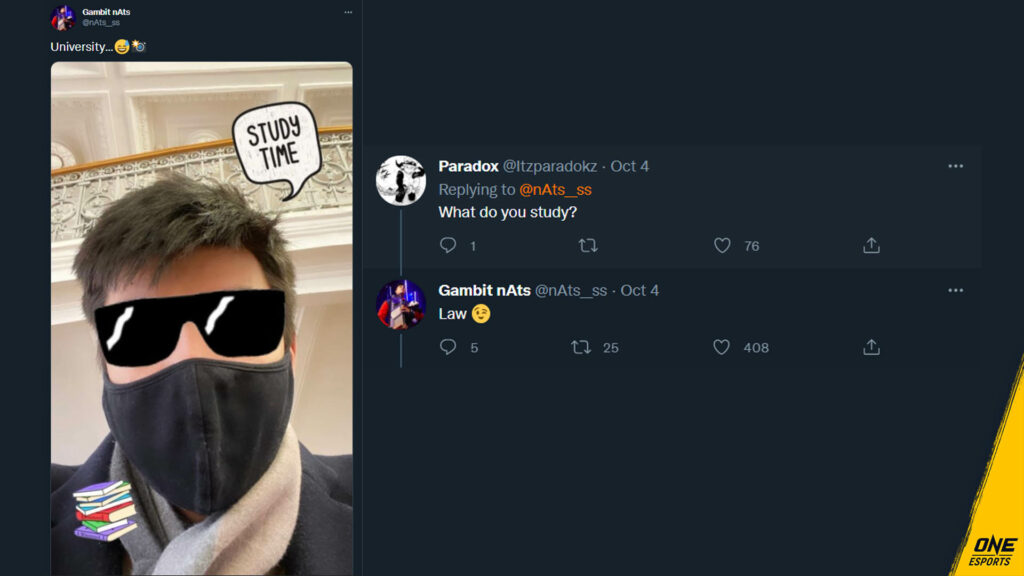 Besides spending time with his girlfriend, nAts surprised fans when he posted a picture of himself on his university campus in October this year and revealed that he's pursuing law.
When he's preparing for competitions like Valorant Champions 2021, nAts says that he doesn't "think about studying" because he has to "concentrate on the tournament".
During the offseason, however, that's when he attends university classes in the morning. "I practice, practice, practice, then in the evening I'm doing some homework, then after that, I'll go to sleep," said nAts. "I get six hours of sleep every day because of university, maybe even less."
Gambit Esports' next match will take place on December 10 at 1:00 a.m. GMT+8 | December 9, 5:00 p.m. GMT | 9:00 a.m. PT. Catch all the Valorant Champions 2021 matches live on Riot Games' official Twitch channel and YouTube page.
READ MORE: This Viper's Pit Ace by Gambit Esports nAts is poetry in motion