The Valorant Champions Tour released an in-depth player interview with Sentinels' Tyson "TenZ" Ngo, one of the top competitors to look out for at Valorant Champions 2021.
In the video, fellow North American star Andrej "babybay" Francisty sat down with TenZ to talk about Sentinels' 2021 VCT season, how he became the best Valorant player in the world, Sentinels' struggles at VCT Stage 3 Masters Berlin, and his secret training for the upcoming Valorant world championship.
---
How TenZ became the best Valorant player in the world
During his brief time as a CS:GO player, TenZ was seen as the most mechanically gifted player in North America. He then gained a reputation as an exceptionally talented player who had underperformed in LAN events when he was playing for Cloud9's CS:GO roster.
The key to TenZ's success when he made the switch to Valorant? He grew more confident in his own skills.
"I've played games so much that I get so locked in, and everything around me just disappears and I'm fully zoned in," he shared. "The game is the only thing that exists in the world for that moment."
With his new mindset, TenZ was able to get over his previous CS:GO LAN experiences and conquer the Valorant esports scene. He then joined Sentinels' Valorant roster on June 1, 2021, which turned the North American team into a super team.
"I bring in firepower, and as a young Josh "shinobi" Abastado (Cloud9 Blue's former team captain) once said, I bring the TenZ effect."
Sentinels completely dominated the first-ever international Valorant event when they went undefeated, winning VCT Stage 2 Masters Reykjavík where TenZ was awarded tournament MVP.
"When the matches started, all my nervousness went away," he explained. "It's like Christmas morning. I just want to play already."
Pro players often emphasize how important moods or vibes are while playing games. The same principles work for Sentinels' superstar fragger who knows exactly when he is about to dominate his opponents.
"A trigger for me is when I'm just really having a good time," said TenZ. "If I genuinely smile from a round, or from something that happens in-game, then I'm going in."
---
---
Sentinels' struggles after VCT Stage 3 Masters Berlin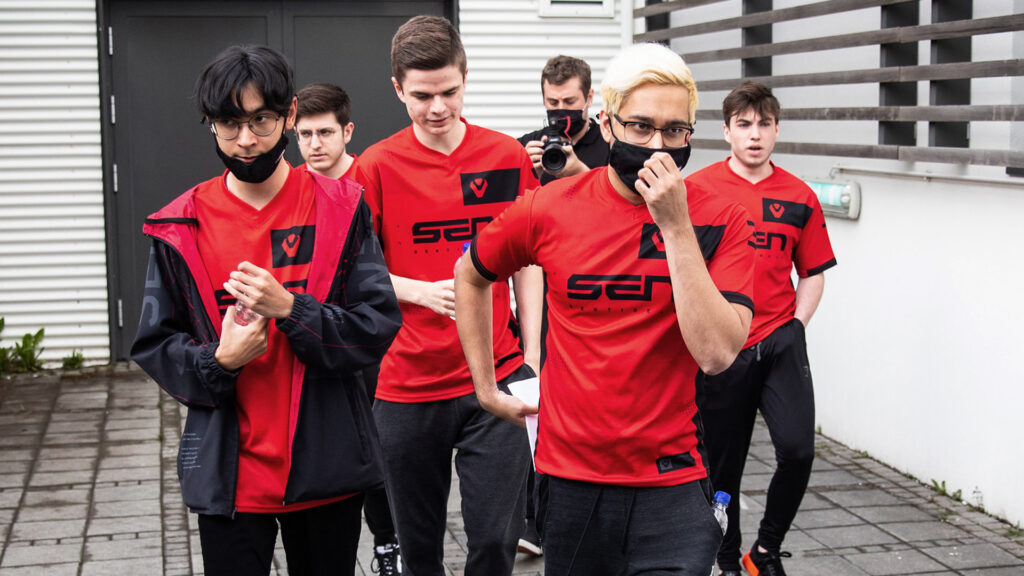 TenZ knew that people expected Sentinels to dominate in VCT Stage 3 Masters Berlin again as tournament favorites.
The 20-year-old Valorant superstar was totally locked in during Sentinels' first map against Team Envy in the VCT Stage 3 Masters Berlin's playoff elimination match. Despite Sentinels' 15-13 overtime loss, TenZ finished as the MVP on Haven with a 287 ACS and 30/17/5 KDA.
TenZ had his worst LAN performance in Valorant, however, in the next map against Team Envy. After the first eight rounds on the attacker side, he recorded a 0/8/1 KDA on Split on Raze since Shahzeeb "ShahZaM" Khan took over the Jett role on this map.
"We wanted to shift our comp from me playing Reyna to Raze, but I wasn't able to get enough practice on Raze, so I didn't really know how to properly utilize my utility," said TenZ.
The best Valorant player in the world shared that even he lost some confidence after struggling in a game.
"Nothing was working [for me,] I was always getting owned in some way. Either someone is getting a good fight against me, or being utility diffed in some way," expressed TenZ. "For me, personally, I was getting mentally owned."
---
Valorant Champions 2021 will be the stage for redemption
Sentinels' desire for success has been reinvigorated after the team suffered their first LAN elimination loss at VCT Stage 3 Masters Berlin.
"I'd rather lose in [Masters Berlin] the first time than lose in Berlin the second time," said TenZ. "[Valorant Champions 2021] definitely reignited me. We have to win this event."
The North American superstar also mentioned that he started secret training sessions in preparation for the Valorant Champions 2021.
"Let's just say I've been doing a little bit extra outside of my stream. I even made my own Discord to make certain wallbang and lineup spots for myself," he revealed.
TenZ explained he is playing with less pressure going into Valorant Champions 2021 because other top contenders like Gambit Esports and Team Envy have shown their capabilities.
"There's a weight off our shoulders, not everyone will be looking at us in particular and try to take us down," he concluded.
Sentinels will begin their Valorant Champions 2021 campaign when they face off against Brazilian squad FURIA Esports on December 4, 2021, at 4:00 a.m. GMT+8 | 12:00 p.m. PT | 8:00 p.m. GMT.
READ MORE: New Valorant Champions 2021 skin bundle glows when you're the top fragger