Thai esports prodigy Patiphan Chaiwong is making his return to Overwatch after competing in the Valorant Champions Tour (VCT)'s inaugural year.
The Los Angeles Gladiators announced that the star Thai player will compete in the upcoming OWL 2022 season.
Patiphan returns to Overwatch after a successful year in Valorant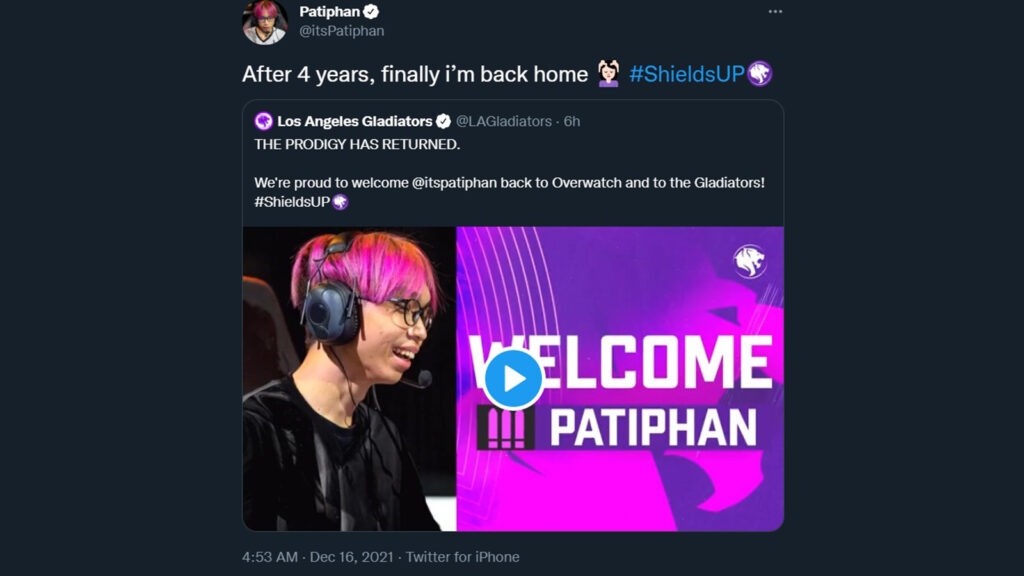 The 18-year-old Thai phenom began his esports career three years ago when he competed in Overwatch Contenders Season 1.
He was praised as an exceptional talent after competing in the Overwatch World Cup 2018 Bangkok Qualifier where Thailand finished 5th against top international teams.
After his time on Overwatch's Contenders circuit, Patiphan decided to move to Valorant, Riot Games' competitive first-person shooter that was released on June 2, 2020 because he was too young to compete in the OWL.
According to the player eligibility requirements by the OWL, players need to be at least 18 years of age to play in official games.
---
---
Patiphan reached the top of competitive Valorant in his first year of competition, together with Thai squad X10 Crit. They qualified for VCT Stage 2 Masters Reykjavík, the game's first international LAN event, and Valorant Champions, the game's first world championship tournament.
At Valorant Champions, X10 Crit pulled off an amazing 2-1 upset win against VCT Stage 3 Masters Berlin finalist Team Envy, eliminating them from the tournament. X10 Crit was later defeated by Gambit Esports 1-2 in the quarterfinals.
After the match, Patiphan tweeted, "That wrapped this year and also my last official match," hinting at his move to Overwatch. On December 13, Patiphan posted a video which showed him closing Valorant and exiting the game.
It will be a few more months before Patiphan plays his first official OWL match as the next season of the OWL scheduled to start in April 2022. The upcoming season will also be played on an early build of Overwatch 2, the game's next installment.
READ MORE: Fnatic moves Doma to its inactive roster after Valorant Champions 2021