Tyson "TenZ" Ngo may be one of the most gifted aimers in Valorant, but even he isn't immune to bad days on the ranked ladder.
He criticized the state of Valorant ranked in Episode 4 Act III, describing it as "just awful." After a 13-9 loss on Fracture, the Sentinels star ended his stream in frustration, saying that he just wasn't feeling it anymore.
The 21-year-old had also lost three out of his past five games in ranked, according to the Tracker Network.
---
---
TenZ says he'd rather do the dishes than play Valorant ranked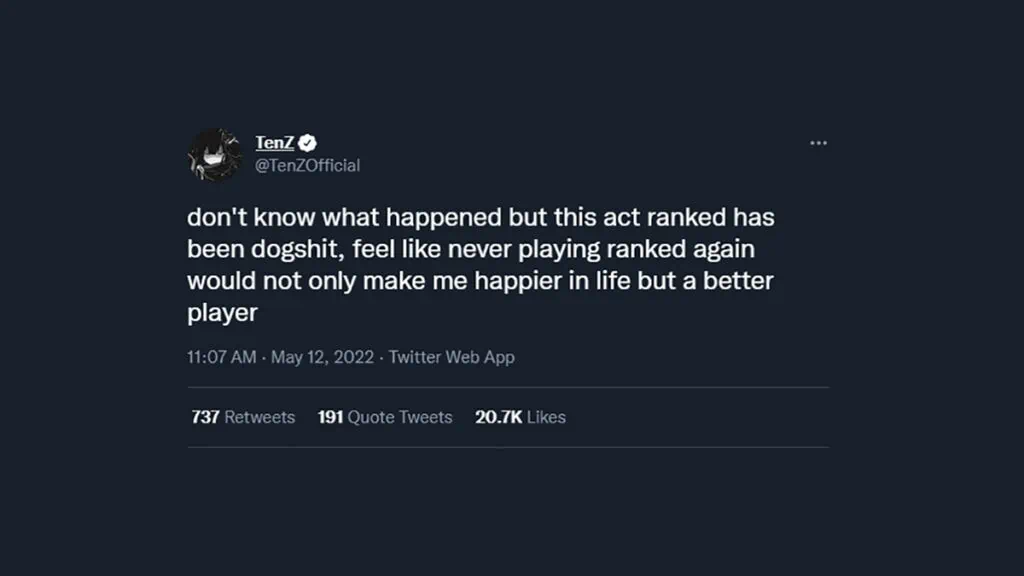 The Jett player appeared dissatisfied with the caliber of teammates he was getting. "People are just going through the rounds like they're programmed a certain way," he said during his game on Fracture, after the KAY/O on his team continued to sit behind the boxes on B site with his flash grenade in hand, even as their opponents closed in.
"They'll just do the same thing over and over and it makes no sense what they're doing."
TenZ attributed his struggles in ranked to two possible reasons. "It could be because I'm playing scrims again, so I'm realizing how bad ranked is," he mused.
"Or all the ranks are reset, and because I haven't been able to play much ranked, everyone is already really high up on the leaderboard and I'm playing at the bottom. And that's why it feels like shit."
He then took to Twitter to air his frustration as well, calling ranked play "dogshit," a strong choice of words for the usually mild-mannered player.
---
---
In fact, TenZ was so tilted that he said that he'd rather clean up the house than play another game of ranked. "I'd rather do the dishes right now," he said emphatically.
This isn't the first time that TenZ has complained about the lack of coordinated team play in ranked games. In the past, he has criticized players for not knowing how to take advantage of the space created by their team's duelist.
Players are often overly cautious and too scared, he said, and they constantly wait for each other to enter a site. This means that no one ends up going in.
"I'm like a spartan charging in, and my team is just sitting behind me in formation," he said at the time, when explaining why he was starting to dislike playing Jett in ranked.
TenZ will play his next game with Sentinels in the VCT NA Stage 2 Challengers Main Event, when they go up against Luminosity on May 14.
READ MORE: Chamber just went from the best to the worst sentinel in Valorant patch 4.09