OpTic Gaming are making a name for themselves as the only team to reliably find success on electric speedster Neon.
At Masters Reykjavik 2022, the North American team fielded a new agent composition on Fracture, built around the Filipino duelist.
OpTic Victor has looked completely at home on the agent, deftly using her High Gear sprint to take space and find the first kill off the back of well-placed flash and stun utility from initiator agents KAY/O and Breach.
Against LOUD on Fracture, Victor "Victor" Wong had eight first bloods, a 21/7/1 KDA, and an impressive 372 Average Combat Score (ACS).
Pujan "FNS" Mehta and his squad have yet to lose on Fracture in Iceland, and Victor's Neon is a big part of why they have looked so dominant on the Kingdom research facility.
---
---
OpTic Victor uses Neon's speed to capitalize on his teammates' utility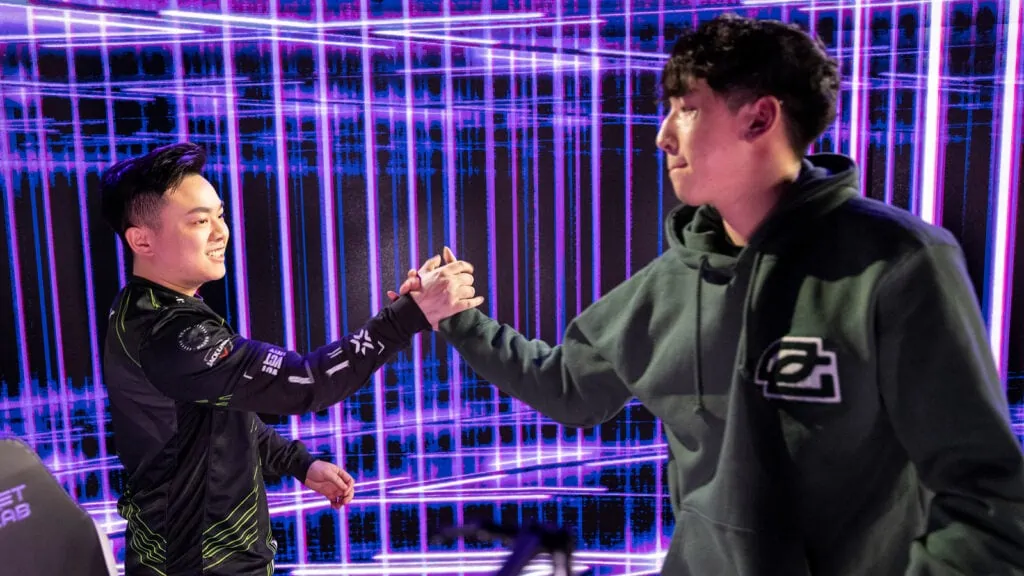 Victor constantly used Fast Lane and Relay Bolt to disrupt LOUD's defensive and post-plant setups. With the help of Austin "crashies" Roberts' KAY/O and FNS' Breach, Victor's Neon proved incredibly effective at securing control of areas like B Tower.
Neon's and Breach's stun and flash easily helped Victor win duels against players holding Tower and site. All players on OpTic were also quick to immediately capitalize on any utility usage, swinging blinded players in tandem to win the early engagements.
Across the 15 rounds played on Fracture, OpTic players were the first to die only twice.
During OpTic's attacking half, Victor was also able to condition LOUD to expect his team to commit to a site shortly after deploying Fast Lane, which allowed OpTic to pull off a successful fake on B site in Round 5.
All of LOUD's defenders rotated off A, leaving the site completely open for OpTic to take.
---
---
On Round 14, Victor showed how Neon can excel at retaking sites as well. After LOUD had planted the spike on B, Victor angled his Relay Bolt stun to impact default, sprinting around the corner to peek Bryan "pANcada" Luna. OpTic then followed up with a second Relay Bolt and Fault Line stun toward Tower, forcing the two LOUD players back.
This helped Victor close the distance and find kills on Gustavo "Sacy" Rossi and Matias "Saadhak" Delipetro, dropping the round into OpTic's lap.
---
---
However, OpTic were not able to carry their momentum on Fracture into the next two maps. After losing Fracture 13-2, LOUD rallied with 13-8 and 13-11 victories on Ascent and Icebox, securing their spot in the grand final.
OpTic now fall to the lower bracket, where they will face Japan's Zeta Division in the lower bracket final on April 24, 1:00 a.m. GMT+8 | April 23, 10:00 a.m. PDT | April 23, 5:00 p.m. GMT.
You can view the full match schedule for Masters Reykjavik 2022 here. All matches are broadcast on the official Valorant Twitch and YouTube channels.
READ MORE: NYFU complete Valorant roster rebuild before VCT NA Stage 2 Challengers