Tyson "TenZ" Ngo has taken home another trophy, but it wasn't for Valorant this time. The professional player for Sentinels won the Gamer of the Year award at this year's Streamer Awards.
Taking place on March 11, the Streamer Awards are meant to recognize streamers, gamers, and games throughout the industry as voted on by the community.
---
---
2023's Gamer of the Year title was awarded to TenZ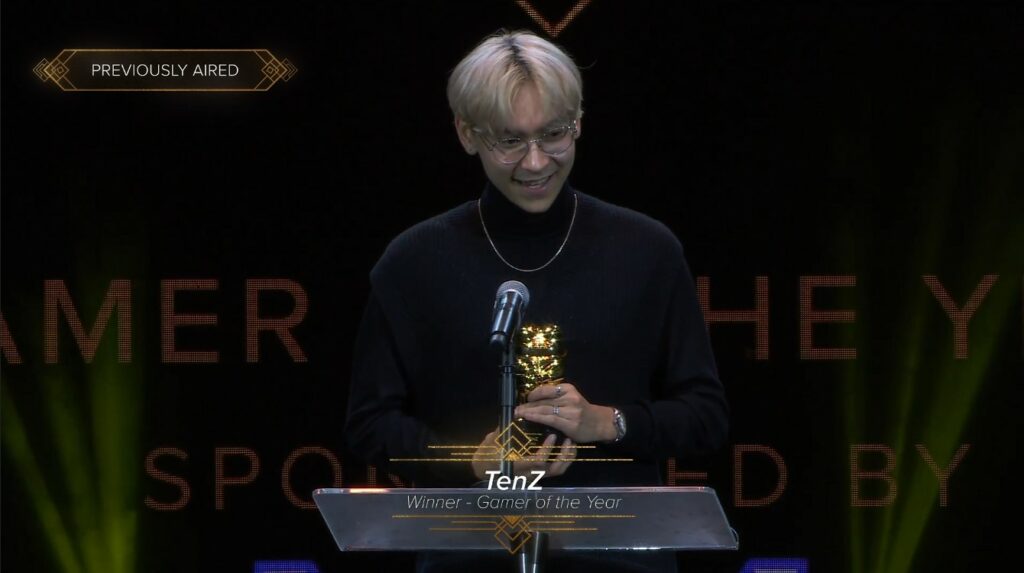 The award show, hosted on QTCinderella's Twitch channel, streamed to an average of 300,000 viewers alongside a live audience. Many of the industry's top streamers were in attendance to receive awards of their own or support those who did.
A total of four players were nominated for the Game of the Year award including Tarik "tarik" Celik, Brandon "aceu" Winn, and Timothy "iiTzTimmy" An for the award alongside TenZ himself. All nominees are known throughout the community for their talents and exciting streams showcasing their skills.
The 21-year-old was ultimately victorious thanks to the community coming out in support. His fiancé Kyedae "Kyedae" Shymko also took home an award, winning the best Valorant streamer of the year category.
The professional Valorant star initially stepped into the scene as a Counter-Strike player before making the switch to Riot Games first-person shooter where he quickly became a star. Playing for Sentinels, he helped the team take home several trophies in 2021 and for a period of months be considered the best team in the world.
To check out all the categories and winners, check out our coverage of the event here.
READ MORE: The 5 best Valorant streamers on Twitch you should be following