Kai Cenat has officially surpassed 300,000 subscribers on Twitch. His sub count is now the highest that has ever been achieved on the streaming platform, setting yet another monumental milestone for livestreaming.
Just one day ago he'd overtaken Tyer "Ninja" Blevins' position as the second most subscribed to streamer ever on the platform. Ninja's record for most subscribers was 269,154 and he held on to it for three years.
---
---
Kai Cenat sets new world for highest-ever sub count on Twitch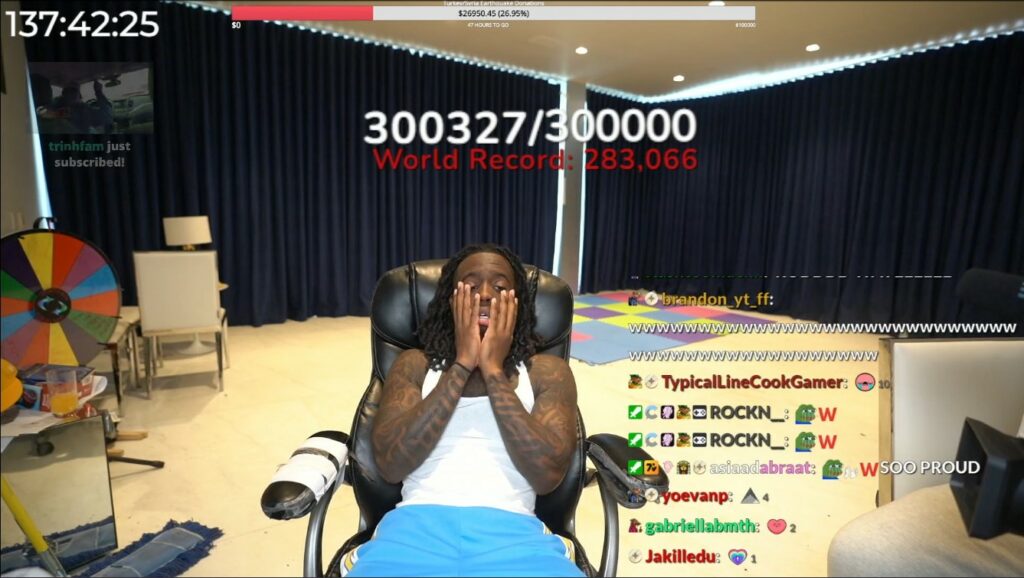 It wasn't until Ludwig "Ludwig" Ahren held a subathon in 2021 that the 2018 record set by Ninja of 269,154 was broken. Ludwig was able to bring in 283,066 which held up until now, as the 21-year-old has not only passed it, but also crushed an entirely new barrier.
It's worth pointing out that at the time Ludwig achieved that peak, Cenat was streaming to around 5,000 viewers. From 2021 to February 2023, saying he's done anything less than rocketed to the top would be an understatement at this point.
According to TwitchTracker, 60,000 viewers on average tuned into the channel across 2022 and that seems to only be getting better. Given his 2021 numbers, he's managed to increase his viewership by tenfold within a roughly a year.
---
---
300,000 subscribers at the base Twitch partner split of 50/50 is roughly $750,000 before taxes heading to the popular creator. It's unknown whether or not he has any deal that would bring him in a better split.
His black history month subathon has propelled the already rapidly growing creator into entirely new heights never before reached by another creator and it's not quite over yet. Although with 300,000 just breached, it's unlikely there will be anything too wild before it comes to close in just a day.
Despite the recent claim by Adin Ross that the new record holder is moving to Kick, Cenat told fellow creator Felix "xQc" Lengyel that he wasn't making the move.
Either way, there's a new king of Twitch thanks to his community and their support.
READ MORE: Mizkif says Kai Cenat deserves to win streamer of the year, and it's 'not even close'