North American esports organization Sentinels has officially signed superstar streamer Tarik "tarik" Celik, adding to its list of blockbuster names in recent months.
In a tantalizing twist, the former CS:GO pro also teased in the team's welcome video that he would be willing to play as a substitute for Sentinels' Valorant roster if they needed him.
"Look, if there's a chance that I get a chance to substitute, I'm down," he said. "I'm straight up in it. If someone hurts their hand, or if someone doesn't feel well, you ring me up and I'll be there."
Tarik has been out of the esports scene since he decided to step down from Evil Geniuses' CS:GO roster in 2021 to become a full-time streamer and content creator. Since then, he's become one of the most popular Valorant streamers on Twitch, amassing 2.2 million followers as of writing.
---
---
Tarik joins Sentinels as a content creator and will stream the Valorant Champions 2022 grand final live in Istanbul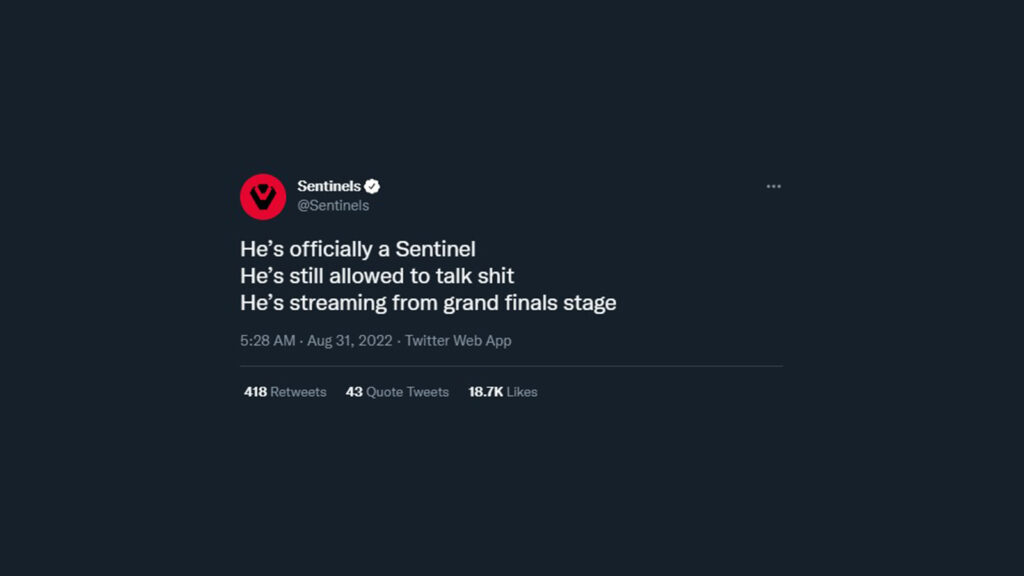 Sentinels released a short recorded interview with tarik explaining how the partnership came about, and what fans can expect from them in the future.
The 26-year-old said that he and his new organization have a lot in common, which was one of the main reasons why he decided to sign with them.
"I think joining an organization allows me to continue to elevate my brand and also work alongside other people that have the same goal in mind," he said. "I think they are very meme-y, and that is something that I love and it resonates with me."
Both he and the organization also have the same approach when it comes to speaking their mind. "They know that I'm going to continue to be myself," he said. "They are also blunt about how they see things, and they say it how it is. I've been very vocal and critical about a lot of things in the community, so I think we will be really interesting together."
For now, he's looking forward to the new content he'll be able to make with Sentinels and the organization's players.
"They have been very interesting in their content approach," he said. "Their skits are really good, so I'm looking forward to what their creative team can plug me into. I think it will be fun regardless because I already know some of the guys on the team, so I think it's just good vibes all around."
---
---
The welcome video already shows tarik strolling through the lobby of the Empire State Building in New York and the panoramic view from the top — a peek at the no holds barred kind of content we can expect from the organization should they secure a spot in the partnered league next year.
As a former ESL Boston Major winner in 2018 with Evil Geniuses, tarik's return to the competitive esports scene has been eagerly anticipated as well.
However, while Sentinels have already treated fans to the return of one CS:GO pro in Michael "shroud" Grzesiek, it doesn't look like tarik will be trying his hand at competitive Valorant just yet.
But the streamer himself isn't ruling anything out. Shortly after the announcement, he went live on Twitch and explained to his viewers that he hasn't excluded going pro in the future.
---
---
"I joined as everything," he said. "People are asking if I joined as a pro or content creator. I'm doing it all. Whatever they need me to do, I'm there for it."
For now, fans can look forward to his upcoming Valorant Champions 2022 watch party, which will take place from the grand final stage in Istanbul.
With the Valorant Champions Tour set to enter uncharted territory next year with Riot Games' new partnership program, Sentinels could still shake up their roster after Valorant Champions 2022.
READ MORE: Exclusive: Once Paper Rex fix this, they'll be unstoppable at Champions 2022