The excitement about Valorant's latest agent, Neon in the Philippines has risen sky-high, as the country's Filipino gamers are thrilled to have representation in one of Riot Games' premiere titles.
To commemorate the iconic Filipino character, Riot Games put up a huge billboard of Valorant Episode 4 Act I's spotlight character in Metro Manila, the capital of the Philippines.
Riot Games puts up a huge billboard of Filipino Valorant agent Neon in Metro Manila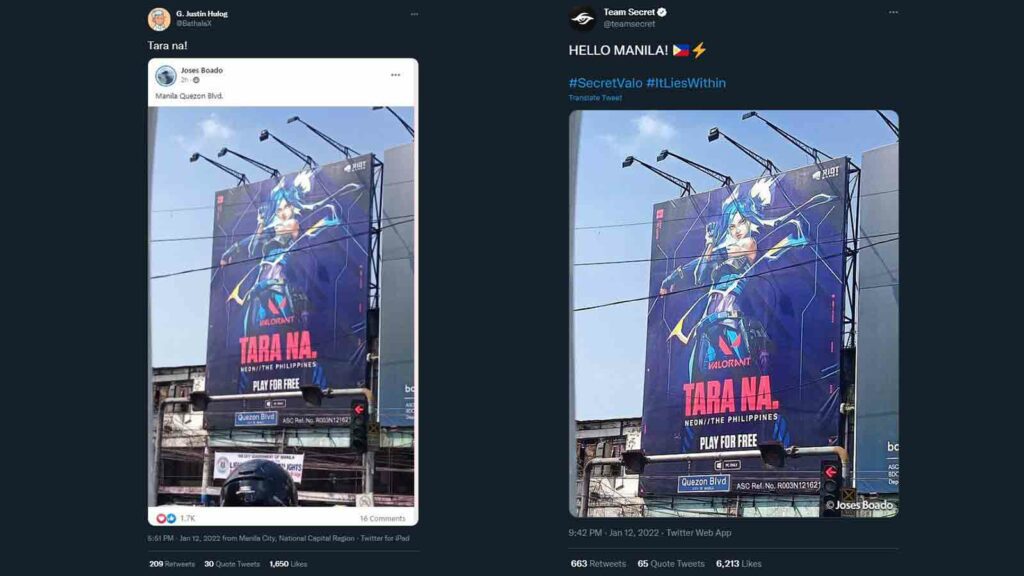 The first viral post of the billboard was shared by Joses Boado, which was then reposted by Riot Games Southeast Asia General Manager, Justin Hulog.
Where Riot Games' Neon billboard is located
The giant billboard can be found on Quezon Boulevard in Manila, right before entering the Recto underpass.
Neon is the first Southeast Asian agent to join Valorant's diverse cast of characters. Her electric cinematic trailer and in-game voice lines show how proud she is of her Filipino heritage.
---
---
Riot Games also shared a reaction video featuring Filipino celebrities like Myrtle Sarrosa and Christian Bautista watching Neon's cinematic trailer, which has since garnered over 6 million views.
Players can unlock Neon by activating her contract and finishing chapter 1. To do this, players must accumulate 60,000 XP (experience points). The fastest way to earn XP is to complete the daily and weekly challenges in Valorant.
Episode 4 Act I also comes with the brand-new Battle Pass, the Protocol 781-A weapon skin bundle, and patch 4.0's map changes for Breeze and Bind.
Follow ONE Esports on Facebook for more Valorant news, guides, and highlights.
READ MORE: Filipino fan celebrates OG's TI9 win by putting up a billboard