Khaleed can be an absolute nightmare to deal with in Mobile Legends: Bang Bang, especially when in the hands of a skilled player. The Fighter's unique skill set allows him to deal massive amounts of damage while also having excellent durability, making him one of the best early game heroes in the Land of Dawn.
His passive ability, Sand Walk, gives him enhanced mobility which synergizes well with his primary offensive skill, Desert Tornado. It also enables him to land his Raging Sandstorm ultimate easily — a lethal initiation ability that allows him to inflict significant damage and crowd control effects on enemies hit.
Defensively, his Quicksand Guard gives him the ability to regenerate HP, increasing his uptime tremendously.
Although Khaleed is undeniably powerful, he is weak against heroes who have burst damage and crowd control abilities. In fact, there is a selection of heroes that you can use to effectively stop him on his tracks.
These heroes have the capacity to counter Khaleed in Mobile Legends
Yu Zhong
Khaleed's incredible early game damage and uptime allow him to impose his will on to enemies in the laning stage and set up a dominant mid game. But when faced with a similar bruiser like Yu Zhong, the hero's presence becomes less pronounced, and his progression is massively choked off.
As the Black Dragon, you have the capacity to trade blows with the enemy fighter using your Dragon Tail and Soul Grip abilities. In full collision, your Black Dragon Form is a powerful ability that enhances your skills and Basic Attacks, putting Khaleed at a major disadvantage in a one versus one situation.
Landing your abilities and Basic Attacks also apply Sha Residue, which inflicts damage per second to the opposing fighter. You also gain Sha Essence in the process, which regenerates a percentage of your HP that allows you to continue to be in the face of the Desert Scimitar.
More than that, your Furious Drive ability can interrupt his Quicksand Guard which greatly affects his survivability.
To fully neutralize the opposing fighter, prioritize items that enhance Yu Zhong's physical attack and lowers cooldown like Hunter Strike or War Axe. Also, consider items that boost your durability, such as Dominance Ice or Bruteforce Breastplate.
Melissa
If you're a marksman main looking to take Khaleed down, Melissa is a hero you can go for.
Khaleed, like most heroes in his class, excel in close combat as his skills and Basic Attacks are melee ranged. This basic mechanic is all you need to look at to see how Melissa can be an effective counter to the fighter.
Few heroes in the game can outmatch Melissa in terms of range-control, as her Falling! and Eyes on You! abilities ensure that she keeps herself at a safe distance while she unleashes hell on her enemies.
But what truly makes her a great pick against the Desert Scimitar is her Go Away! ultimate. When you use this skill, it will prevent the enemy fighter from engaging, as the field of protection surrounding you will continuously knock him back.
While Raging Sandstorm can still be a threat, your superior mobility can help you dodge the skills.
In terms of item build, make sure that you have at least a Corrosion Scythe when engaging with him in the early game. Continue building on your Attack Speed and Physical Attack to make sure that you can keep him at bay.
Chou
Chou is one of the best, if not the best counter picks to Khaleed in Mobile Legends. Whether you play him as an EXP laner or as a roamer, his superior mobility and crowd control can render the fighter helpless.
Your Jeet Kune Do can both be used an initiation tool and as an offensive weapon against him in the lane. The knockback effects can interrupt him when regenerating HP through Quicksand Guard. Your Shunpo ability can even render his poke damage attempts useless.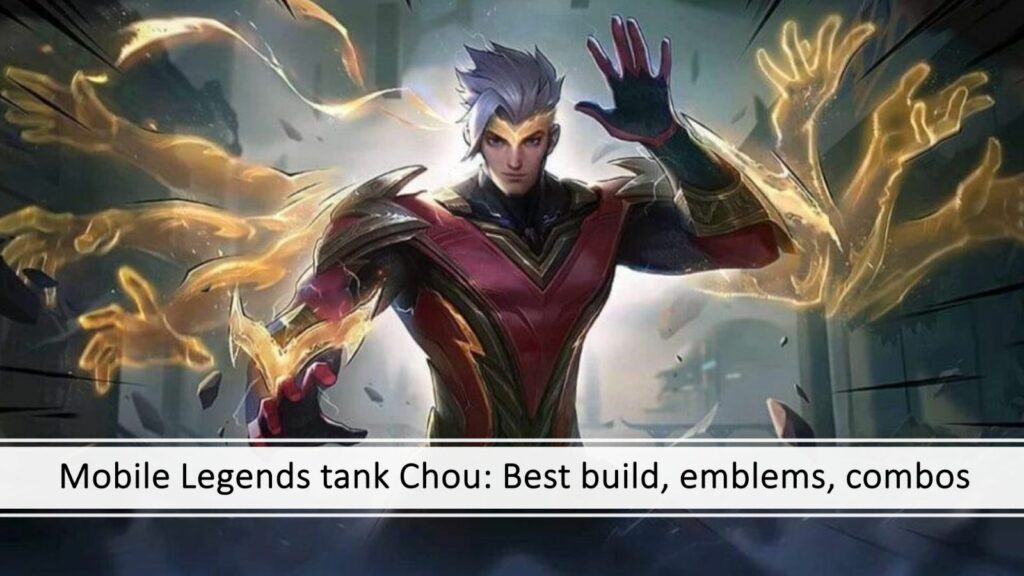 In doing these, you'll prevent him from taking advantage of his early game power spike.
Most significantly, your The Way of Dragon ultimate can bring all sorts of problems for the Desert Scimitar. When timed and angled correctly, your ultimate can put Khaleed in an off position, either under your turrets or in range for your damage dealers — both situations he wouldn't want to be in.
When playing Chou against Khaleed, make him second guess any engagement by activating your Jeet Kune Do. Use bushes to weaver in and out, and activate your ultimate if he overextends.
Make sure to time your Shunpo well and use it only when he gets near you to dodge his damage.
Follow ONE Esports on Facebook, Instagram, and TikTok for MLBB esports news, guides, and updates.
READ MORE: Effect unholy sentence to your enemies on Terizla by buying these 3 best items