Pentakills don't come easy on the Worlds stage.
LCK representative T1 closed out the first Group Stage round robin of Worlds 2022 with a dominant victory over LCS team Cloud9. But it looks like the win could've been much sweeter for bot laner Lee "Gumayusi" Min-hyeong.
On top of having a stellar performance on Kai'Sa, Gumayusi came close to notching a pentakill in the final moments of their match.
---
---
Gumayusi comes close to getting a pentakill on the Worlds stage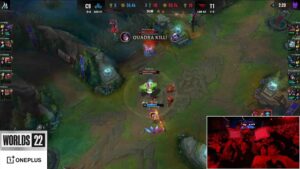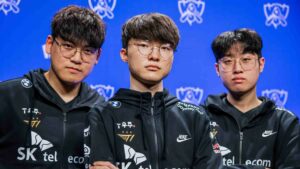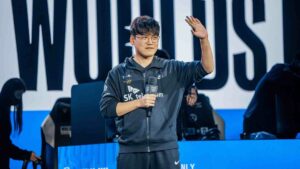 By the 24-minute mark, the T1 squad got into a bloody team fight outside the Baron pit. Gumayusi secured four kills with the help of Lee "Faker" Sang-hyeok's Lissandra and Ryu "Keria" Min-seok's Alistar.
Once Guma bagged the quadra kill, the entire squad set their sights on the final Cloud9 member, Ibrahim "Fudge" Allami, who was retreating to the mid lane.
Keria landed a Headbutt-Pulverize combo that gave Gumayusi time to make his way over, but the Jax player was quite slippery. Even after Keria denied the Drake pit blast cone with another Headbutt, Fudge narrowly escaped with a flash and a blast cone into his own jungle.
The team was eager to continue the chase, but time was up for Guma and his potential pentakill. T1's minions had sieged the enemy base and destroyed the Nexus for the game win.
The AD carry discussed the missed opportunity in the post-game interview, and said he always keeps an eye out for a pentakill, even in previous matches.
"It was so sad. Faker was the only one on the team helping me get pentakills. And the enemy team was definitely not helping," he joked.
With the victory, T1 now holds a 2-1 record in Group A, putting themselves in a three-way tie with Fnatic and Edward Gaming for the top spot.
Heading into the second Group Stage round robin, T1 will face Fnatic on October 13, 1 p.m. PST | 9 p.m. GMT | October 14, 4 a.m. GMT+8.
---
---
Follow ONE Esports on Facebook and Twitter for more LoL news, guides, and highlights.
READ MORE: Faker becomes first player to play 100 Worlds games, dominates with 72 wins