The Unkillable Demon King lives up to his name, even in real life.
As part of T1's partnership with Nike, the Korean esports organization recently started a YouTube series that features its League of Legends players working out with a group of fans.
In the latest episode, three-time World Champion Lee "Faker" Sang-hyeok and star bot laner Lee "Gumayusi" Min-hyeong discussed their favorite workouts and why they like to keep in shape.
T1 Faker and Gumayusi explain why they like to work out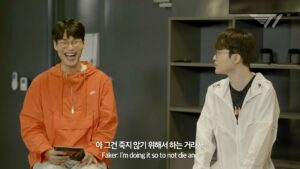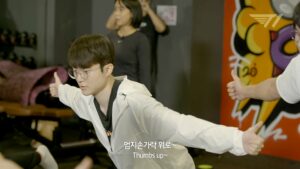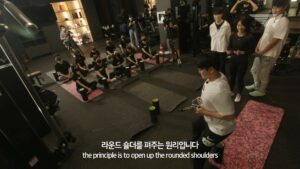 Gumayusi said that he started exercising regularly because of neck and shoulder pain. Working with a personal trainer, he found specific exercises that helped him relieve the pain and correct his posture, such as cable rows.
As for Faker, he had a more honest answer to why he exercises and stretches. "I'm doing it so that I don't die and I maintain my condition," he said.
The mid laner also shared that he's a fan of aerobic exercises and recommends walking for those who have limited muscle and joint mobility.
---
---
After warming up, Gumayusi had the opportunity to assist the trainer and teach the class about cable rows. His best tip when doing cable rows is to always put your weight on your heels.
The bot laner also taught Faker how to do the exercise, and mentioned that you must feel your shoulder blades touching behind your back. Guma teased the LoL veteran by forcing him to do a few more reps than usual.
By the end of the session, the two players thanked the fans for being part of the Nike program. Faker said the session went well since the team picked "monster fans" who showcased their endurance. Gumayusi liked that they were sharing the pain together, and is looking forward to more group workouts.
You can check the full workout video down below:
---
---
Follow ONE Esports on Facebook and Twitter for more LoL news, guides, and highlights.
READ MORE: Communication issues and burnout affected T1's Summer performance, says Bengi