Mid laner Joseph "Jojopyun" Pyun of Evil Geniuses had a fantastic year.
He was voted Rookie of the year by various LCS players, coaches, media, and broadcast team. He and EG brought the organization to MSI and Worlds for the first time since 2020's franchising, and even won the 2022 LCS Spring Split, another first.
However, his path to where he is today was not always smooth. EG had to overcome several obstacles and make adjustments along the way.
They first experienced defeat in Round 2 of the upper bracket during the 2022 LCS Summer playoffs against Cloud9, which came as a surprise because they had secured first place in the regular season while C9 had finished fifth.
"We really underestimated C9, and they definitely shat on us," Jojopyun stated in am interview with Travis Gafford, and reiterated that no matter how well they played, there were always areas they needed to work on.
They had to work their way up from the lower brackets, and almost didn't make it when TSM pushed them to game five the next round. EG's lower bracket run eventually came to a halt in the lower bracket finals where they lost 2-3 to 100 Thieves, but third place was enough to qualify for the Worlds 2022 Play-In stage.
In this ONE Esports interview, we ask Jojopyun about his match against MAD Lions, EG's struggles at the end of the 2022 Summer Split playoffs, and what we may anticipate from them in the future.
---
---
The road to Worlds 2022 group stages was an uphill battle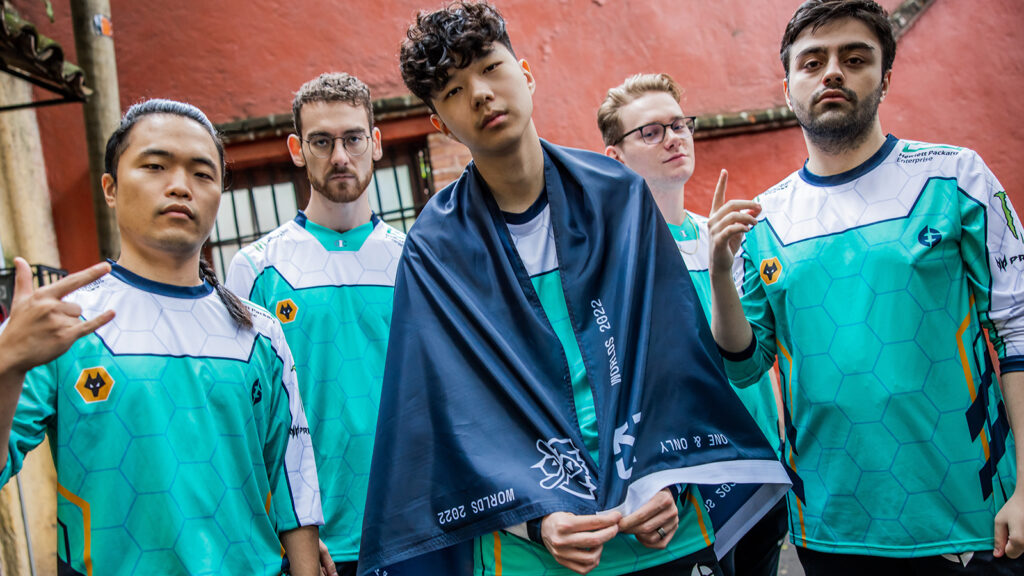 EG's "slump" began during the 2022 Summer Split playoffs.
Kyle "Danny" Sakamaki, that was the starting bot laner, but decided to bench himself citing mental health issues after their match against Team Liquid. Danny had received criticism from the community due to his limited champion pool.
Muhammed Hasan "Kaori" Şentürk of Evil Geniuses Academy was called up to the main roster, but EG needed some time to adjust to the new botlaner, and they struggled during the Play-Ins.
They lost their first match against the LEC's third seed, Fnatic, and then later in the week to Detonation FocusMe, forcing a three-way tiebreaker between LOUD, DFM, and themselves.
EG again was on the cusp of elimination.
Following their initial setback to DFM, EG took the opportunity to reflect and make adjustments accordingly. "We felt like we needed to work on our vision control, as well as playing as a team, being less greedy, and helping each other out," said Jojopyun.
Following these key changes, they managed to defeated DFM with 22 kills to 8 and a 10K gold differential, and advanced to the second best-of-five Play-Ins finals.
---
---
Jojopyun on competing in Group B against tough competition
Things have started to look up for EG at the end of the Play-ins. They swept MAD Lions 3-0 to qualify for the group stages. Even Jojopyun was taken aback by the 3-0 victory.
"I definitely thought it was doable for sure, but I didn't think it would actually be 3-0. I thought it was going to be 3-1 or 3-2, and was hoping for a fun series, but it ended up being easy and boring."
In one fight during the match, Jojopyun boldly used his ultimate, Show Stopper, to dive into four MAD Lions, forcing them to expend all their skills against him, allowing the rest of the EG players to mop up the fight.
EG took the time to understand MAD Lions and discovered that "they made a lot of mistakes" that could be exploited and that is exactly what they did to beat them.
With improvements continuously being made, Jojopyun is now more confident than ever as they will face the likes of JD Gaming, G2 Esports, and DWG KIA in Group B.
"I definitely think we can do well in the group. They are obviously all really good teams, but I think with the amount of improvements we have made so far, I think we can move on to the Knockout Stage."
He now faces a new set of midlaners and rivals, as well as possibly more seasoned veterans, such as DWG KIA's Heo "ShowMaker" Su, the 2020 World Champion whom he looks up to when it comes to team fighting and macro strategy.
Jojo is also eyeing Rasmus "caPs" Winther of G2 Esports, a back-to-back Worlds runner-up and multiple MSI championship holder, whom he'd like to get revenge on one day.
Watch the 2022 World Championship matches live on Riot Games' official channels on Twitch and YouTube.
---
Follow ONE Esports on Twitter for more League of Legends updates, guides, features, and more.
READ MORE: Worlds 2022 Group Stage schedule and results