T1 Keria's champion pool keeps getting bigger and bigger.
Week 5 of the League of Legends Champions Korea (LCK) Summer Split saw an electrifying performance from Ryu "Keria" Min-seok on Blitzcrank, his 15th pick this season.
Despite having other tried and tested champs like Nautilus open, T1 drafted Blitzcrank as their last pick on red side in game one. The champion has become a trending meta support pick since patch 12.12, which buffed the base damage of his Rocket Grab and Static Field.
T1 Keria secures first blood with an incredible Rocket Grab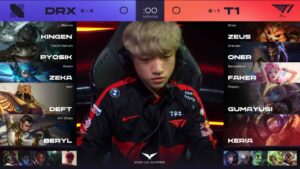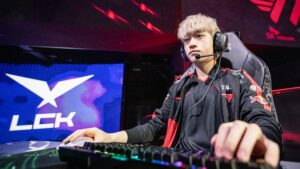 Keria cleverly played around his wards to catch out DRX players with Blitzcrank's Rocket Grab.
At the 15-minute mark, DRX was looking to take the second Rift Herald, but was interrupted by Mun "Oner" Hyeon-joon's Poppy, who knocked Hong "Pyosik" Chang-hyeon's Xin Zhao away from the pit with Keeper's Verdict.
After T1 stole the Rift Herald right under DRX's noses, Keria planted a ward in the jungle and waited behind a nearby wall. While Pyosik tried to kill the ward under a Sweeping Lens, the Blitzcrank player landed a Rocket Grab-Power First combo on the DRX jungler. The rest of T1 immediately dogpiled Pyosik to secure first blood.
---
---
---
T1 smashes DRX in a jungle chokepoint
Just a few minutes later, T1 Keria landed another Rocket Grab that further propelled T1's gold lead.
After Oner claimed the Ocean Drake, the entire DRX squad marched down the river for a potential punish. DRX took out the control ward in the bot side line bush, but Keria quickly replaced it with another ward. Spotting out Pyosik, the T1 support isolated him with Rocket Grab.
Looking to save their teammate, Cho "BeryL" Geon-hee's Tahm Kench and Hwang "Kingen" Seong-hoon's Gwen tried to trade blows with T1 in the jungle, but was charmed by Encore from Lee "Faker" Sang-hyeok's Seraphine. Stuck in the chokepoint, Choi "Zeus" Woo-je's Gnar slammed them into a wall as the rest of T1 claimed the two kills.
Faker and Zeus flashed into the river in hopes of catching DRX's retreating players. Zeus finally eliminated Pyosik with a pinpoint boulder while Faker assisted in Zeus' double kill by snaring Kim "Deft" Hyuk-kyu's Senna with a double Beat Drop.
---
---
By 26 minutes, T1 stormed the enemy base through the top and mid lane to secure their first victory of the series.
Keria's Blitzcrank ended game one with eight assists and came close to winning the Player of the Game award, getting five votes to Zeus' seven.
Sweeping the series against DRX, T1 now holds a 9-1 record and will face Kwangdong Freecs on July 21 at 5 p.m. GMT+9 | 4 p.m. GMT+8 | 8 a.m. GMT | 1 a.m. PT.
Follow ONE Esports on Facebook and Twitter for more LoL news, guides, and highlights.
READ MORE: T1 Faker, Oner, CEO Joe Marsh speak out about in-game bugs and delays during LCK match