Updated on August 7, 4:36 p.m. (GMT+8): Updated characters' height based on the official graphic released by Riot Games.
Many fans wish Arcane characters existed in real life.
However, they would probably tower over the average Asian fan, especially when it comes to the sheriff of Piltover, Caitlyn, who stands at about six feet tall.
But she's not actually the tallest character in the series. In the pilot episode of their new documentary series, Arcane Bridging the Rift, Riot Games reveals the exact height of all your favorite characters.
Can you guess which other Arcane characters are taller than Caitlyn?
---
---
---
How tall is Caitlyn? All the Arcane characters and their height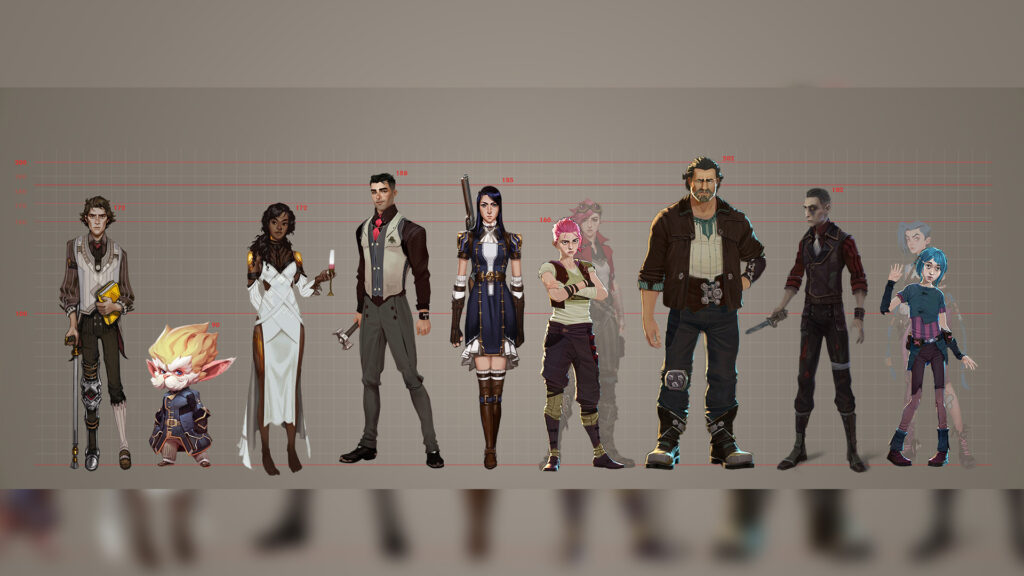 In Arcane Bridging the Rift's first episode, "I Only Dream in Risky," the production team showed never-before-seen sketches and storyboards of characters and episodes.
One of these revealed the heights of Arcane's main characters in detail, which vary from 90cm to 190cm.
The documentary also showcased the production team's processes, behind-the-scenes footage, and interviews with creators Alex "Skribbles" Yee and Christian "Praeco" Linke.
Arcane is Riot Games' first series for television since the debut of its flagship game, League of Legends, back in 2009. It focuses on the stories of LoL champions and sisters Vi and Jinx, the history and politics of Piltover and Zaun, and the invention of a new arcane technology called Hextech.
Since its release late last year, the show has received nothing but high praise from some of the biggest names in the gaming community, including Japanese video game designer and director Hideo Kojima.
Curious to know how Arcane became the best anime of 2021? Watch the first episode of Arcane Bridging the Rift here:
---
---
Arcane Bridging the Rift premiered on August 4, with new episodes releasing every Thursday on Riot Games' YouTube channel.
READ MORE: Arcane Bridging the Rift: Release date, documentary episodes, where to watch