The 2021 LCK Spring Final featured a stunning showing from league leaders DWG KIA.
The defending LCK champs went head-to-head against Gen.G, and pulled out some unorthodox picks. With Gen.G's bot lane going for the strong duo of Aphelios and Thresh in game one, Cho "BeryL" Geon-hee went for an interesting Heimerdinger pick paired with Jang "Ghost" Yong-jun's Senna.
Despite being the team's star support player, BeryL came through as a bot lane carry that game. He picked up Doran's Ring, while Ghost grabbed support item Spectral Sickle as fasting Senna.
With an army of turrets waiting to attack creep waves, BeryL racked up a solid CS lead and dished out some hefty damage with his stunning CH-2 Electron Storm Grenade and Hextech Micro-Rockets combo.
---
---
Equipped with Liandry's Anguish and Void Staff in the late game, BeryL was ready to burst down his opponents.
Recognizing that Ruler's Aphelios was overextended in the mid lane, Ghost and Kim "Canyon" Geon-bu's Udyr went for a sneaky ambush using Curse of the Black Mist. Once Canyon landed his Bear Stance stun on the ADC, BeryL immediately followed up with the Heimer combo.
At the 28th minute, BeryL worked with Kim "Khan" Dong-ha's Sion to flank the retreating enemy squad in the jungle for more kills.
Khan managed to catch Ruler at the edge of Decimating Smash, and like clockwork, BeryL instantly threw his Storm Grenade to chain the crowd control and claim another kill on the Gen.G ADC.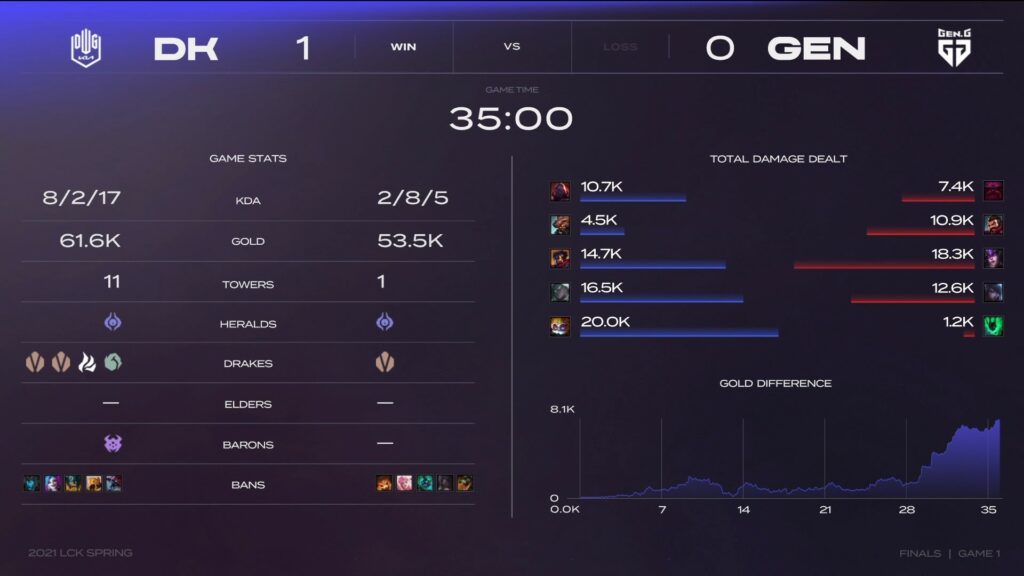 Thanks to his active participation in taking down towers and Drakes, BeryL ended game one with 20,000 damage dealt to champions, the most on his team, proving that he's more than just an all-star support.
DWG KIA went on to sweep Gen.G 3-0 to claim the 2021 LCK Spring title, the second LCK championship for the org. DWG KIA will be the sole LCK representative at the Mid-Season Invitational in May.
READ MORE: 2021 LCK Spring Playoffs Results