Kaeya Alberich is an underrated 4-star Cryo character in Genshin Impact. Combat aside, some players use his elemental ability, Frostgnaw, to create ice bridges.
These Kaeya ice bridges are really helpful when exploring new areas without relying too much on Teleport Waypoints.
When Inazuma launched, Genshin's first archipelago region, players couldn't help but wonder if it's possible to build a very lengthy Kaeya ice bridge to get to the Teyvat nation.
Is it realistically possible to ice bridge to Inazuma?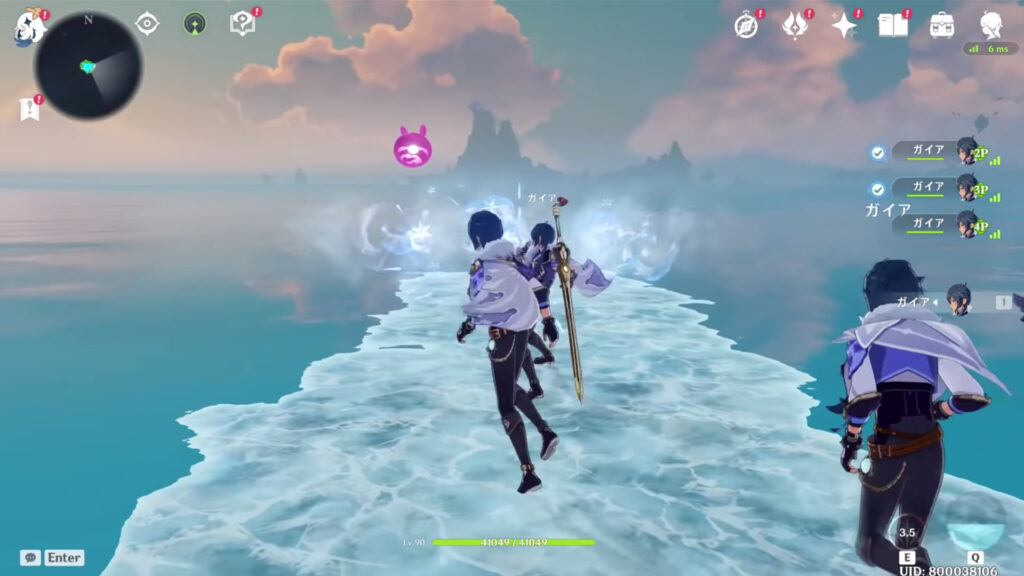 Japanese YouTuber マグロヘッド (Maguro Head or Bluefin Tuna Head) decided to test out if the Kaeya ice bridge technique works as a gateway to Inazuma.
The YouTuber created a full, four-man Kaeya party to generate a great ice bridge that would ultimately lead to Ritou, the region's port of entry.
The group started out at Liyue Harbor and then worked their way over the great Teyvat ocean by taking turns in casting Frostgnaw. Based on the game's day and night cycles, they were at it for almost an hour.
---
---
Unfortunately, however, it is not possible for players to ice bridge their way to Inazuma. Halfway through, the weather drastically changed from sunny to stormy, accompanied by rain and harsh lightning strikes.
Even if you somehow manage to survive the lightning strikes, the Genshin Impact loading screen will suddenly appear and prevent you from advancing further.
You and your party will then be transported to the Liyue Harbor Teleport Waypoint near the Adventurers' Guild.
Despite failing to reach Inazuma, the Japanese YouTuber's funny commentary and reactions made the whole journey worthwhile.
---
---
How to get to Genshin Impact's Inazuma region (no Kaeya ice bridge needed)
Only players who are Adventure Level (AR) 30 or above can enter the area.
Once you have reached this AR level, go and complete the Archon quest "Autumn Winds, Scarlet Leaves" starring the captain of the Crux fleet Beidou and Inazuma runaway Kaedehara Kazuha.
You will then unlock the new Archon quest "The Immovable God and the Eternal Euthymia". As you complete the quest, you will eventually be transported to Inazuma.
Follow ONE Esports on Facebook and Twitter for more Genshin news, guides, and stories.
READ MORE: Genshin Impact Inazuma characters: Weapons, Teyvat lore, voice actors, and more