Updated on October 12, 7:11 p.m. (GMT+8): The winners of the Last Chance Qualifier, Team Liquid and Team Secret, were added to the power rankings.
And then there were 20.
The International 11 will feature the best teams in the world in the ultimate Dota 2 contest. The stage is set in Singapore for 18 teams — with two more to qualify from the Last Chance Qualifiers. Some will leave as new millionaires. Only one will lift the Aegis of Champions.
The ONE Esports TI11 power rankings judges the relative strength of each team to the rest of the field. But most importantly, it tries to answer one question — which squad will leave Singapore with the Aegis in their hands?
100 players, with hearts in their mouths and RGB peripherals in their hands, will play for glory. On October 29, five will remain to bask in it. Who's most likely to be in the spotlight?
TI11 power rankings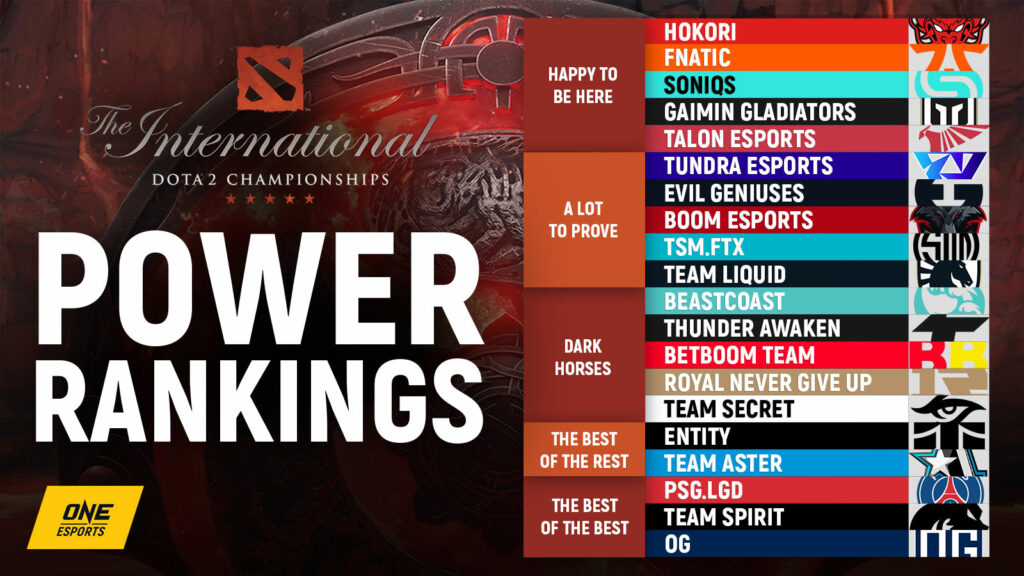 Happy to be here
Hokori
Fnatic
Soniqs
Gaimin Gladiators
Talon Esports
A lot to prove
Tundra Esports
Evil Geniuses
BOOM Esports
TSM FTX
Team Liquid
Dark horses
beastcoast
Thunder Awaken
BetBoom Team
Royal Never Give Up
Team Secret
The best of the rest
The best of the best
Hokori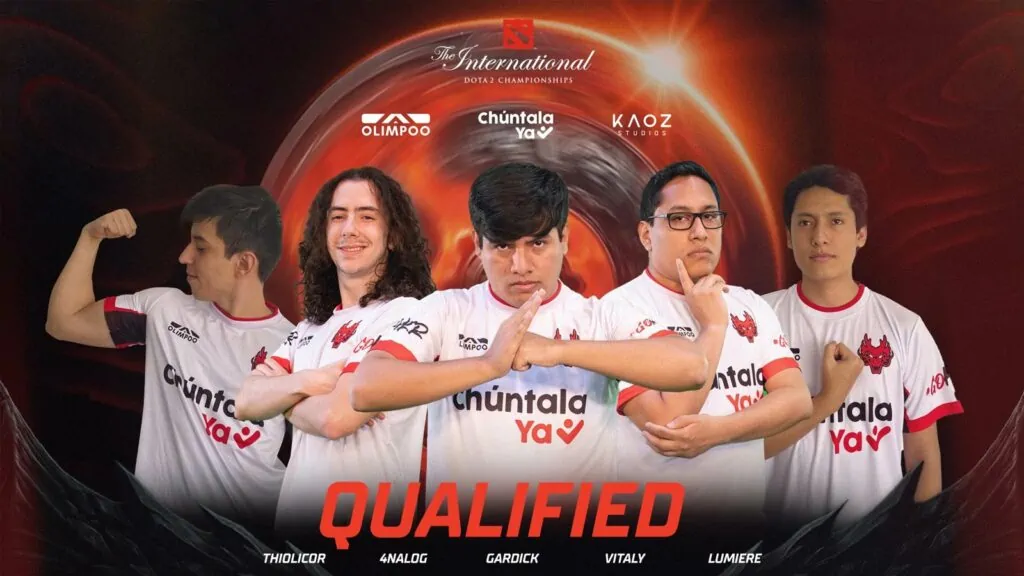 Who is South American team Hokori? That's probably the question on many teams' lips — except for their SA rivals, of course — about a squad that shares a grand total of one TI appearance amongst five players. Despite finishing eighth with a 1-6 record in DPC SA Div I Tour 3, Hokori pulled out a miraculous lower bracket run to earn a nervy 3-0 upset over Infamous in the Regional Qualifiers.
Ever since Infamous' TI9 top-half run, the SA region as a whole has received increased exposure, improving rapidly. While regional brethren beastcoast and Thunder Awaken have enjoyed the limelight, having done well in international competitions over the past year, the rest of the field is still itching to make their presence known.
With two teams to be eliminated in the group stage, there's little room for error. Hokori might be the least studied team coming into TI, and that could play to their advantage.
Fnatic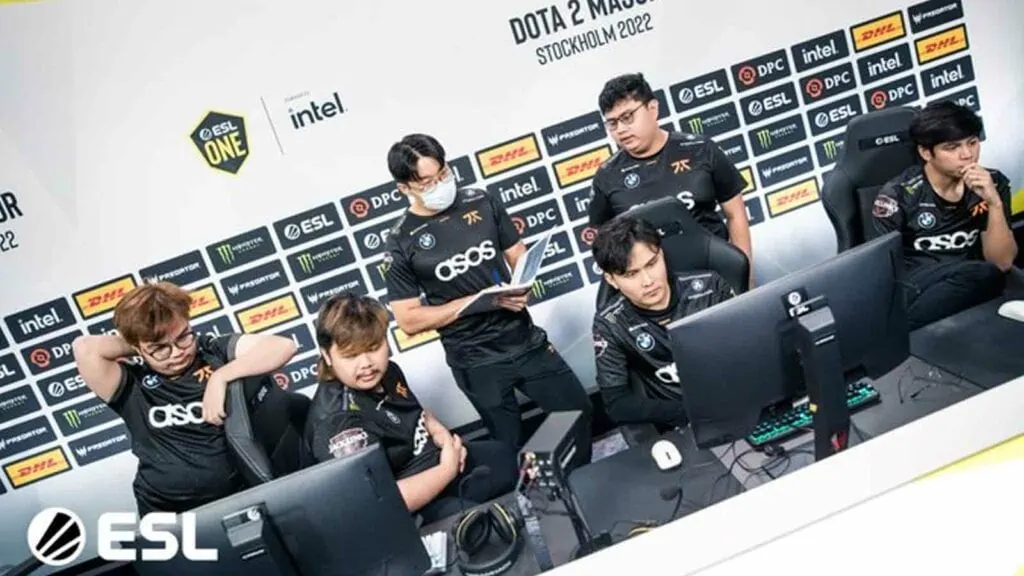 Fnatic have been the kings of Southeast Asia for a long time — but they've never finished in the top half at TI. This iteration of the roster finally look like they have the capability to do so — or maybe they won't.
Fnatic has been plagued with inconsistency this year. Even regionally, where they are usually the top dog, they've swung between first and fourth through the three Tours and Winter Regional Finals. They flopped out of the group stage at two separate Gamers Galaxy events. But they also finished top eight at the Stockholm Major, losing only to eventual winners OG, and fourth at ESL One Malaysia 2022, again losing to OG.
Fans of this Fnatic team will hope that the trend seems to be they step up their game at more important events. If this squad can catch TI11 while on their upswing, they will be a tough opponent for any team — and anything can happen in a month-long tournament.
Soniqs
Soniqs, or Quincy Crew for the most part of the year, qualified for TI by stomping through the North American qualifiers. Besides a small hiccup in the upper bracket final against nouns — a favor they duly repaid with a 3-0 sweep in the grand final — no team could stand in their way.
But it was no surprise for a NA region that has only recently become a three-horse race with the emergence of Team Undying, now TSM FTX. Quincy Crew has periodically surged past Evil Geniuses as the best team in NA, but that local dominance has yet to translate to LAN performances. The roster's only appearance at LAN this year was at the PGL Arlington Major, where they had the dubious honor of being the last team in the group stage, because there were only 17 teams.
But in that very tournament, they were also the only team to take a game off PSG.LGD in the group stage. It's a small consolation for a last place finish, but TI is a new event. With new captain Adrian "Fata" Trinks — one of Dota 2's most interesting drafters — allowed more time to work his magic, Soniqs might have the capacity to surprise even giants.
Gaimin Gladiators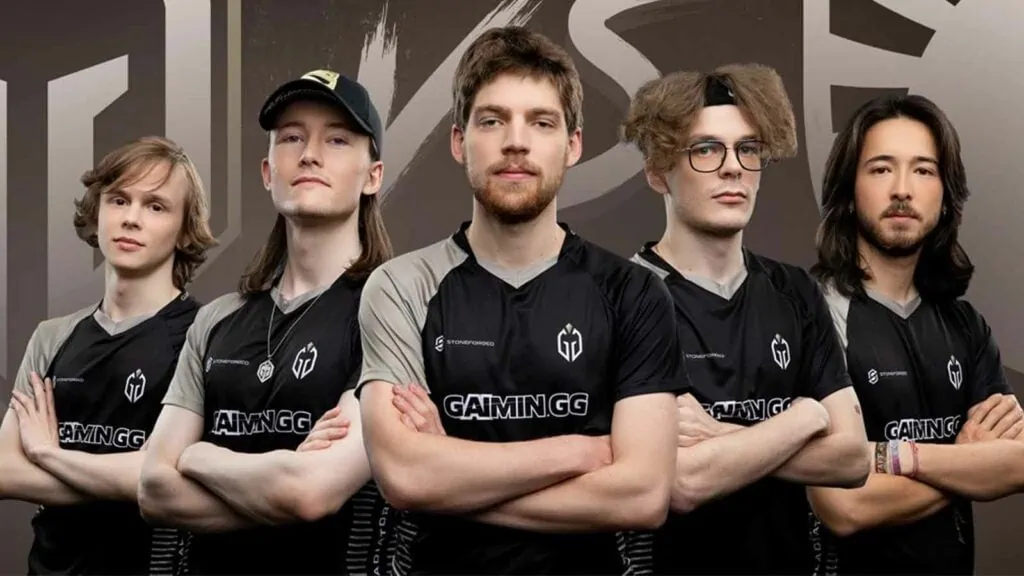 Gaimin Gladiators secured a TI11 invite off the back of their immense early season form. Securing first place in the Winter Regional finals in Feburary, a fourth place at the Stockholm Major, and two successive second-place finishes in Tours 1 and 2 ensured that they comfortably slipped into the direct invites.
But the Western Europe team has followed that up with some truly anemic performances in recent months. A 2-5 record and a tiebreaker win against goonsquad in Tour 3 was barely enough to keep them in Division I. Their last competition was more than two months ago in season seven of the Dota 2 Champions League, where they lost to Team Unique — a team that finished fifth with a losing record in DPC EEU Div II Tour 3.
With so many months out of the spotlight, it's difficult to judge where they are now. But they've shown glimpses of being a team on the verge of breaking into the top tier early in the year — let's hope they've spent their months away training hard to be that version of themselves.
Talon Esports
Talon Esports' first foray into the Dota Pro Circuit couldn't have been more disastrous. The first iteration of the roster nearly flubbed the Tour 1 open qualifiers, before failing to promote to Div I after a fifth-place finish in Div II.
But the team has slowly assembled their team, piece by piece. First, it was Worawit "Q" Mekchai, who's been a surprise revelation at both support positions. Then, it was Thai prodigy Nuengnara "23savage" Teeramahanon. Promotion quickly followed, with a 6-1 record in Tour 2 Div II, followed by another 6-1 record in Tour 3, Div I.
The puzzle was finally complete with new coach Andrii "ALWAYSWANNAFLY" Bondarenko, who helped the team through a gruelling SEA Regional Qualifiers. While their LAN appearances have left much to be desired — they were eliminated in the group stage at three separate occasions — the team has improved at every turn. The past year can be forgotten, and there's only one report card that matters for an organization like Talon.
A lot to prove
Tundra Esports
Evil Geniuses
BOOM Esports
TSM FTX
Tundra Esports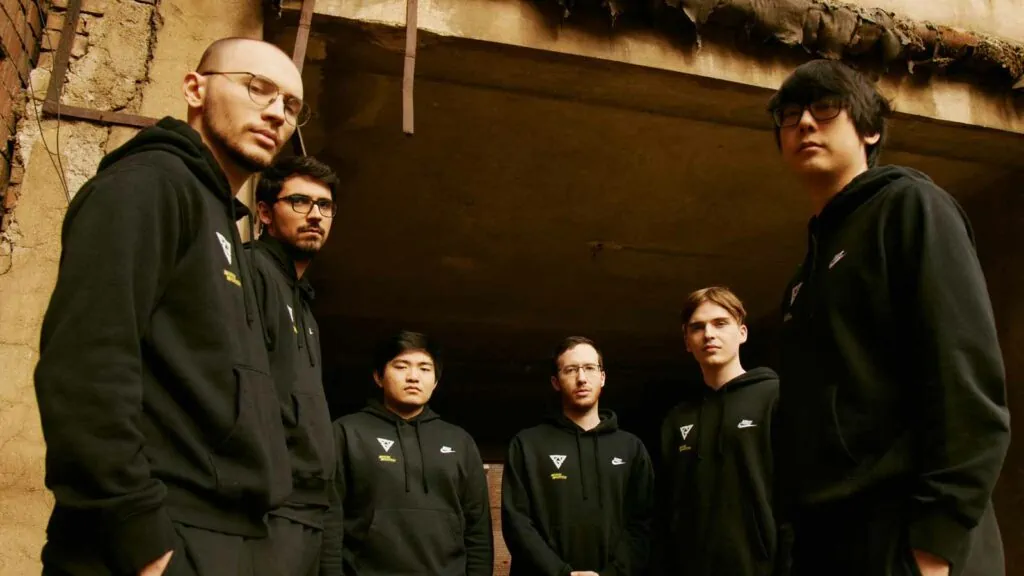 In the early part of the season, and especially at the Stockholm Major, Tundra Esports looked like the best team in the world — until they met finalists OG and TSM FTX. For some reason, Tundra's usual laning dominance never took off. While they proceeded to play well online, winning Tour 3 of the DPC EU, they've also since failed to perform to their lofty heights at the Riyadh Masters and the Arlington Major, falling in the group stage at both events.
Tundra's strategies can be esoteric, often relying on reads of their own players' hero strengths and weaknesses rather than forcing a meta draft. Their early game dominance starts from their offlane duo — Neta "33" Shapira and Martin "Saksa" Sazdov — a stifling pair for any opposing safelane.
While poor results have plagued their recent form, they've shown that they have the capability to play against the best teams in Europe. With the world's finest in attendance, Tundra will need to regain their early season shape or risk another early exit.
BOOM Esports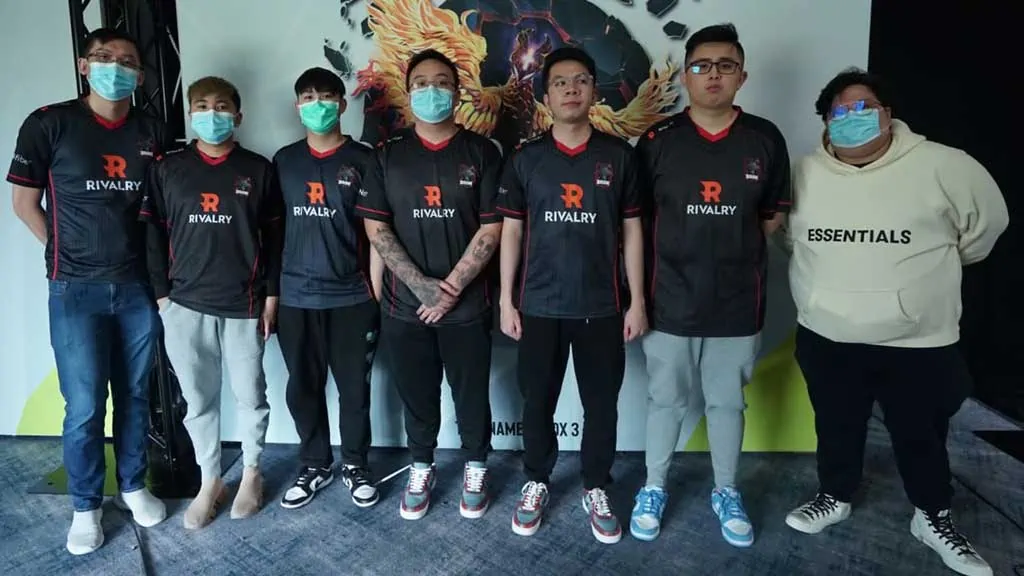 Southeast Asia rejoiced when BOOM Esports showed the heck up at the Gamers Galaxy Dubai Invitational, winning a tough grand final against Tundra.
They've continued to perform well in the SEA region, but have been rather unlucky bracket-wise when it comes to international tournaments. At the Stockholm Major, a losing group stage record meant they found themselves up immediately against eventual winners OG in the lower bracket. At the Arlington Major, where they finished an even 7-7 in groups, they ran into Chinese titans PSG.LGD in the upper bracket, and then an in-form Entity in the lower bracket.
They didn't perform badly against these teams, which is a cause for hope for what should be SEA's best representative at TI11. But not bad is also not good. Every team at TI11 can be a potential hurdle. BOOM will need every ounce of skill and hunger to navigate them, and prove that a SEA team can hang with the best.
Evil Geniuses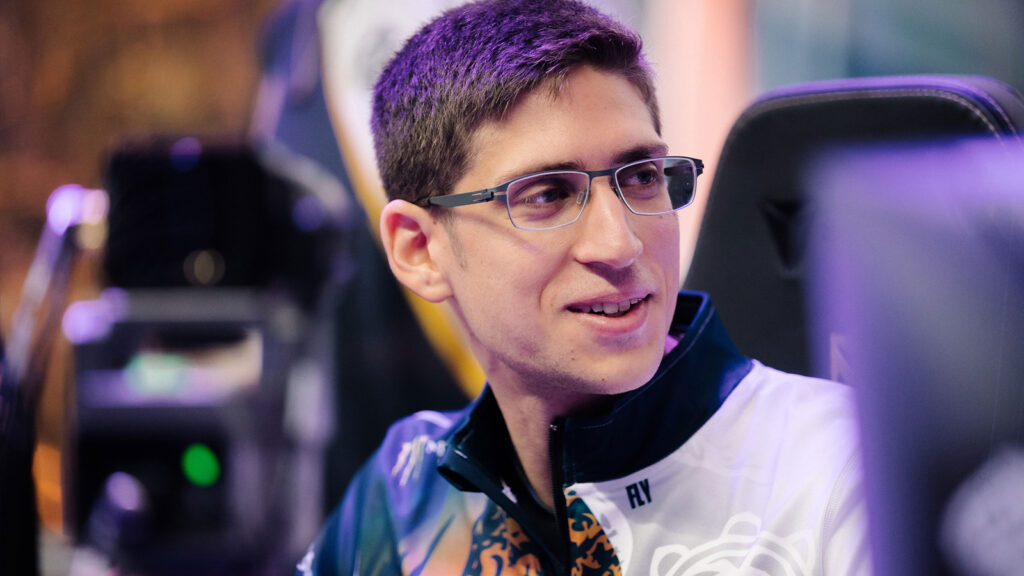 Evil Geniuses began the offseason with a bold move, picking up Jesse "JerAx" Vainikka after the player had been retired for nearly two years. It's safe to say that the experiment has not worked out.
The team continued to perform amazingly in the North American region, which was how they barely secured 11th in the DPC rankings and a direct TI11 invite. But they were tepid at the Stockholm Major, winning just two games before being eliminated in the group stage.
While the return of Tal "Fly" Aizik seemed to stabilize their slide, they had yet another bottom half finish at the Arlington Major.
That said, this team is just one person removed from the team that finished second in both Majors in 2021. This is a roster with extreme pedigree — now, they just have to show it.
TSM FTX
The last time we saw TSM FTX play as a full team was during a rather uninspiring bottom-half elimination at ESL One Malaysia 2022. It was the same story at the Riyadh Masters, where they were eliminated in the group stage. So why does the North American team remain a force to watch out for?
At their best, the team has shown themselves to be a team chock-full of individual talent. The team achieved silver at Stockholm Major in a run that felt less miraculous and more like they understood the meta intimately — a good sign for a team able to evolve with the tournament.
But they've since failed to replicate their form then. Are they resting for the right time to peak? Is their one magical run already past them? It's up to the squad to prove that NA Dota isn't just full of salt — there can be sweet times for them and their fans as well.
Team Liquid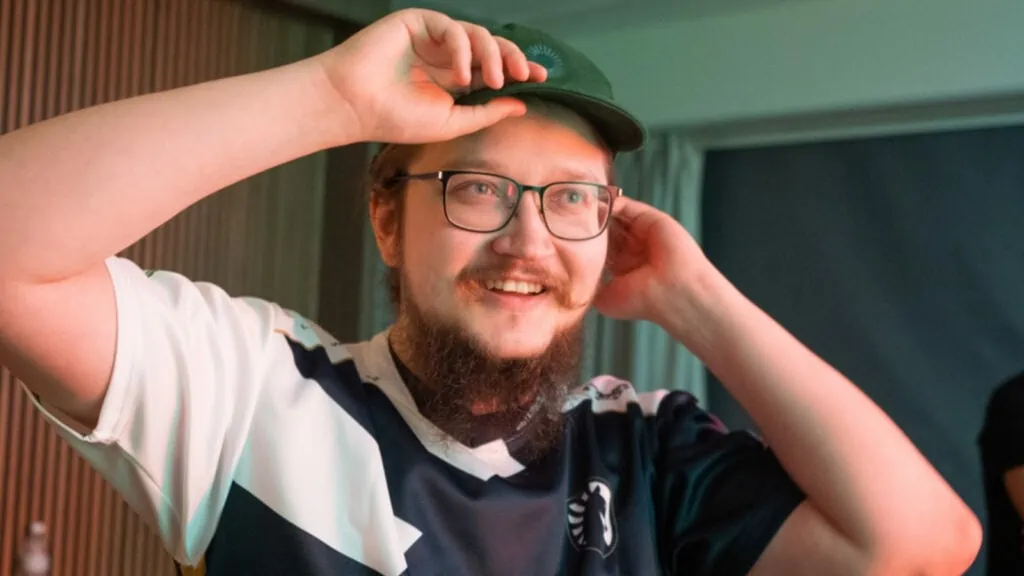 Liquid is an enigma of a team. When fighting from behind, they trigger some sort of an anything-but-losing instinct within them, leading them to some ridiculous comebacks.
Yet, the team continues to look nervy when they are in a leading position, and it's a problem that existed at the start of their LCQ run. But towards the end, they've closed out games not just in dominant situations, but with slim advantages—a hallmark of a top-tier team.
Lasse "MATUMBAMAN" Urpalainen remains one of the most versatile position ones in the world, able to switch on a dime and dominate that mid lane with heroes like Sniper and Lone Druid. Of course, deserved credit goes to Michael "miCKe" Vu as well, whose Shadow Fiend has looked like a world-beater throughout the playoffs.
Already going through a qualifier, fans will hope that the team's nerves have already been steeled. If so, be prepared for a Liquid that's easy on the eyes, teamfight with precision, and convert advantages on their eyes—a team with so much promise that finally fulfills some of it.
---
---
Dark horses
beastcoast
Thunder Awaken
BetBoom Team
Royal Never Give Up
Team Secret
Beastcoast and Thunder Awaken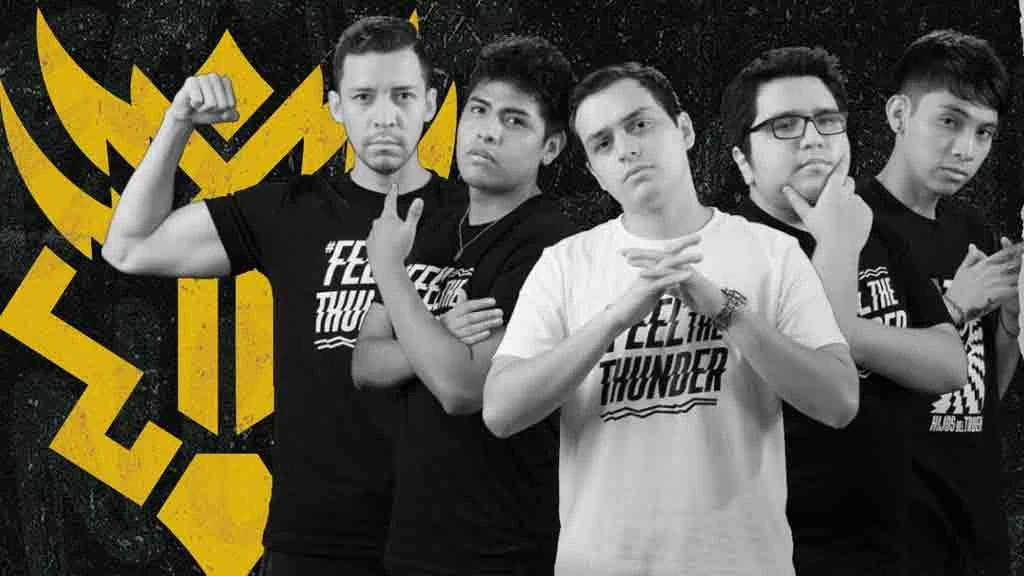 Get ready your gaaaaaa's. South America has never been so finely represented at an International, with beastcoast and Thunder Awaken both looking like they can take games off any team in the world.
Both teams have proved themselves to be the top dogs of the SA region, and more than competent internationally. At the Stockholm Major, the squads finished joint-fifth. Beastcoast repeated the feat at Arlington Major, but Thunder Awaken — missing their midlaner — were eliminated in the group stage.
While young teams generally get twitchy in late-game situations, Thunder Awaken have shown themselves to be calm under pressure. There is no better example than their exemplary mega creeps comeback against Team Liquid at the Stockholm Major, where coordinated teamplay and nerves of steel helped them pull out a victory.
Meanwhile, beastcoast is the epitome of chaos. There's never an off-switch with these players, and offlaner Adrián "Wisper" Dobles has proved himself to be one of the best pos threes in the world in terms of his reliability, deep hero pool, and sharp playmaking plus spellcasting instincts on heroes ranging from Dark Seer to Rubick. The 20-year-old might be the most consistent player on his team, but beastcoast's other players also have what it takes to pull out game-winning individual performances.
BetBoom Team
BetBoom Team came out of the Eastern Europe qualifier in an unexpected twist, felling favorites Virtus Pro in a clean 3-0 series. But they've shown their capabilities before at the Stockholm Major with a top half finish, off the back of one of the most specialized hard carries in the game.
Nikita "Daxak" Kuzmin is more than capable of pulling out your traditional heroes at position one, but more often than not, the team relies on him to set the tempo with heroes like Nature's Prophet and Visage. It's a unique role that the 25-year-old pulls off with aplomb, and BetBoom has rode his impressive Visage performances to numerous wins.
Of course, opponents will certainly have their eyes on that particular pick, but Daxak — and the team — isn't a one-trick-pony.
Royal Never Give Up
On paper, RNG, has one of the best squads in the competition. They have three-fifths of the PSG.LGD core that dominated the competitive scene in 2018 and 2019, and an experienced position four and captain in Hu "kaka" Liangzhi who has consistently proved his skill over the years with Newbee and Invictus Gaming. Add a high-MMR pubstar to the mix, and it seems like they've basically recreated TI8's OG magic formula.
Lu "Somnus" Yao remains one of the best midlaners in the game, an old-school, aggressive midlaner that seems to be increasingly rare. While the team hasn't done too well internationally, it's hard to bet against their experienced players recovering to make a magical run at TI11 — just like how they demolished the Chinese qualifiers against a similarly star-studded Xtreme Gaming, winning five total games against their one.
Team Secret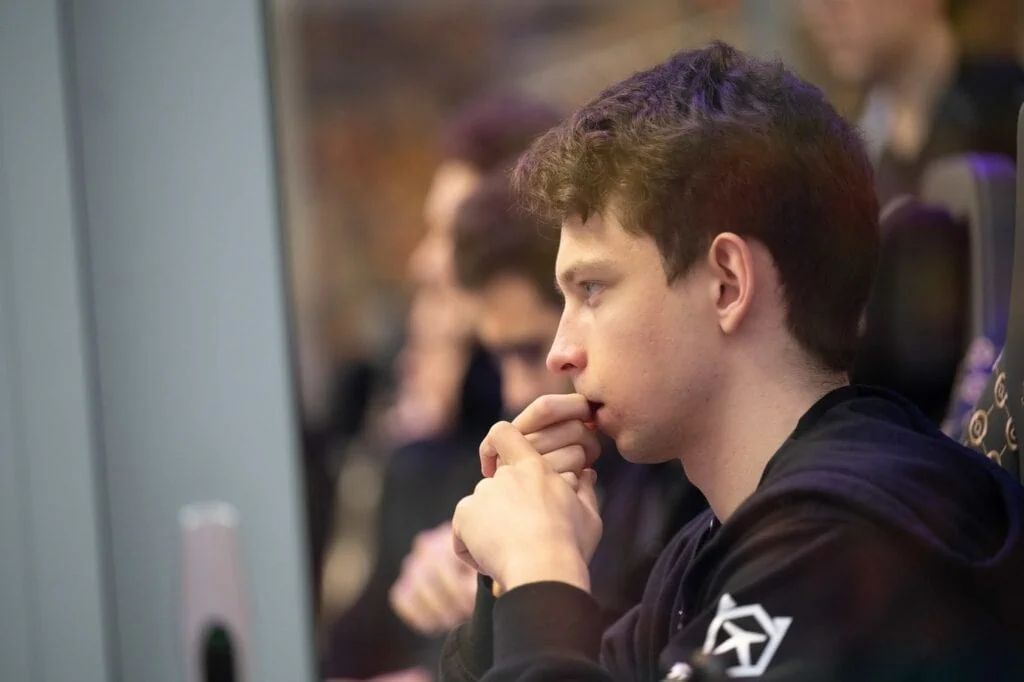 It took the whole season, several roster changes, and an extended journey through the TI11 Last Chance Qualifiers—but Clement "Puppey" Ivanov will sooner retire than enter the main event without a good-looking squad.
Michał "Nisha" Jankowski still is one of the best midlaners in the world, and is as consistent as they come. But newcomer Roman "Resolut1on" Fomynok has made a flying start to his Secret career, showing a wide breadth of heroes in his offlane pool—and capable of carrying whenever the situation calls for it.
While many will continue to question Remco "Crystallis" Arets' capabilities, the 20-year-old played well through the LCQ. He's a pubstar in the vein of players like Topias "Topson" Taavitsainen and Ammar "ATF" Al-Assaf, but he's shown a surprising versatility with his safelane hero pools and itemization, switching farm priority whenever necessary to accommodate Secret's draft.
The final form of Team Secret is an oppressive team that chokes out enemy teams, slowly enclosing areas while Baqyt "Zayac" Emiljanov roams and roves with whichever core is chosen to be the space-maker that game. There's been glimpses of it so far in the LCQ, especially towards the end where they crushed T1 and Virtus Pro with the ease of a team playing far beneath their station—and they'll need all that and more for the main event.
The best of the rest
Entity
At first, it seemed like Entity's addition of Ivan "Pure" Moskalenko was what pushed them over the edge into contention as one of the best teams in Europe. It wasn't until Arlington, where Pure couldn't secure a visa in time, before people realized — holy hell, they are just that good.
The team definitely isn't a talismanic one, revolving around Pure, no matter how it seems. Every player has improved leaps and bounds in months. Vladislav "Kataomi`" Semenov is an unearthed position four gem, while captain Dzmitry "Fishman" Palishchuk has a Bane so terrifying that it is reminiscent of legend Alexey "Solo" Berezin's dominant heyday with Virtus Pro from 2016 to 2018.
Daniel "Stormstormer" Schoetzau has carried games just as much as Pure, especially when placed on his signature heroes like Invoker and Visage. Offlaner Tobias "Tobi" Buchner is the ultimate flex — throw him an offlane Chen, Undying, or Mirana, and he takes them all with ease.
The team's unpredictability with their strategies and heroes are invaluable. And when the chips are down, Pure has proven that he has what it takes to be the one — and that's game-winning when the stakes are as high as it gets.
Team Aster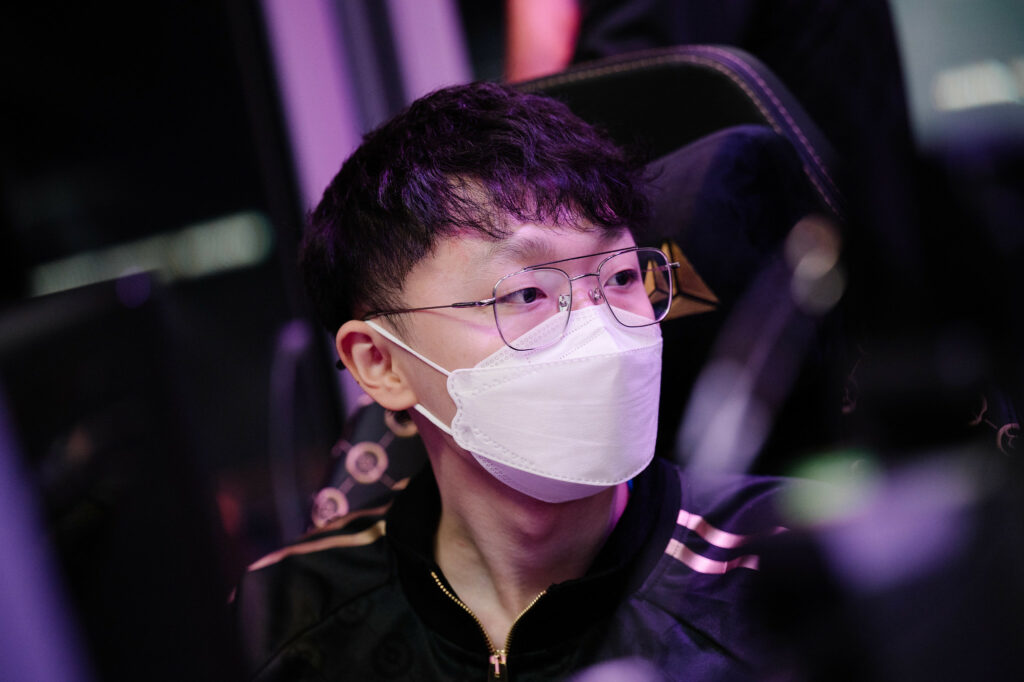 Team Aster seems like they've finally — finally! — figured it out. Whatever the team's issues with international tournaments, they've seemed to firmly put themselves past those yips with some amazing performances. The addition of one of China's most rock-solid midlaners, Zeng "Ori" Jiaoyang, and a hard support from their own academy team, Yu "皮球" Yajun, have transformed their fortunes.
They haven't finished lower than third in any competition the entire year. On LAN, they've crushed some of the best teams that dared to stand in their way — except for some of the usual suspects we'll talk about later.
Aster has existed in a mire of being dominant locally, then failing at the first hurdle outside of China, for so long that it's difficult to back this horse. But the best Chinese teams have historically performed above expectations at TI, no matter how the grand finals go — and Aster looks to finally be included in that group.
The best of the best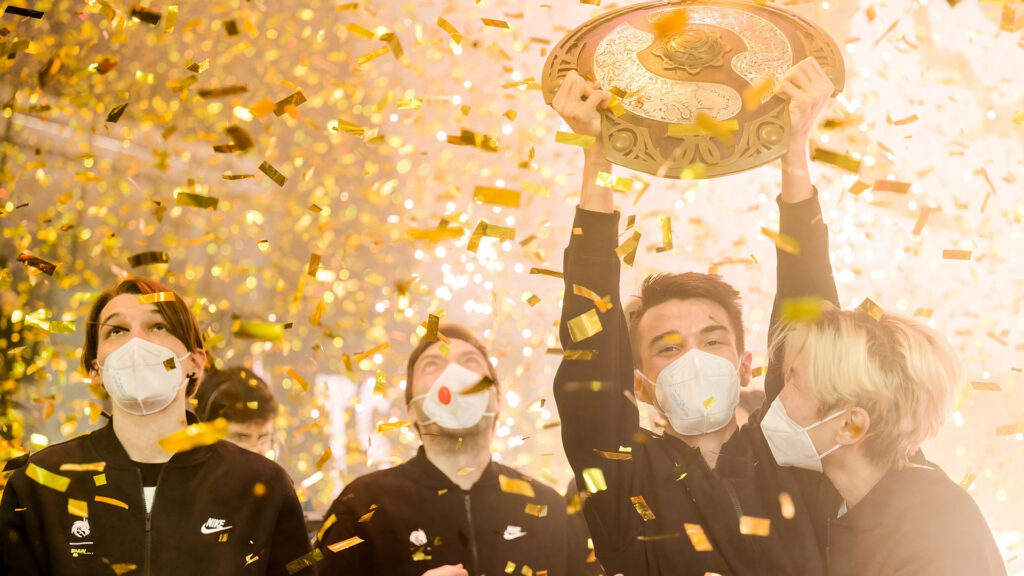 What can be said about these teams that hasn't already been said?
These three teams are serial winners — yes, even a young squad like OG has proven that in the space of a year. Their names dominated the competition this season whenever we had a chance for an international LAN. The Stockholm and Arlington Majors. Riyadh Masters. ESL One Malaysia 2022. Wherever these teams went, they dominated — and it will take a momentous feat for TI11 to be the exception.
Though Team Spirit looked to have lost a bit of their mojo earlier on in the season, with middling showings at the Stockholm Major and the Gamers Galaxy Dubai Invitational, they've come right back up to speed at the right time — though it's difficult to blame them for their disruption. The TI10 champions are heading into their Aegis defence in hot form, having won the Arlington Major in style over PSG.LGD in an increasingly heated rivalry.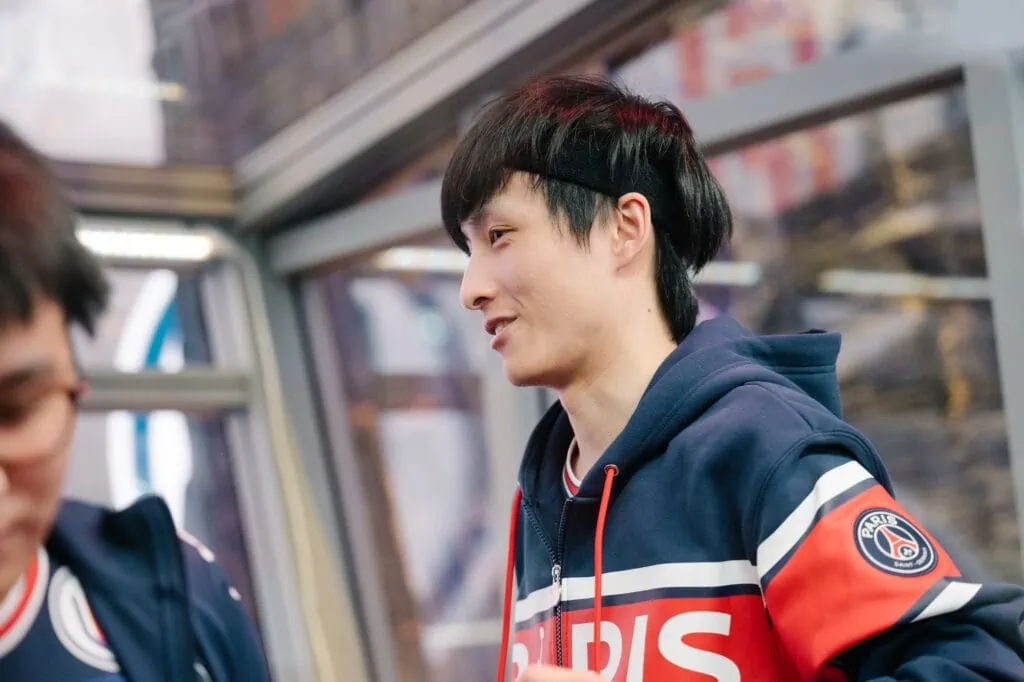 But it'll be remiss to dismiss PSG.LGD. The Chinese team has been the bastion of consistency for years now, no matter the roster. Many still regard Wang "Ame" Chunyu as the outright best carry in the world, and his supporting cast stellar and stable. For LGD fans, their hearts should barely race until the team reaches the grand finals — as that's where the hump seems to be for the legendary organization.
Last but not least, OG's young squad has continued the winning ways of their predecessors. Adding a fifth Major crown — one of three organizations to have ever done so — was a record equalling feat. Claiming a third Aegis would be unprecedented. The trendsetters were one of the first teams to truly lean into the evenly farmed tri-core mindset, and their core players consistently stand out with the incredible breadth of heroes and situations they can adapt to.
Will Team Spirit herald Eastern Europe as the new powerhouse region? Can PSG.LGD finally stand on top of the podium after five separate top three finishes? Or perhaps Ammar "ATF" Al-Assaf will finally stop flaming pub players after adding "TI winner" to his resume?
That's why we watch The International. TI11 runs in Singapore from October 8 to 29 — when a champion will finally be crowned.
READ MORE: Win up to a year of Dota Plus when you play the ONE Esports Fantasy TI11 Challenge