South American squad Thunder Awaken (TA) pulled off an epic mega creep comeback win against Team Liquid in their opening match on the first day of the ESL One Stockholm Major 2022.
Peruvian midlaner Herrera Martínez "Darkmago" Oswaldo Gonzalo executed a game-saving play by using Batrider's Flaming Lasso to pull Lasse Aukusti "MATUMBAMAN" Urpalainen's Wraith King into the Radiant fountain, which kept TA in the game.
Darkmago's Batrider carries Thunder Awaken against Team Liquid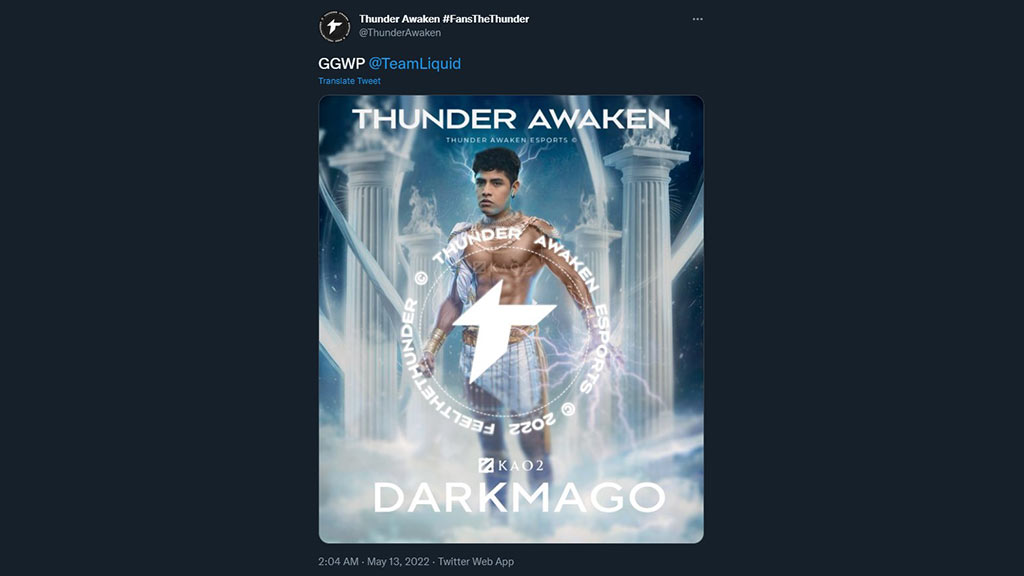 It was an amazing showcase of resilience and teamplay by Thunder Awaken. Despite trailing behind Team Liquid for the majority of game one, and even after Darkmago had a rough start, dying four times within the first 15 minutes of the game, they never gave up and found a way to win.
After defending their last set of barracks, Thunder Awaken won a huge teamfight in the midlane that erased Team Liquid's 13,000 gold lead. Darkmago's Batrider scored pivotal initiation plays against Team Liquid's core heroes which allowed TA to take back control of the game.
Looking to extend their lead, TA attempted a smoke gank that was countered by Team Liquid with an important buyback spent by MATUMBAMAN. With their opponents not in full force, Team Liquid went for a game-ending push and claimed the mega creep advantage. However, the European squad lost their Wraith King in the process.
---
---
With Team Liquid's hard carry out of the game for two minutes, TA quickly dove into the Dire base to finish the game. Darkmago was then able to secure the game-ending play by catching Michael "miCKe" Vu's Mars and Ludwig "zai" Wåhlberg's Necrophos with Batrider's Flaming Lasso ultimate.
Thunder Awaken would go on to win the second game in convincing fashion, with their hard carry player, Crhistian Antony "Pakazs" Savina Casanova, finishing with a KDA of 10/0/18 on the Spectre.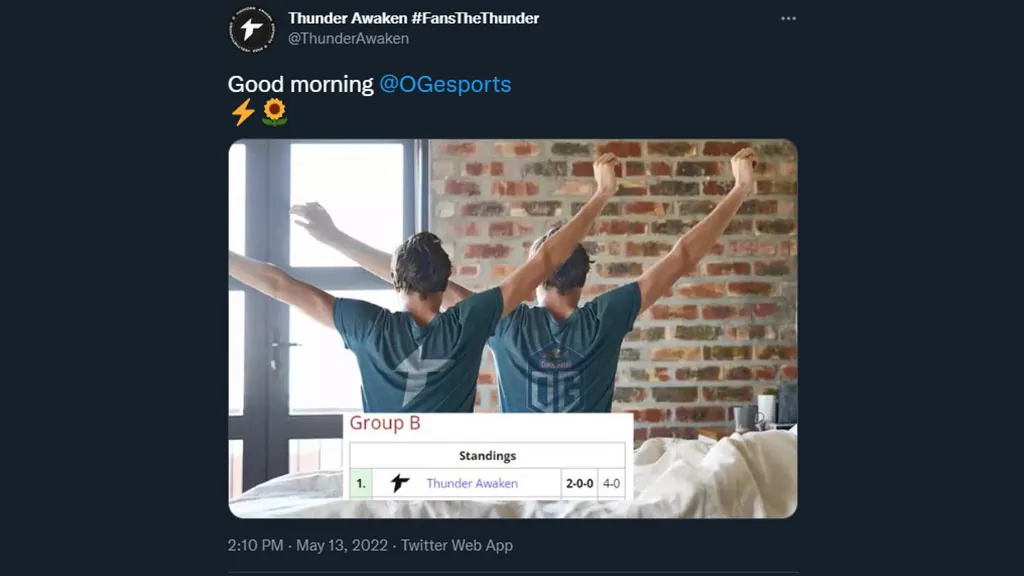 The Peruvian squad is currently the top team in Group B with two match wins after Ukrainian organization Mind Games forfeited their match against TA after running into visa issues.
The South American squad will continue their Stockholm Major campaign with another best-of-two match against TI10 champions Team Spirit on May 14, 1:30 a.m. GMT+8 | May 13, 10:30 a.m. PT | May 13, 5:30 p.m. GMT.
Fans can watch the Major live on ESL ONE's official Twitch stream from May 12 to 22.
During the group stages, two additional streams will be broadcasting. You can find Stream B and Stream C here.
You can check out the upcoming playoff schedule and more information about the Major here.
READ MORE: OG Ceb says Yuragi, bzm, and ATF's play at Stockholm Major reminiscent of Ana