If you're waiting for a sign to start watching anime, or if you're looking for show recommendations, Valorant pro player Tyson "TenZ" Ngo shared his most exhaustive anime tier list to date.
The popular streamer, who has watched a plethora of anime in multiple genres, decided to thoroughly go through a list of over 300 titles, ranking them from "God Tier" all the way down to shows he hasn't seen yet.
His tier list tells us that he enjoys a mix of both mainstream and lesser-known shows. He's mentioned multiple times that he's a huge fan of action-adventure shows Hunter x Hunter and Attack on Titan.
Surprisingly, he also ranked obscure titles like Classroom of the Elite, Inuyashiki, and Orange high up on his tier list.
TenZ's anime tier list
God Tier
Weathering With You
Kaguya-sama: Love Is War
Hunter x Hunter
Clannad: After Story
Clannad
Hotarubi no Mori e
Your Lie in April
Parasyte: The Maxim
Assassination Classroom
Howl's Moving Castle
KonoSuba: God's Blessing on This Wonderful World!
Spirited Away
Classroom of the Elite
Your Name
Ponyo
I Want to Eat Your Pancreas
Rascal Does not Dream of Bunny Girl Senpai
Death Note
A Silent Voice
---
---
Top Tier
Naruto: Shippuuden
Angel Beats!
The Pet Girl of Sakurasou
My Teen Romantic Comedy SNAFU
Golden Time
Saekano: How to Raise a Boring Girlfriend
The Fruit of Grisaia
Prison School
SHIMONETA: A Boring World Where the Concept of Dirty Jokes Doesn't Exist
My Neighbor Totoro
Re:Zero
Anohana: The Flower We Saw That Day
Orange
91 Days
ReLIFE
Miss Kobayashi's Dragon Maid
Overlord
Black Clover
Inuyashiki
That Time I Got Reincarnated as a Slime
Goblin Slayer
Akame ga Kill!
Tokyo Ghoul
Nisekoi: False Love
TenZ is a lifelong anime fan who has seen far more shows than the casual viewer. The 20-year-old Canadian pro player even helped popularize having an anime character as a social media profile photo.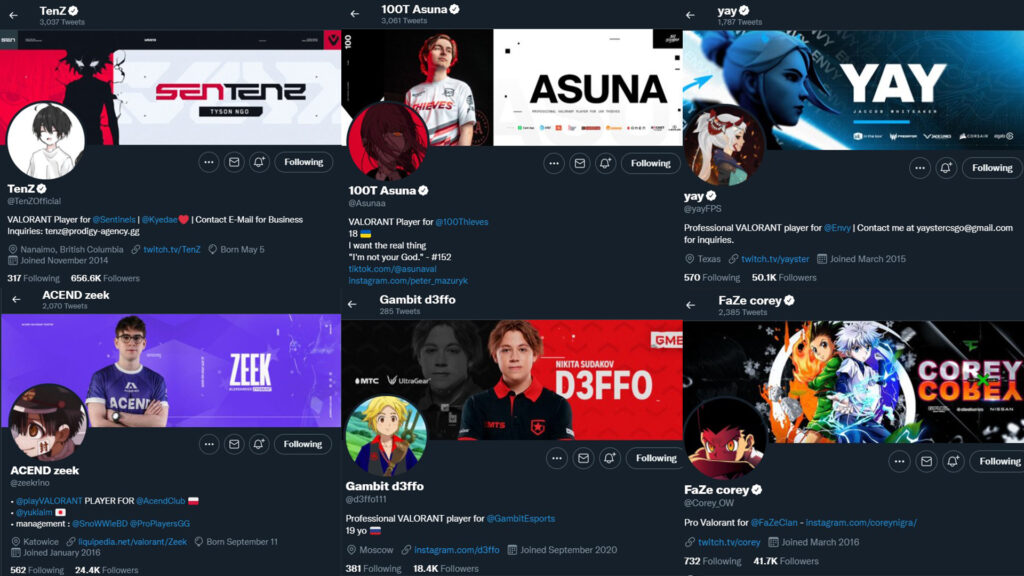 Many top pro players like Valorant Champions winner Aleksander "zeek" Zygmunt, Jaccob "yay" Whiteaker, and Peter "Asuna" Mazuryk have changed their profile photos to get the "anime buff."
READ MORE: TenZ shares his optimized PC settings for better FPS in Valorant