Calling all espionage fans!
Spy x Family took the anime world by storm in 2022, bringing an interesting twist to the shonen genre. Instead of demon hordes and uncapped power levels, viewers will get a peek into the life of undercover spy Loid Forger and his pretend family.
Here's everything you need to know about the Spy x Family anime adaptation, including its story, release date, characters, seiyuu/VAs, and status of the manga.
---
What is Spy x Family?
Spy x Family is an action-comedy manga written and illustrated by Tatsuya Endo, currently serialized in Shueisha's Shōnen Jump+.
The series follows Loid Forger, a spy who's dedicated his life to undercover missions for the Westalia Intelligence Services' Eastern-Focused Division (W.I.S.E.).
Despite his countless hours working in the spy world, he's taken aback when he is assigned to Operation Strix. The top secret mission tasks him to find a wife and a child in a week in order to infiltrate a social event comprising politicians and business leaders at a prestigious school.
On the job, he finds the perfect family in Yor Briar, an office worker, and Anya, a mischievous orphan. Though they seem like simple additions to Loid's household, Yor is actually an assassin while Anya has the secret power of telepathy.
---
Release date of Spy x Family anime series
Part 1 of the Spy x Family anime first aired on April 9 and the final 12th episode was released on June 25. The first episode of Part 2 aired on October 1. The anime will have a new episode every Saturday, up until the final 13th episode is released.
The series is being produced by TOHO Animation with studios Clover Works and Wit Studio, known for Horimiya and Attack on Titan respectively.
---
---
Characters of the Spy x Family anime, seiyuus and voice actors (VAs)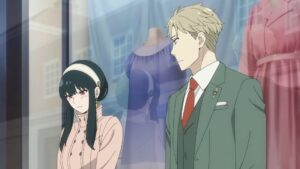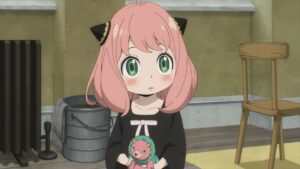 Here's a quick rundown of the series' main characters and their seiyuu/VAs.
| | | |
| --- | --- | --- |
| CHARACTER | DESCRIPTION | SEIYUU/VA |
| Loid Forger | An undercover spy who takes on a mission of entering a marriage with Yor and becoming the adoptive father of Anya | Takuya Eguchi |
| Yor Forger | An office worker who agrees to act as Loid's wife and Anya's mother to further achieve her goals as an assassin | Saori Hayami |
| Anya Forger | The adopted child of Loid and Yor who has the gift of telepathy | Atsumi Tanezaki |
---
Opening and ending themes of Spy x Family anime
The opening theme for Part 1 of the Spy x Family anime is "Mixed Nuts", a powerful pop anthem by Japanese band Official HiGE DANdism. The ending theme is "Comedy", a mellow jazz song performed by Japanese singer-songwriter Gen Hoshino.
Part 2 has a new opening theme song called "Souvenir" by Japanese rock group Bump of Chicken.
---
---
Status of the manga
The Spy x Family manga is currently ongoing, with biweekly releases in the Shōnen Jump+ application and website since its 2019 serialization. As of now, the manga has released a total of 68 chapters.
---
---
Follow ONE Esports on Facebook for more anime news.
READ MORE: Netflix's One Piece live-action: Cast, trailer, episodes, release date