The debrief is ready, anime fans!
Spy x Family is ready to steal the spotlight from action-packed shonen series with its espionage story and undercover characters, but some of you might not know much about the secretive Forger family.
For those who want more intel on the series, here's a quick dossier on Loid in Spy x Family, including details on his background story, personality, and first appearance in the manga.
Warning: Spoilers if you haven't read the first three chapters of the Spy x Family manga.
Who is Loid in Spy x Family?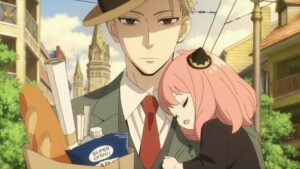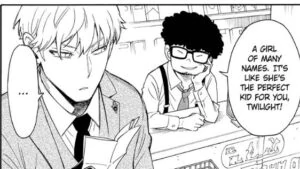 Loid Forger is the main character of Spy x Family, a spy-comedy manga series written and illustrated by Tatsuya Endo.
Introduced as the spy codenamed "Twilight", Loid begins the story as a veteran agent who excels in intercepting crucial information and changing identities with the snap of a finger.
The blonde-haired man receives a secret mission called Operation Strix. As part of the mission, the spy has to create a fake family to get closer to his target, a reclusive politician named Donovan Desmond.
Despite spitting out his coffee at the thought of having only a week to form the family, Loid accepts the mission since it coincides with his vision for a better world.
Loid in Spy x Family first adopts a pink-haired child named Anya (secretly a telepath) as a means to infiltrate Eden Academy, the same elite school that Donovan's son Desmond attends. Once Anya passes the entrance exam with the help of Loid's study sessions, the two hit another roadblock — a school interview where both parents must be present.
The father-daughter duo soon finds a maternal figure in Yor Briar — an undercover assassin who holds a day job as a Berlint City Hall clerk — at a sewing shop. With Anya working her telepathic skills to have the two adults see eye to eye, Loid decides to act as her boyfriend at a dinner party while Yor takes on the role of the mother for the interview.
The pseudo-couple get closer during the night of Yor's dinner party. Despite arriving late due to an overlapping smuggling ring mission and accidentally referring to himself as Yor's husband, Loid stands tall as her partner, even acknowledging the sacrifices she made to support her brother.
After leaving the party, the two are ambushed by the remaining members of the smuggling ring. Still keeping his facade as a psychiatrist, Loid explains to Yor that the men are his clients going through "concussive therapy".
As the two fight off the gang, Yor presents the idea of being married even after Anya's school interview, to which Loid agrees. With Loid proposing with a grenade pin, the couple sees the marriage as an opportunity to divert attention from their secret lives.
With the Forger family now complete, Loid, Yor, and Anya are off to join the inner socialite circle of Eden Academy.
Personality of Loid in Spy x Family
Contrary to his image as a cold-hearted agent, Loid in Spy x Family is often seen as emotive when dealing with hard situations. From fending off a mob gang to barricading his own daughter inside their apartment, he reacts with a witty and snappy attitude that makes him a more relatable character.
Loid carries the weight of his past as an orphan into his affairs, always believing that his missions will help the world. He holds a soft spot for other orphans like Anya and Yor, and does his best to appreciate their efforts, regardless of his initial detached impressions of them.
---
---
First appearance of Loid in Spy x Family
Loid appears in the first chapter of Spy x Family, which describes his life as a spy for Westalis and his new mission, Operation Strix.
Where to read and watch Spy x Family
The Spy x Family manga currently has 68 chapters released, and are officially available on the VIZ Media website.
Part 1 of the Spy x Family anime first aired on April 9 and the final 12th episode was released on June 25. The first episode of Part 2 aired on October 1. The anime will have a new episode every Saturday, up until the final 13th episode is released.
The series is being produced by TOHO Animation with studios CloverWorks and Wit Studio, known for Horimiya and Attack on Titan respectively.
Follow ONE Esports on Facebook for more anime news.
READ MORE: Spy x Family anime: Release date, story, characters, seiyuu, manga