Heads up, anime fans!
Spy x Family is ready to steal the spotlight from action-packed shonen series with its espionage story and undercover characters, but some of you might not know much about the secretive Forger family.
For those who want more intel on the series, here's a quick dossier on Anya in Spy x Family, including details on her background story, personality, and first appearance in the manga.
Warning: Spoilers if you haven't read the first three chapters of the Spy x Family manga.
Who is Anya in Spy x Family?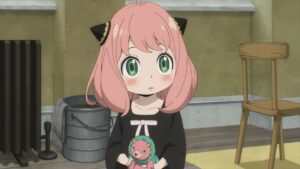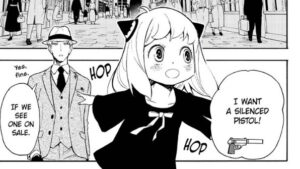 Anya Forger is one of the main characters of Spy x Family, a spy-comedy manga series written and illustrated by Tatsuya Endo.
The series follows a spy codenamed "Twilight" who accepts a secret mission called Operation Strix. In the mission, the spy has to create a fake family under the name of Loid Forger to get closer to his target, a reclusive politician named Donovan Desmond.
Anya in Spy x Family enters the story as a prime candidate to be the pretend daughter of Loid. Despite being labeled as the quiet one by her caregiver, she impresses Loid by finishing a crossword puzzle in a matter of seconds.
Loid immediately adopts the pink-haired child, thinking that she has the intellect to pass the entrance exam of Eden Academy, the same elite school that Donovan's son Desmond attends. It is later revealed that Anya is actually a telepath named "Test Subject 007" who stole the answers from Loid as he looked at the puzzle and found out about his spy lifestyle.
As Anya's favorite anime is a spy series, she makes up her mind to become adopted by Loid, no matter what it takes.
Things turn slightly awry when the two go on a shopping spree. Anya reveals her lack of education by misreading a bakery sign and miscalculating a purchase, making Loid think twice about adopting her. Reading his mind, Anya starts crying, prompting Loid to comfort her with a bag of peanuts (her favorite food).
Now home alone, Anya refuses to study and looks around their apartment for any spy-related items, chancing upon a radio that accidentally reveals their location to Edgar, an Ostanian mob boss.
Kidnapped by Edgar and taken to a secluded place, she is eventually saved by Loid in a realistic mask of Nguyen, a henchman of Edgar. As the disguised spy directs Anya to the police station, she telepathically learns about Loid's past as an orphan.
Moved by Loid's experiences and empathy, Anya catches him on the street after the fight, and desperately asks if they can go home, to which he complies.
With the two now on good terms, Anya in Spy x Family manages to pass the entrance exam of Eden Academy with the help of Loid's study sessions.
Personality of Anya in Spy x Family
As a child telepath, Anya in Spy x Family is very observant and finds ways to learn about and influence the people around her. Knowing more information than her own foster parents, she often directs the two with a childlike manner to reveal clues and solve problems.
Growing up as a test subject-turned-orphan, Anya has a deep desire to be in a happy family. After several foster families returned her, she seems to have abandonment issues and latches onto Loid during their first days together.
Besides the idiosyncrasies that come with being a telepath, Anya largely behaves like a child. Though her true age is unknown, Loid commented that she looks like a four- or five-year-old at best.
---
---
First appearance of Anya in Spy x Family
Anya appears in the first chapter of Spy x Family, which describes how Loid Forger adopted her.
Where to read and watch Spy x Family
All 68 chapters of the Spy x Family manga are officially available on the VIZ Media website.
Part 1 of the Spy x Family anime first aired on April 9 and the final 12th episode was released on June 25. The first episode of Part 2 aired on October 1. The anime will have a new episode every Saturday, up until the final 13th episode is released.
The series is being produced by TOHO Animation with studios CloverWorks and Wit Studio, known for Horimiya and Attack on Titan respectively.
---
---
Follow ONE Esports on Facebook for more anime news.
READ MORE: Spy x Family anime: Release date, story, characters, seiyuu, manga