It was "win or stay home" for the top teams in the North American region who competed in the action-packed VCT NA Last Chance Qualifier.
After two weekends of play, 100 Thieves emerged on top following an undefeated finals run in the VCT NA LCQ. They took down The Guard 3-0 in the grand final, punching their ticket to Valorant Champions Istanbul.
With the stakes at an all-time high, all teams in the tournament gave it their all to keep their VCT 2022 season alive. The LCQ also delivered on some of the closest matches in North American Valorant, with several games decided in multiple overtime rounds.
Here's a look back at the top five plays from the VCT NA LCQ.
---
---
Watch the top 5 plays from the VCT NA LCQ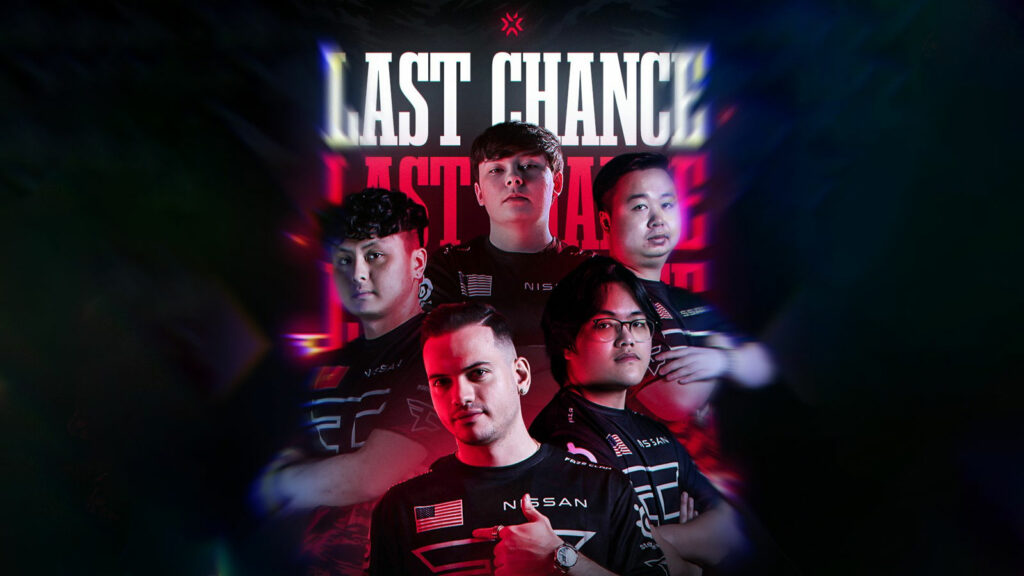 5. FaZe Clan's supamen will not let 100 Thieves pass
Phat "supamen" Le's clean one-taps demolished 100 Thieves in their upper bracket semifinal match.
In the 19th round of the first map, Haven, FaZe Clan went for an aggressive play while on the defender side. Andrej "babybay" Francisty used Raze's Showstopper ultimate to take control of C Long — Sean "bang" Bezerra was able to take him down, but his Showstopper rocket found its mark.
The remaining 100 Thieves players decided to go for a C Garage push, but were intercepted by supamen. With one quick swipe of his mouse, supamen landed clean headshots on two 100 Thieves players that swung together. He then used Omen's Dark Cover to create a one-way smoke in C Garage, giving him the advantage over the remaining two players.
---
---
4. NRG Esports' tex does Chamber things
Ian "tex" Botsch hit some ridiculous shots using Chamber against 100 Thieves in their upper bracket quarterfinal match.
On Icebox, 100 Thieves went for a B Long push and used Sova's Owl Drone to scout NRG's set up on defense. Knowing that his position on top of B Yellow would be revealed, tex destroyed the Owl Drone with his Operator, and then quickly swapped to Chamber's Headhunter pistol for a follow-up headshot on Peter "Asuna" Mazuryk.
After getting the opening kill, tex used Chamber's Rendezvous to reposition himself to the back of B site. He then pushed through the enemy Viper's Toxic Screen wall and found yet another kill with the Operator. With 100 Thieves' players still committing to the B site, tex moved to B Orange, where he was able to eliminate two more opponents.
---
---
3. 100 Thieves' Derrek is a clutch god
Derrek "Derrek" Ha was one of the most clutch players in the LCQ, seemingly stepping up to an entirely new level when he was the last man alive for his team. He won a total of 14 clutches in the tournament, but his best one came in the upper bracket quarterfinals match against FaZe Clan.
On the final map, Ascent, FaZe Clan and 100 Thieves traded early kills in A Lobby and B Main in Round 3. 100 Thieves then pushed through B Main and Mid, while the rest of FaZe Clan planted the spike on an undefended A site. 100 Thieves were unaware that their opponents had already taken A Lobby and Mid Cubby control, which led to FaZe Clan getting two easy kills as the spike continued to count down.
However, 100 Thieves were able to eliminate Andrej "babybay" Francisty's Jett in Mid Cubby and push into A Tree. But Derrek was soon left in a precarious 1v2 situation, after William "Will" Cheng was taken down through supamen's Omen one-way smoke.
As time was running out, Derrek pushed through the one-way smoke and killed supamen, who was holding A Hell. He then turned his attention to Kevin "poised" Ngo's KAY/O, who was hiding in A Main. Despite being flashed, Derrek's crosshair was perfectly positioned to secure the final kill while fully blinded.
---
---
2. The Guard's JonahP is really pushing P
Jonah "JonahP" Pulice hit the best flick shot in the tournament against FaZe Clan, winning his team a pivotal round in their upper bracket final match.
In Round 9 on Haven, FaZe Clan went for a chaotic five-man push to the B site. With both teams trading kills left and right, JonahP was the last man standing for The Guard when the dust had settled.
Armed with an Operator and Chamber's Headhunter pistol, JonahP crept into the B site looking for the two remaining attackers who were guarding the planted spike. JonahP found his opening with a crisp headshot on Xavier "flyuh" Carlson's Sage, as Quan "dicey" Tran backed away to wait for the tap on the spike.
With time running out, JonahP defused the spike to the halfway point, and then did an instant 180° turn to take down dicey with a Headhunter headshot, before completing the defuse.
---
---
1. FaZe Clan's babybay sparks an incredible comeback
Babybay proved that Valorant's 9-3 curse is alive and well during FaZe Clan's upper bracket quarterfinal match against 100 Thieves.
With FaZe down 3-9 on Ascent, the final map, babybay won his team the pivotal pistol round in the second half with four Sheriff kills.
100 Thieves were in the midst of taking both Mid and B Main control, pressuring babybay in B Market on two fronts.
However, he won the opening duel against bang, right when he peeked into Market. FaZe's duelist main then turned his attention to B site, eliminating the enemy KAY/O with a one-tap headshot. He followed up with a kill on Sage, who was still in B Main, and then spun around to find his fourth kill on Will.
The round win would mark the start of FaZe's incredible comeback on the map. They went on to win the next nine rounds, taking the map 13-9 and the entire series 2-1.
---
---
READ MORE: Final list of APAC franchised teams will supposedly make fans very angry