While it's been years since he was last in a T1 jersey, Evil Geniuses top laner Jeong "Impact" Eon-young was eager to see his former team again during the League of Legends Mid-Season Invitational (MSI 2022).
The League of Legends veteran bagged a World Championship in his first year with the Korean organization, and stayed with them until his eventual move to North America.
In a recent T1 vlog, EG Impact rubbed elbows with the LCK team's new players and caught up with his old teammates during a jersey swap.
---
---
EG Impact wishes the best for T1 top laner Zeus and reunites with old teammates
With Impact now facing 18-year-old Choi "Zeus" Woo-je in the top lane, the video crew teased the 27-year-old with a photo of his 18-year-old self back in 2013, the same year that Impact and T1 won their first League of Legends World Championship.
Despite the nine-year age gap, Zeus was quick to reassure his senior that age is just a number, and was honored to swap jerseys with him.
As the two exchanged jerseys, Impact mentioned that he follows the LCK closely and had high hopes to face him on the Summoner's Rift. The EG top laner also had some words of encouragement for the young player.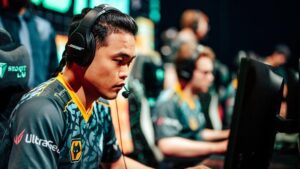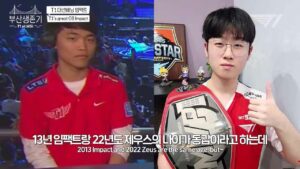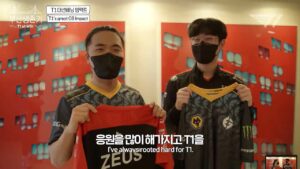 "It's your first international tournament so I hope you don't get nervous and play well. I've always rooted hard for T1. I'm still rooting for them now, even last year too," said Impact.
Aside from meeting Zeus, the EG player reunited with Lee "Faker" Sang-hyeok and Bae "Bengi" Seong-woong, who were also part of the 2013 championship squad. While Faker and Impact are still playing on the MSI 2022 stage, Bengi retired from pro play in 2017 and is now a coach for T1.
With Bengi acting as a second cameraman for the vlog, Faker buttered their former teammate up, saying that he was "looking younger by the day."
Impact also invited the two to lunch and rehashed an inside joke between the three of them. Because the longtime friends often cancel on each other when they're supposed to meet, the EG player jokingly said that he couldn't make it to lunch.
While Impact is now representing EG in North America, it's nice to know that he's still got a soft spot for Faker, Bengi, and the T1 organization.
Evil Geniuses will face Royal Never Give Up today at 5 p.m. GMT+9 | 4 p.m. GMT+8 | 8 a.m. GMT | 1 a.m. PDT. LoL fans can catch all MSI 2022 matches live on Riot Games' official channels on Twitch and YouTube.
You can check out the full vlog down below:
---
---
Follow ONE Esports on Facebook and Twitter for more LoL news, guides, and highlights.
READ MORE: EG Impact's Gangplank crushes barnacles in final days of MSI Rumble Stage