League of Legends pro Lee "Faker" Sang-hyeok doesn't shy away from flexing the perks he gets as one of esports biggest superstars. After showing off his second BMW and buying his own building in Seoul, the T1 veteran is now diving into the world of luxury fashion.
In a recent Instagram post, T1 Faker proudly posed with the latest addition to his wardrobe, a brand new Gucci backpack worth US$1,700.
---
---
T1 Faker flaunts his new Gucci backpack on Instagram
Faker's new backpack looks to be a gift from the renowned fashion house, with the T1 veteran thanking them in the caption. The rest of the post revealed the contents of the big Gucci case, including the dust bag and the backpack itself.
But instead of the fashion house's signature interlocking Gs and red and green stripes, the bag features a minimalist black-on-black design with the logo stamped on a circular leather patch.
The Off The Grid backpack is part of the first collection from Gucci's Circular Lines, a product concept that promotes eco-friendly methods in fashion production and is designed to minimize its environmental impact. The backpack's nylon fabric is constructed from recycled materials sourced from fish nets, carpets, and other scraps, according to the website.
With the T1 squad currently competing at the League of Legends Mid-Season Invitational (MSI 2022) Rumble Stage, we're definitely keeping an eye out for Faker's new drip on the official broadcast.
T1 will face Evil Geniuses today at 6 p.m. GMT+9 | 5 p.m. GMT+8 | 9 a.m. GMT | 2 a.m. PDT. Watch the MSI 2022 matches live on Riot Games' official Twitch and YouTube channels.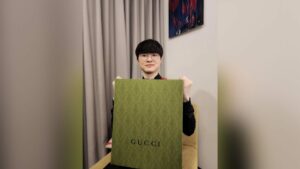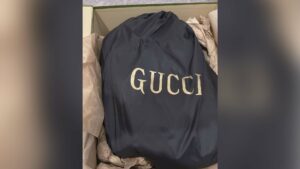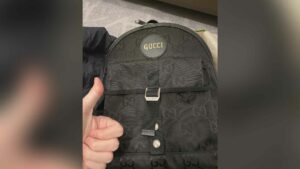 Follow ONE Esports on Facebook and Twitter for more LoL news, guides, and highlights.
READ MORE: T1 comes out on top with perfect 6-0 record at MSI 2022 Group Stage