Updated on November 4, 3:40 p.m. (GMT+8): Riot Games announced that starting from MSI and Worlds 2023, format changes will be made to the Play-In, Group, and Rumble Stage. The knockout stage will still remain single elimination.
The 7th installment of the League of Legends Mid-Season Invitational 2022 was played without a double-elimination bracket.
The tournament format was once again a hot topic in the community, and Riot Games has implemented a new structure that's different from previous MSIs. The play-in stage was scrapped, replaced by a best-of-one double round robin Group Stage. This was then followed by a best-of-one double round robin Rumble Stage.
Yes, that's a lot of best-of-ones on a single stream, where only one game is broadcast live at any given time.
In the Knockout Stage, the tournament will once again adopt the same format all international LoL esports tournaments have been played on: king of the hill single-elimination brackets.
On the other hand, Valorant, Riot Games' FPS title which launched in 2020, has already implemented double-elimination playoffs brackets in its second year as an official esport, most recently at VCT Stage 1 Masters Reykjavik, an international LAN event just like MSI.
---
---
Riot's new FPS title adopts double-elimination brackets, but League of Legends retains its single-elimination format
The absence of double-elimination brackets was first widely discussed during the World Championship (Worlds 2021) last year.
For the first time in history, the World Championship of Riot Games' popular MOBA was also held at the same time as The International, Dota 2's biggest tournament of the year that boasts the largest prize pool in all of esports.
Historically held in August, TI10 was pushed back due to COVID-19 restrictions. As a result, two rival MOBA titles with the biggest fan bases in the world ended up broadcasting competing live streams that were ongoing at the same time.
---
Comparing League of Legends and Dota 2 tournament formats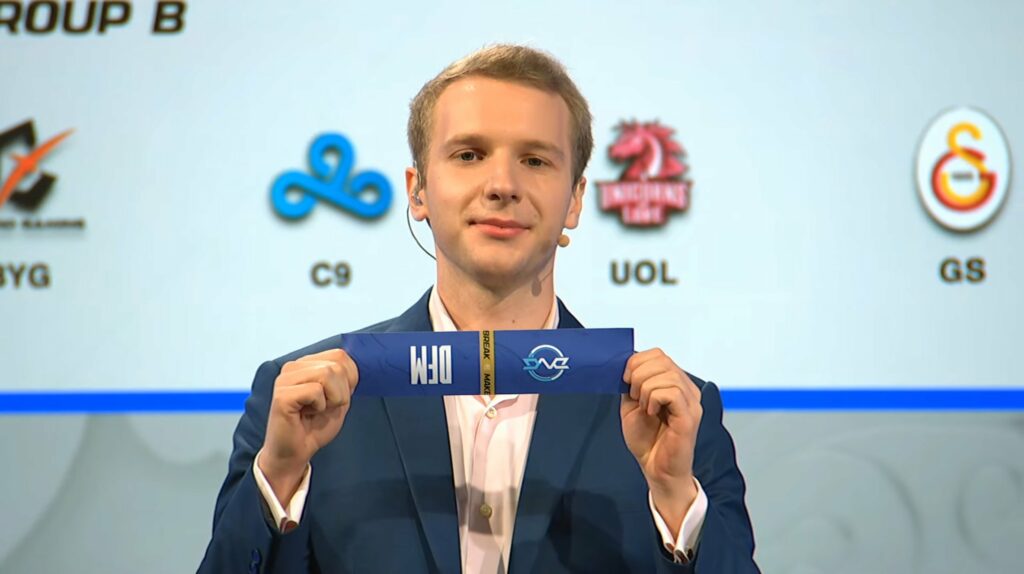 The difference in the tournament formats could not be more obvious. The Worlds' Group Stage relies on random draws to split the teams into four groups. This same gacha mechanic is also applied to its playoffs bracket.
Luck plays an enormous part in the fate of every team. No one wants to be in the same group or bracket as a tier one LCK or LPL team, the two best regions in the world, because it will significantly lower their chances of advancing.
"I think it's a bit of a double-edged sword. The Worlds format is really, really harsh, which means in some years you kind of get screwed by bad luck, you get a bad draw, or a bad quarterfinals draw," MAD Lions head coach James "Mac" MacCormack told ONE Esports at Worlds 2021 last year.
What's more, all of the play-ins and group stage matches are best-of-ones, which Mac believes isn't sufficient for teams to adapt to the tournament and its meta. It also is not a fair indication of who the top teams truly are.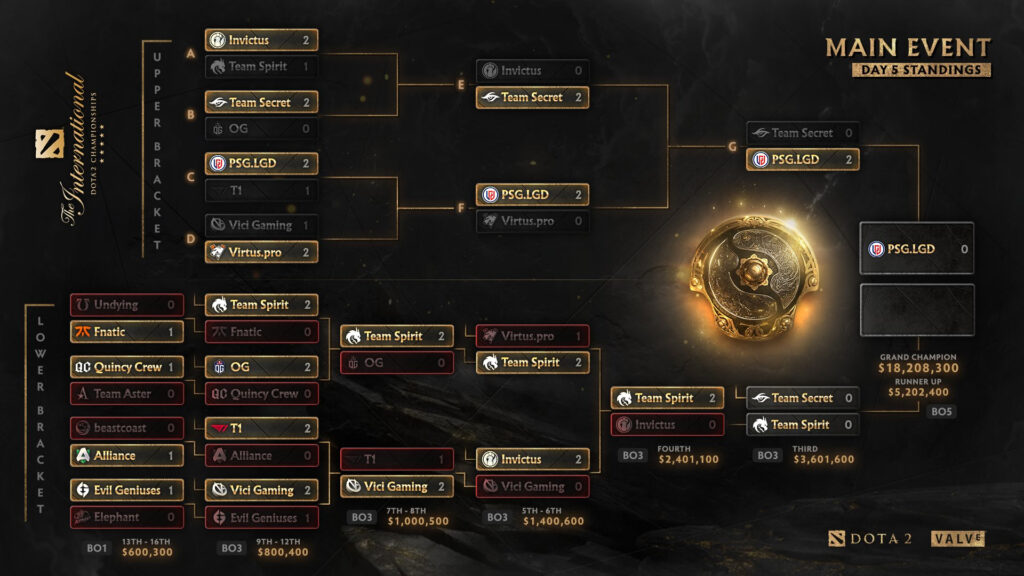 On the other hand, international Dota competitions sort teams into two groups, where they play best-of-two matches. When teams win or draw, they'll receive points.
Due to the sheer number of matches played, Valve also ran concurrent streams during the group stage. While this might not be the best for viewers, it benefits competing teams.
Based on their accumulated points in the standings, the last-placed team of each group is then eliminated, while everyone else is seeded in a double-elimination playoffs bracket. Without the lower bracket, Team Spirit wouldn't have won TI10 last year in a Cinderella run, nor would OG Esports have won the recent ESL One Stockholm Major, their fifth Major title.
The Worlds and MSI tournament formats, however, eliminate more than half the teams before the playoffs. Only the top four at MSI and top eight at Worlds can qualify.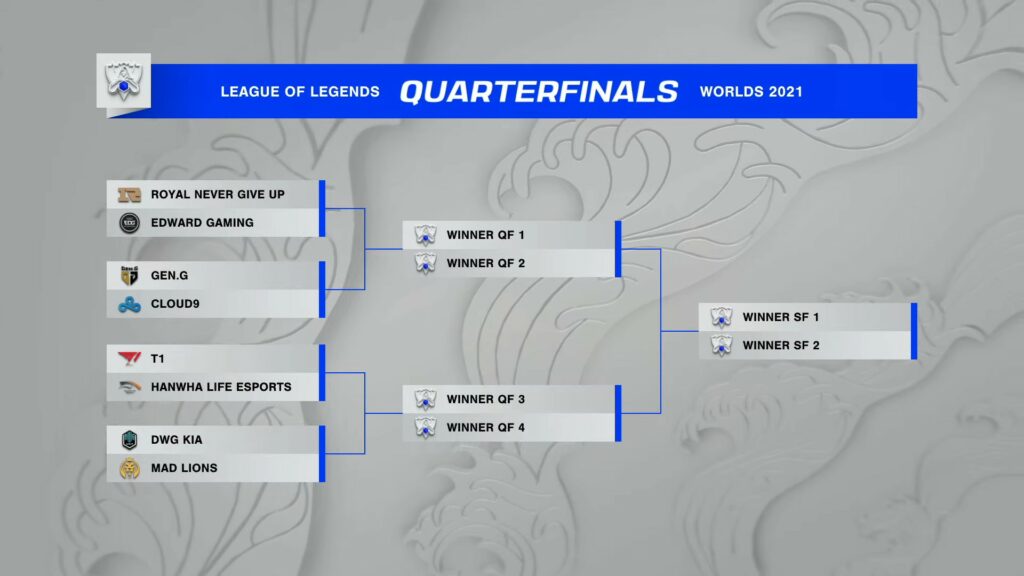 After competing in two best-of-one stages for more than two weeks, these teams only get one lifeline in the Knockout Stage in a single-elimination bracket. If a team isn't able to adapt to their luck-of-the-draw opponent in a single best-of-five series, they're out. No second chances are given.
During the Worlds 2021 finals media day, John Needham, Riot Games' Global Head of Esports at the time, said that they would reexamine the LoL esports format.
One year later at the Worlds 2022 finals media day, he's now the President of Esports at Riot Games. While the format for MSI and Worlds 2023 will see changes, he reiterated that the playoffs will continue to remain single elimination because "all the biggest sporting events on the planet have single elimination as a core part of their tournament."
---
League of Legends international tournaments still lag behind Valorant despite being in their 12th year
Riot Games' debuted its second esports title, Valorant, in the summer of 2020 during the COVID-19 lockdown period. Less than a year later in 2021, the developer launched the Valorant Champions Tour (VCT), their official pro circuit, in select regions.
Two Masters tournaments similar to MSI are held each year, culminating in Valorant Champions, the world championship.
In the first year, international VCT tournament formats were not fixed. The first Masters Reykjavik event saw 10 teams competing in double-elimination knockout brackets.
As VCT grew, the tournament formats also evolved accordingly. When more teams from various regions were added in the 2021 Stage 3 Masters Berlin, the 15 squads competed in a double-elimination group stage format with single-elimination playoffs brackets. This same format was applied at Valorant Champions 2021.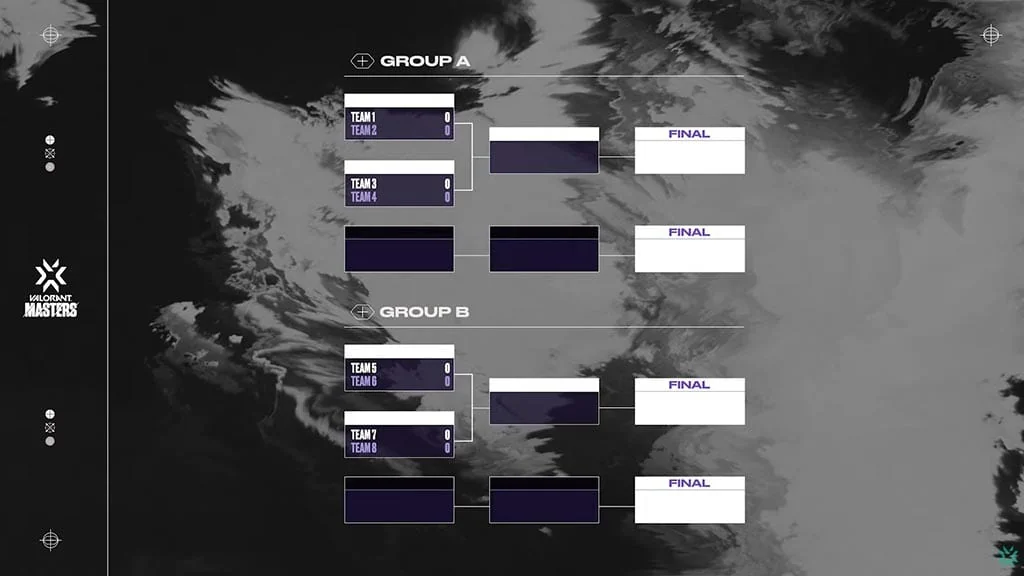 | | | |
| --- | --- | --- |
| VCT INTERNATIONAL TOURNAMENT | GROUP STAGE FORMAT | PLAYOFFS FORMAT |
| 2021 Stage 2 Masters Reykjavik | – | Double elimination |
| 2021 Stage 3 Masters Berlin | Double elimination | Single elimination |
| Valorant Champions 2021 | Double elimination | Single elimination |
| 2022 Stage 1 Masters Reykjavik | Double elimination | Double elimination |
| 2022 Stage 2 Masters Copenhagen | Double elimination | Double elimination |
| Valorant Champions 2022 | Double elimination | Double elimination |
At the 2022 Stage 1 Masters Reykjavik, Riot Games decided to implement a new, improved format with double-elimination group and playoffs brackets, which gave teams a fighting chance at every point in the competition.
Thanks to the format, Japanese representatives Zeta Division came back from early setbacks to make a surprisingly deep top three run. After losing 0-2 to DRX Vision Strikers, the underdogs prevailed in an elimination match against Fnatic in the group stage, but dropped again to the lower bracket in the playoffs after losing to G2 Esports 0-2.
In a do-or-die situation, they fought their way through three best-of-three matches in the lower bracket before getting knocked out by North American representatives OpTic Gaming, who eventually bested LOUD in a grand final rematch to claim the Masters Reykjavik championship.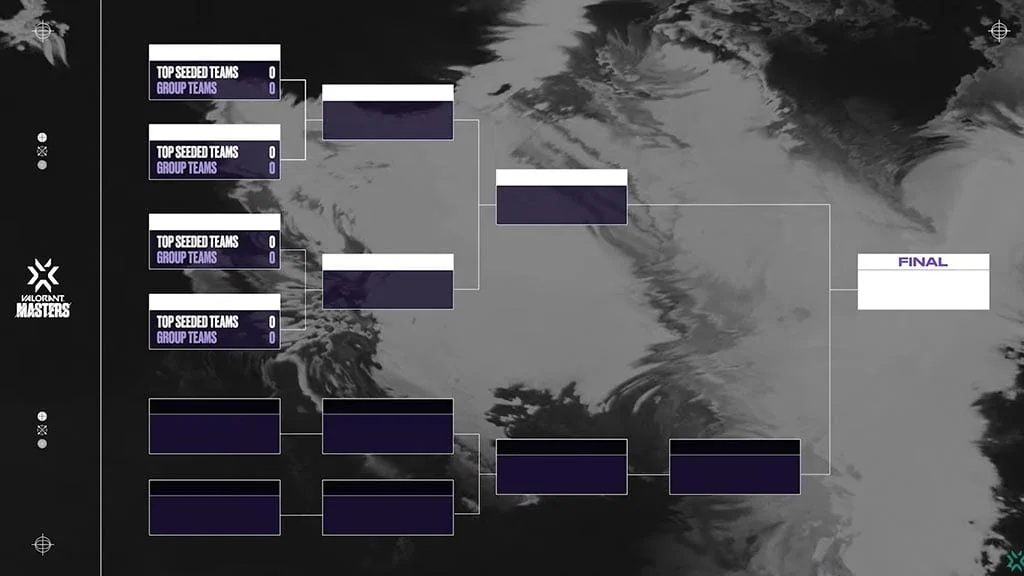 Riot Games has already tweaked the game's international tournament format to improve the competitive environment for all teams in its second year as an esports. Double-elimination brackets don't just help the competitors, but also naturally lead to more interesting storylines as fans watch their favorite teams evolve and grow over the course of the tournament.
League of Legends esports is in its 12th year, going on 13, but is still saddled single-elimination playoffs brackets.
---
LoL esports implemented double-elimination in major regions, but not on the global stage
What has improved in LoL esports is the revised playoffs format in most of the major regions. Riot Games first initiated the change in the 2020 LCS Spring and Summer seasons with a double-elimination bracket.
Not long after, the LEC and LPL also adopted this structure to varying degrees in 2021. Since the LPL is the biggest league in the world with 17 teams, the double-elimination bracket starts from round four onward. Only the LCK has retained the king of the hill single-elimination format.
Without the double-elimination playoffs bracket, Royal Never Give Up would not have won LPL Spring 2021 to represent their region at MSI 2021, where they were eventually crowned champions.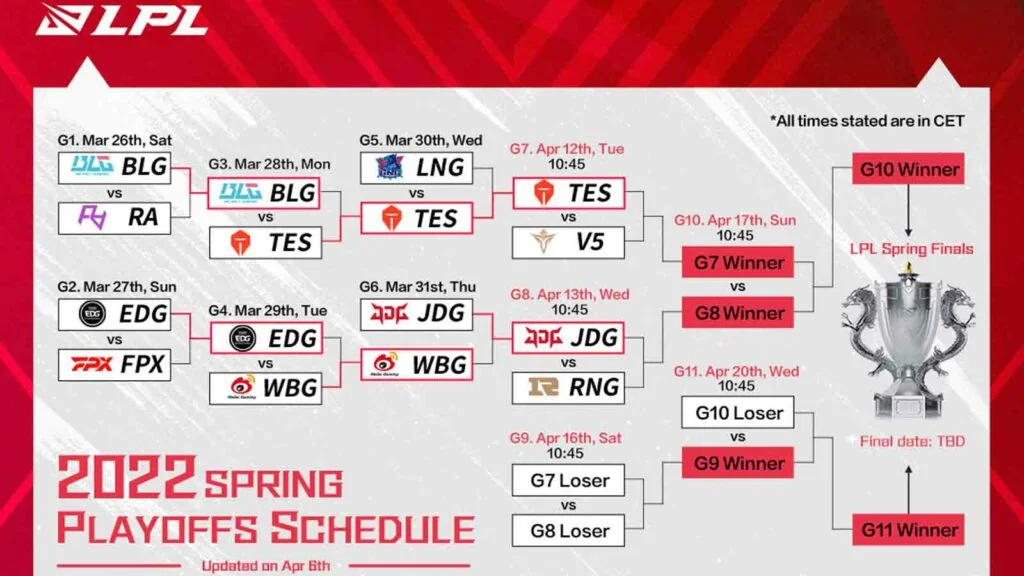 At Worlds 2022 and MSI 2022, double-elimination is still absent, in favor of best-of-ones in the Group Stage and Rumble Stage.
Even though some teams fought tooth and nail through the lower bracket in their respective regions to earn a spot at MSI, they have to play through 11 days of best-of-ones, while the playoffs last a total of three days.
It's about time LoL esports took a page out of the VCT's book, as it is long overdue.
---
Follow ONE Esports on Facebook and Twitter for more LoL news, guides, and highlights.
READ MORE: MSI 2022: Schedule, results, standings, format, teams, where to watch