LCK fourth seed DRX continues to exceed expectations at Worlds 2022 with an incredible semifinal victory over LCK first seed Gen.G.
Despite Gen.G winning game one in the best-of-five series, Kim "Deft" Hyuk-kyu and the DRX squad held their ground and won the next three games.
In the fourth and final game, it was support player Cho "BeryL" Geon-hee's Braum who found the perfect opening during a crucial Drake fight that solidified their series win.
DRX BeryL rocks Gen.G with Braum's Glacial Fissure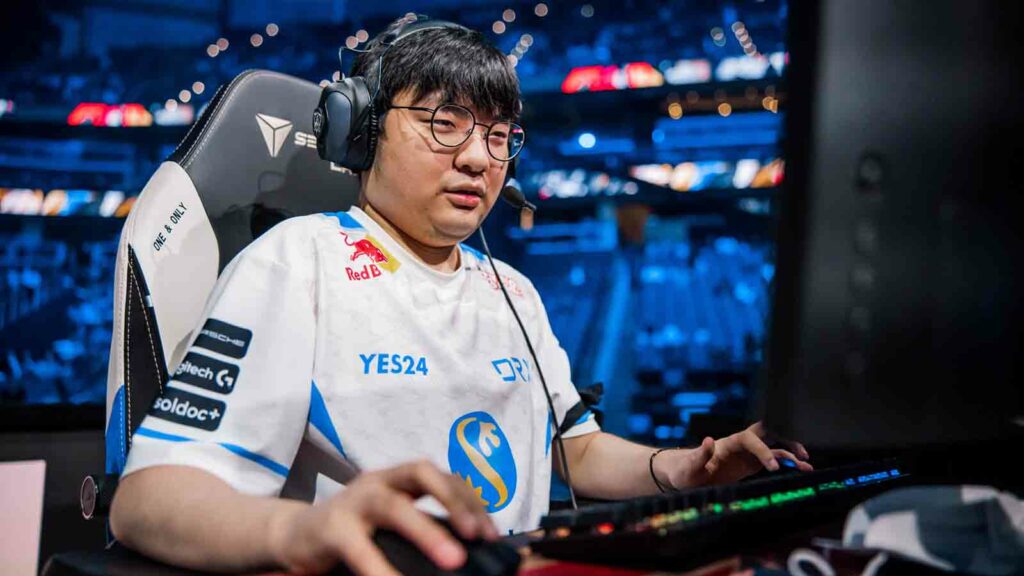 At the 34-minute mark, DRX was looking to claim the Ocean Soul. Gen.G's players were already positioned around the pit and taking damage from the drake.
DRX marched down the river and poked out Park "Ruler" Jae-hyuk's Xayah for a quarter of his health, leaving the Tiger Nation team on the back foot.
As Hong "Pyosik" Chang-hyeon's Kindred focused on the Ocean Drake, BeryL landed Glacial Fissure on Gen.G support Son "Lehends" Si-woo's Nautilus and jungler Han "Peanut" Wang-ho's Viego. In that moment, Pyosik smited the Ocean Drake and secured it for his team.
Hwang "Kingen" Seong-hoon's Gragas quickly followed up with an Explosive Cask, throwing three members of Gen.G into them. BeryL and the boys ganged up on the displaced enemies and gained the 2v5 man advantage.
Forced to retreat, Ruler kited back through the narrow jungle path at bot, and rooted both Kingen and BeryL with Bladecaller. During the exchange, BeryL finally shut the AD carry down with one last Winter's Bite at the cost of his own life, earning 800 gold.
After the fight, DRX extended their gold lead to 5,000 and secured the Baron, which helped them claim the series victory two minutes later.
---
---
---
Zeka and Deft share their thoughts on making it to the Worlds 2022 final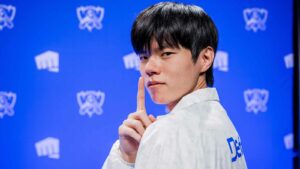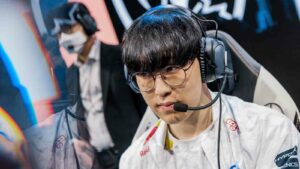 With the 3-1 victory, DRX becomes the first-ever Play-In team to advance to the Worlds final. The squad also broke their 13-game losing streak against the fellow LCK team.
The team has been handing out upsets throughout their Worlds run. In their last match, the team eliminated defending champions Edward Gaming and recorded the second reverse sweep in Worlds history.
"This is my first Worlds so everything was a first time for me, from the Play-In Stage to now the final. Every moment is so meaningful to me and I'm so happy," said Zeka during the broadcast interview.
Now set to play his first final in seven Worlds appearances, veteran bot laner Deft shared his thoughts on the surreal experience.
"I feel like it took so long to get here, but I finally made it. I became a pro player to win Worlds and I was able to meet fans who shared my emotions. They're supporting me no matter what so it feels like I've already won everything," he said.
DRX will now face T1 on November 5, 5 p.m. PT | November 6, 12 a.m. GMT | 8 a.m. GMT+8.
Follow ONE Esports on Facebook and Twitter for more LoL news, guides, and highlights.
READ MORE: Faker leads T1 to Worlds finals on signature Ryze and Azir