The Worlds 2022 quarterfinals saw a stunning performance from Gen.G Ruler on marksman champion Lucian.
During Gen.G's match against DWG KIA, it all came down to a fifth and final game. DK was finally gaining momentum after tying it up with two consecutive wins, putting Gen.G in danger of getting reverse-swept and eliminated.
Despite getting an early gold lead in game five, Gen.G had a hard time against Kim "Canyon" Geon-bu's Kayn. The DK jungler kept his team in the game by initiating skirmishes and stealing drakes, which held Gen.G back from claiming Dragon Soul.
While DK was slowly chipping away at Gen.G's 5,000 gold lead, bot laner Park "Ruler" Jae-hyuk came in clutch with an impressive quadrakill in the final team fight.
Gen.G Ruler clutches the final team fight against DWG KIA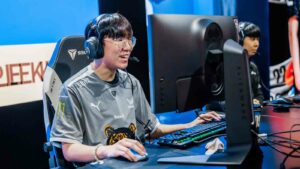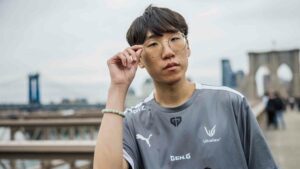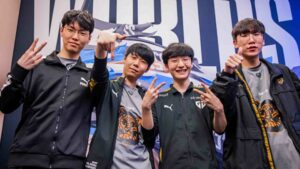 By the 43-minute mark, the Tiger Nation team secured the Baron and made their way to the top lane. After attempting to steal the Baron, Canyon chased Han "Peanut" Wang-ho's Sejuani and cast Umbral Trespass on him to dodge the Gnar ultimate from Choi "Doran" Hyeon-joon.
Peanut only had a quarter of his health left and couldn't act as Gen.G's frontline. DWG KIA soon charged into the squad after Seo "deokdam" Dae-gil's Aphelios landed Moonlight Vigil on Jeong "Chovy" Ji-hoon's Viktor and Son "Lehends" Si-woo's Nami.
---
---
Chovy popped Zhonya's Hourglass to mitigate the damage, but Heo "ShowMaker" Su's Syndra was ready to pin him down after the stasis. The Viktor player managed to cast Chaos Storm and eliminate Canyon before dying to ShowMaker. Peanut also met his demise with a flank from Jang "Nuguri" Ha-gwon's Renekton.
Now down to just a trio, it was all up to Ruler. The Lucian player quickly shot down ShowMaker with the help of a bubble. As Doran tanked deokdam's attacks, Ruler dashed in and obliterated the enemy AD carry.
Closing out the fight with an ace and quadrakill for Ruler, the Gen.G trio then sieged the enemy base to claim the series win.
---
---
With the 3-2 victory, Gen.G has eliminated DWG KIA and will now compete in the Worlds 2022 semifinals on October 30, 2 p.m. PST | 9 p.m. GMT | October 31, 5 a.m. GMT+8.
Follow ONE Esports on Facebook and Twitter for more LoL news, guides and highlights.
READ MORE: How Gumayusi's defensive move on Xayah turned out to be an offensive gem for T1