LCK representative DRX conquers the final day of Worlds 2022 quarterfinals with an incredible victory over reigning world champions Edward Gaming.
EDG secured an early 2-0 lead in the best-of-five series, but the Korean team powered through and pulled off a reverse sweep. It goes down as the second reverse sweep ever recorded in Worlds history, with the first being Top Esports back in 2020.
In game five, it all came down to one final Drake fight. Despite Hwang "Kingen" Seong-hoon's Fiora getting picked off just moments before, Hong "Pyosik" Chang-hyeon's Viego and Kim "Zeka" Geon-woo's Sylas confidently led the quartet into the fray.
DRX Pyosik and Zeka dismantle EDG in the final fight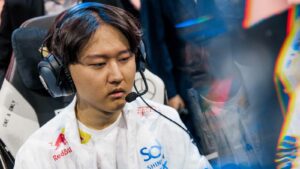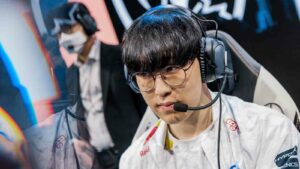 At 36 minutes, EDG took advantage of the 4v5 situation and started the Ocean Drake for a chance to put themselves at Soul Point, temporarily denying the Ocean Soul for DRX.
As the entire EDG squad focused on the Drake, Pyosik observed from the river in Harrowed Path's. The hidden Viego player then walked into the pit and stole the Drake right under their noses by smiting it at 377 HP.
After claiming the Ocean Soul, Pyosik and his squad traded blows with the entire EDG team in the river. Zeka charged in and targeted Park "Viper" Do-hyeon's Aphelios, and had to pop his Zhonya's Hourglass to stay alive.
Viper and the rest of EDG dogpiled on Kim "Deft" Hyuk-kyu's Ezreal, but Zeka would soon save the day. Right out of stasis, the Sylas player stole Akali's ultimate from Lee "Scout" Ye-chan and utilized the first charge to eliminate the Aphelios player.
With EDG's main damage dealer out of the picture, Zeka closed in on the remaining EDG players, securing the ace and the quadrakill. After the fight, DRX sieged the enemy base from the bot lane and claimed the series victory.
---
---
---
Deft celebrates his birthday on the Worlds 2022 stage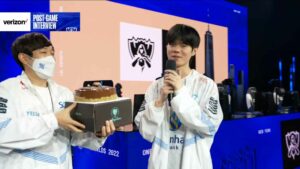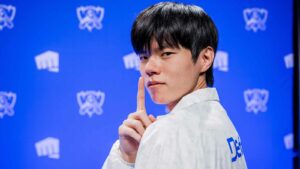 The win also comes as a perfect birthday gift for Deft, who was last seen qualifying for the Worlds semifinals back in 2014 with Samsung Blue. During the broadcast interview, the AD carry blew candles on a cake and shared his thoughts on his recent performance.
"Even if I cannot win Worlds, I want to get the impression that I'm making progress. Throughout this series, I realized that I am getting better so I'm very happy," he said.
With the 3-2 victory, DRX eliminates reigning champions Edward Gaming and will face Gen.G on October 30, 2 p.m. PST | 9 p.m. GMT | October 31, 5 a.m. GMT+8.
Follow ONE Esports on Facebook and Twitter for more LoL news, guides, and highlights.
READ MORE: In 8 seconds at 20% HP, Gen.G Ruler saved his team from Worlds 2022 elimination