The 5-star Anemo DPS character, Xiao, has one of the coolest designs in Genshin Impact. He embodies the wind element with his teal and green colors, mixed with soft shades of purple in his outfit. To top it all off, he wears a mask inspired by Chinese exorcism masks.
Also known as Alatus, the polearm user is the sole survivor of the yaksha, a race of powerful beasts once led by the Geo Archon, Morax. Xiao is one of Morax's most loyal followers and is always ready to defend Liyue from any harm in his name.
Because of his tragic backstory, many travelers appreciate his resilience and have come to support and love the Conqueror of Demons.
Now, HoYoverse has released special merchandise for fans of Xiao — a mechanical keyboard inspired by him.
---
---
Official Xiao keyboard will make any Genshin setup look sleek
The keyboard follows a teal, white, and gold color palette, inspired by General Alatus' design in-game. Its base includes Anemo Crystalflies and line art of his signature weapon, Primordial Jade Winged-Spear. 
Similar to the Keqing keyboard, the space bar on this one features Xiao's character art. A closer look at the keycaps shows the icons on his talents – Q for his ultimate, Bane of All Evil, and E for his elemental skill, Lemniscatic Wind Cycling.
Three different switches are available for this mechanical keyboard – yellow, sakura, and green switches.
It also has a white backlight, a simple touch that adds elegance to the keyboard in the dark.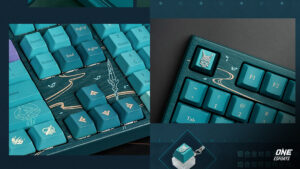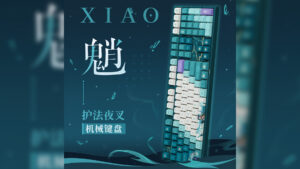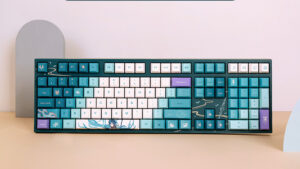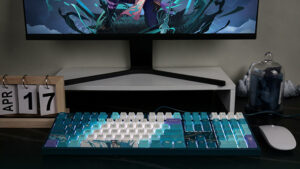 Xiao keyboard release date and price
This Genshin Impact keyboard is now available, priced at US$180 (CN¥1,299). 
Where to buy Genshin Impact's Xiao keyboard
Fans can purchase this character keyboard on Tmall (formerly known as Taobao Mall).
Love keyboards? Check out the official Keqing keyboard, this fan-made Yae Miko keyboard, or this Valorant streamer's massive mechanical keyboard collection. 
Follow ONE Esports on Facebook for more Genshin news, guides, and highlights.
READ MORE: After winning Worlds 2022, all DRX BeryL can think about is gacha games