The TI11 Last Chance qualifier winners are now in the TI11 grand final.
Team Secret walked away victorious against Team Liquid, eliminating fellow TI11 LCQ squad 2-1 in a thrilling lower bracket final match.
Despite facing the most difficult road to The International 2022, Secret are now just one series win away from their first Aegis of Champions. This also means that TI all-timer Clement "Puppey" Ivanov is close to winning his second TI.
Secret and Liquid's elimination match also had some personal storylines that made it all the more exciting. Liquid's retiring carry player Lasse "MATUMBAMAN" Urpalainen and Ludwig "zai" Wåhlberg faced their former captain Puppey and coach Lee "Heen" Seung Gon.
---
---
Team Secret get their rematch against Tundra Esports after eliminating Team Liquid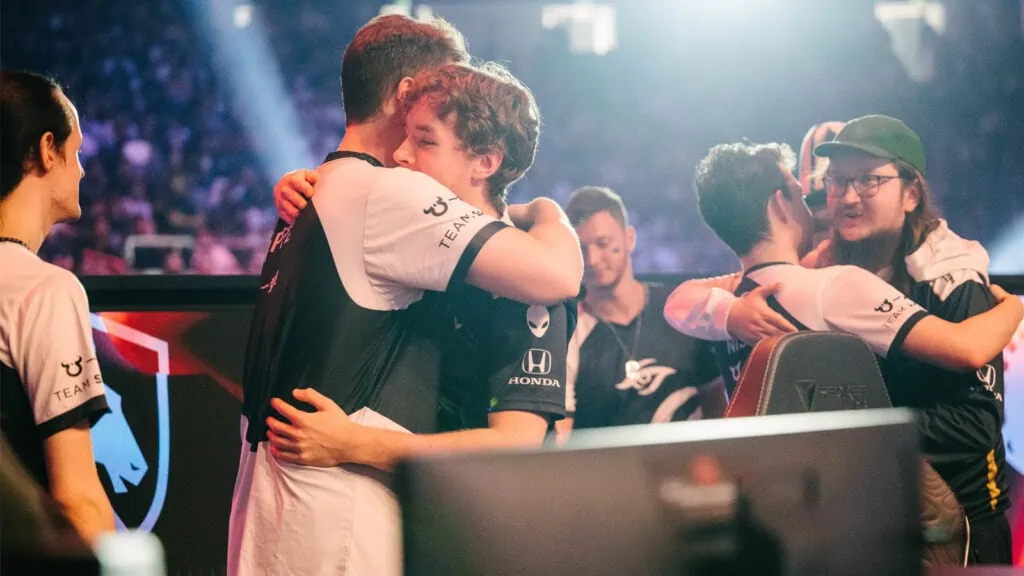 Secret opened the series by banning Marci and Broodmother, two of Liquid's strongest heroes in the tournament. In response, Liquid denied Roman "Resolut1on" Fomynok's Dawnbreaker, a hero Secret used in their game two victory against TI11 finalist Tundra Esports.
Right at the start of game one, Liquid were looking for ways to pressure their opponents. Michael "miCKe" Vu's midlane Primal Beast had a great start in the laning phase and this gave him the confidence to dive straight into Secret's heroes.
---
---
But Liquid got a bit too confident and lost their slight lead in the following team fights. Secret punished their opponents for diving into their midlane tower and slowly took control of the map.
---
---
Liquid ultimately had no answers for Michał "Nisha" Jankowski's midlane Morphling who dominated the rest of the game. Nisha's Morphling finished with a perfect 13/0/8 KDA and gave Secret a 1-0 lead in the series.
---
---
In the second game of the series, both teams banned each other's comfort picks. Secret denied miCKe's Lina and Matu's Lone Druid, while Liquid denied Nisha's Morphling and Reso's Magnus.
After an even laning phase, both teams looked to gain the upper hand by hunting for core hero kills. The deadlock was broken when miCKe's midlane Tiny and Aydin "iNSaNiA" Sarkohi's support Jakiro caught two Secret heroes in the bottom lane.
---
---
Liquid's crucial team fight win gave them a significant lead that they did not relinquish. With Matu's Sniper dealing heavy damage in team fights, Secret decided to make him their primary target. Unfortunately for the TI11 LCQ winners, Liquid was quick to respond and jumped in to save their carry.
---
---
A few team fights later, Liquid would claim the mega creep advantage and force the series to a decider game.
The final game of the series came down to both teams picking their comfort heroes. Liquid picked Lina and Lifestealer for miCKe and Matu respectively. Meanwhile, Secret drafted Drow Ranger, Invoker, and Enchantress for Nisha, Crystallis, and Puppey.
After a relatively even laning phase, Liquid took the first significant team fight of the game. MiCKe's Lina put an end to Secret's early aggression by dominating a top lane team fight with a double damage rune. With the support of his teammates, miCKe was able to push through Secret's tier one tower to secure a team wipe.
---
---
Liquid continued to pressure their opponents, pushing into Secret's side of the map. However, Matu's Lifestealer went a bit too far and Secret was able to punish their opponents, scoring a team wipe for themselves.
---
---
In an attempt to regain control of the map, Samuel "Boxi" Svahn's support Tusk and Matu's Lifestealer went for a Snowball-Infest bomb combo that had Secret running for the hills. With Secret's heroes split up, miCKe was able to dish out damage freely with his Lina.
---
---
While both teams battled for control, Puppey's support Enchantress climbed up the net worth chart. He constantly used her Enchant ability to take control of creeps and find farm around the map, putting pressure on lanes while being present during fights. The TI1 winner even equalled Resolut1on's net worth, who was playing the offlane Beastmaster. 
With Secret having four core heroes, they were able to masterfully kite Liquid in the team fight that ultimately decided the series. Even when Matu was able to pull off another unbelievable Infest save play on miCKe, Secret was still able to maneuver smoothly to win the team fight.
---
---
Liquid attempted to delay the game, but Secret just crushed the Dire Ancient to advance into TI11's grand final. Team Secret now look to get their revenge against Tundra Esports, the team that knocked them into the lower bracket.
READ MORE: Team Liquid MATUMBAMAN picks a hero he's only played 5 times to secure top 3 at TI11