Tundra Esports are now just one best-of-five away from lifting the Aegis of Champions at The International 2022.
The Western European squad capped off their journey to TI11's grand final with a hard-fought 2-1 victory over Team Secret in the upper bracket final of the tournament. Both teams came into the series on 11 straight wins.
The team has been in top form since they started their TI11 campaign, finishing with a 14-4 record in Group B, followed by back-to-back convincing wins over OG and Team Aster in the TI11 Playoffs.
Tundra are now set to face the winner of Team Secret and Team Liquid's lower bracket final match on the final day of the tournament.
---
---
Tundra Esports will fight for the Aegis of Champions after sending Secret to the lower bracket final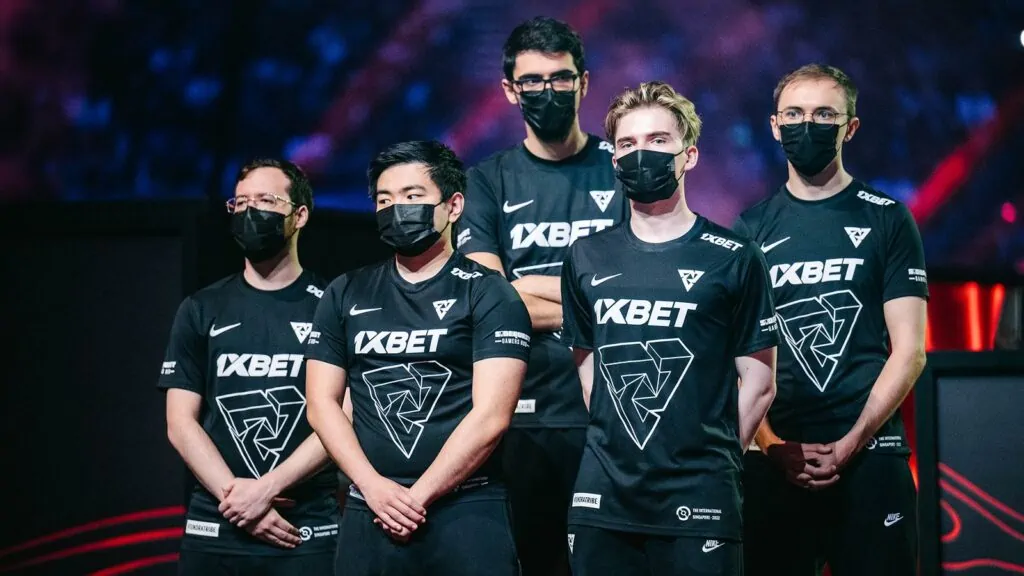 Both teams decided to go for their comfort picks in game one. Secret drafted Monkey King for Remco "Crystallis" Arets, while Tundra took the Naga Siren for Oliver "skiter" Lepko.
The laning phase was just about even except for Secret's safelane where Crystallis took a slight lead with the help of Clement "Puppey" Ivanov's support Disruptor. The two were able to impede the progress of Neta "33" Shapira's offlane Broodmother with their early game pressure.
---
---
Secret applied even more pressure in the mid-to-late game with Roman "Resolut1on" Fomynok's offlane Magnus and Baqyt "Zayac" Emiljanov's support Tusk diving into Tundra's heroes. Unfortunately for Secret, skiter's Naga Siren was always ready to reset the fight, which gave his team the opening they needed to get ahead.
---
---
Skiter and Leon "Nine" Kirilin had incredible individual performances using their heroes. Nine's Outworld Devourer and skiter's Naga Siren were able to kite back almost every fight with their defensive usage of Astral Imprisonment and Song of the Siren. The two even showed off their mechanical skill with Blink Dagger and illusion dodges.
Secret found a way to stay in the game after some base defense heroics from their players. In desperation, Crystalis picked up a Divine Rapier in hopes of turning the game around. But Tundra quickly dealt with the Monkey King to take a 1-0 lead over Secret.
In game two, Tundra were the ones that had a great start in the laning phase. Their safelane Terrorblade and offlane Visage took a slight experience and gold lead that Tundra used to build up a significant lead.
---
---
But Secret's CIS duo of Baqyt "Zayac" Emiljanov and Resolut1on made all the difference in the following game. Zayac caught multiple Tundra heroes using Nyx Assassin's Impale. Meanwhile, Resolut1on deleted Tundra's cores with his farmed Dawnbreaker.
---
---
With the support of Zayac and Resolut1on, Crystallis was free to dish out damage on his Drow Ranger, finishing game two with a rampage.
With a grand final berth on the line, Tundra gave Nine one of his unorthodox midlane heroes in game three — Tusk. Despite losing his lane, Nine was able to recover quickly and take over the game. Martin "Saksa" Sazdov's Tiny and Wu "Sneyking" Jingjun's Mirana punished Secret's aggressive play and gave Tundra a mid-game lead that they would not relinquish.  
---
---
Tundra's lead eventually snowballed out of control and Secret was forced to stay inside their base. Similarly to game one, Secret relied on Crystallis's Gyrocopter picking up a Divine Rapier to turn the game in their favor. However, the outcome remained the same — Tundra steamrolled through Secret's defenses to win the series.
---
---
READ MORE: Wicked sick! Ember Spirit cosplayer carries the torch at TI11, brings home US$3,000