The captain of Team Secret, Clement "Puppey" Ivanov, became the first player to attend every International.
Making his tenth appearance at TI10, he's overtaken long-time TI rival Kuro "KuroKy" Salehi Takhasomi's nine appearances.
Team Secret's third-place finish at TI10 is another for the history books: Puppey is the only player so far to take every TI placing in the playoffs, from first place all the way to 13-16th.
---
---
Puppey's performance at TI10 is his best TI placing in 8 years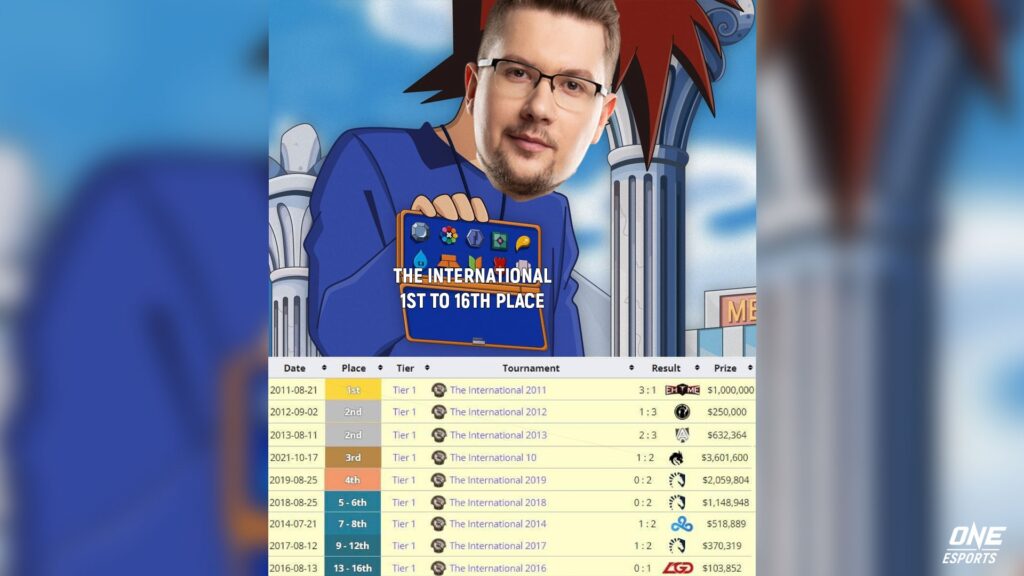 Puppey's TI placements have followed an interesting trajectory. After winning TI1, his placing at The International tournaments started to slowly deteriorate every tournament.
He placed second in TI2 and TI3. He then placed 7-8th in both TI4 and TI5. His worst placing was during TI6, when he finished 13-16th in the tournament.
However, since TI6, Puppey has had a strong upward trajectory at The International. He finished 9-12th in TI7, 5-6th in TI8, and 4th at TI9. At TI10, he placed third, his best performance with Team Secret so far.
Puppey himself has noted this trend. In his exit interview at TI10, he candidly stated that his next TI placing will be second, then first.
Hungry for more Dota 2? Check out the Heroes of the Game documentary presented by foodpanda.
READ MORE: Desk shaking and tactical trash bags were all part of the mind game meta at TI1