The esports and gaming world can be a tough industry to break into, and it can be even more daunting as a woman. In a male-dominated field, there's noticeably less female presence in professional gaming.
The industry is starting to change, however, with the addition of all-female leagues to develop female talent, and more inclusivity from teams. As more and more women enter esports, there's a conscious effort to move towards gender equality.
There are several leading ladies in esports who are carving out space for female representation, not just in-game, but behind the scenes, in the media, and in positions of power as well.
Here are 5 women that are making their mark in the esports industry and beyond, showing that gaming knows no gender:
---
Sasha "Scarlett" Hostyn
Earning Sarah Kerrigan's nickname "the Queen of Blades" for her proficiency as a Zerg player, Sasha Hostyn is the first woman to win a major Starcraft II tournament. She was also named the highest-earning female competitive video game player by the Guinness Book of Records in 2016, with more than US$362,000 to her name in prize money, a record previously held by Katherina "Mystik" Gunn.
She was often the last Caucasian standing in Asian-dominated Starcraft tournaments that she was also nicknamed "Korean Kryptonite" as a testament to her prowess in the game. Her win against Choi "Bomber" Ji-sung in the Red Bull Battle Grounds New York City in 2013 was hailed by commentator Sean "Day9" Plott as one of the best professional Starcraft II matches of all time.
A transgender woman, Scarlett has never made gender a topic of discussion in her career, and proved it was never needed. Still an active presence in the Starcraft II scene, she's currently playing on Shopify Rebellion.
---
Eefje "Sjokz" Depoortere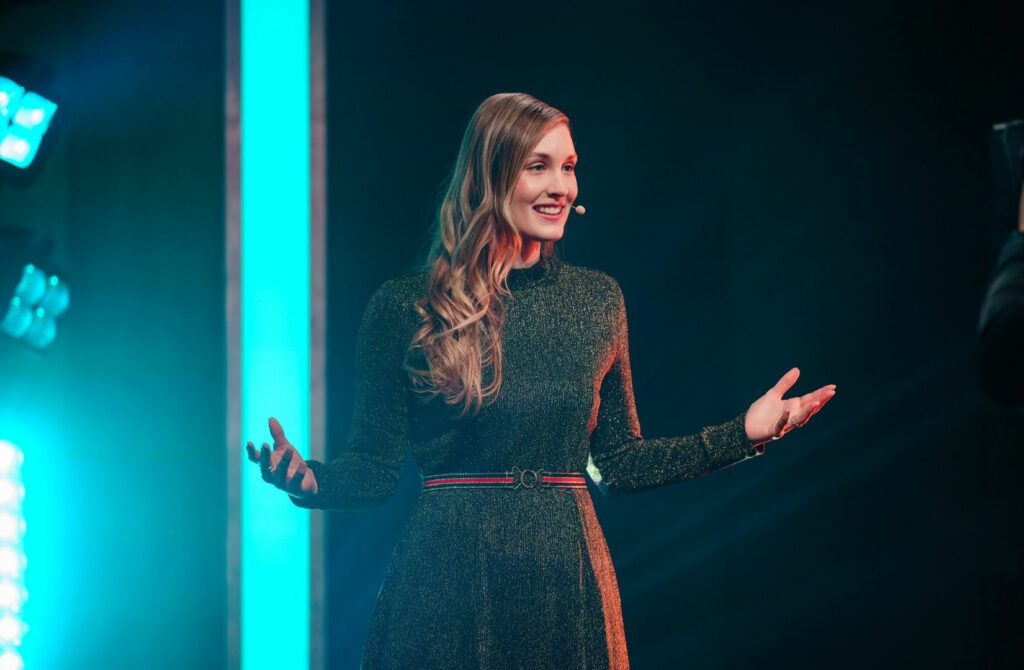 Eefje "Sjokz" Depoortere has become such a recognizable voice in esports, having been the host of the League of Legends World Championship, and the LEC. She's also had experience as a competitive player, having joined several local League of Legends competitions in her region, and even the Belgian national team.
She has a Masters degree in history and journalism from Ghent University, and she managed to merge her love for gaming and journalism by becoming a freelance esports journalist. She became an interviewer for SK Gaming and the CyberSportsNetwork, and hosted a weekly show called Summoners Recap.
Recognized by The Game Awards and the Esports Awards as Best Esports Host for 4 years in a row since 2017, Depoortere has brought esports hosting to a new level, backed by broadcast experience, game knowledge, and showmanship.
Did you know she won a beauty pageant in Belgium too?
---
---
Tricia "megumixbear" Sugita
Currently the CEO of League of Legends team FlyQuest, Tricia "megumixbear" Sugita got her start as an esports host and personality for IGN. She then went on to be Director of Esports for streaming platform Azubu, and Head of Partnership for Immortals before landing the position of COO of FlyQuest.
Since being promoted to CEO in January 2020, FlyQuest has been active in promoting environmental initiatives under her direction, like their eco-friendly gaming house called "The Greenhouse Training Facility". They also launched a tree-planting pledge that was tied to their performance at the 2020 LCS Spring Finals, in partnership with OneTreePlanted Organization.
FlyQuest was also one of the first esports organizations to publicly support the Black Lives Matter movement.
For Sugita, embodying the #ShowcaseGreatness tagline of FlyQuest is important in-game and in all aspects of life.
---
Maria "Remilia" Creveling
Maria "Remilia" Creveling was a former League of Legends pro player and streamer. She began her professional career in 2013, competing in the NA Challenger Series. She joined several Challenger-level teams, and was credited as both the first woman and the first transgender to play in the NA LCS.
She would often shy away from the spotlight, especially when she became victim to sexual harassment regarding her body post-gender reassignment surgery. She did, however, thank the fans that stood by her.
"When I lose confidence in myself, they believe for me and it makes me cry. Thank you guys," she wrote in a tweet dated last November 2019.
Remilia passed away in 2019 at the age of 24. The cause of death was kept private by friends and family. Remembered by loved ones and fans worldwide, she has earned her place in the history of esports, and continues to be an inspiration for female-identifying gamers to this day.
---
Nicole LaPointe Jameson
Nicole Jameson is the first African-American woman to hold one of the highest positions in an esports organization.
Jameson took the position of CEO of Evil Geniuses in May 2019. Coming from a non-esports and very corporate background, her approach was different. While her direction at first turned heads from long-time fans and former EG executives, Jameson has proven naysayers wrong by reviving the team, signing new partnerships with brands, and expanding their staff.
EG has since been championing inclusivity and diversity in esports, building it into the heart of their brand. In January 2021, Evil Geniuses became the first major esports team to sign a mixed-gender squad for Valorant.
"I don't care where you come from. Nor your creed, gender, religion, class, past industry, or sexual orientation," says Jameson in a tweet. "If you are the best of the best, you have a home here at Evil Geniuses."
READ MORE: Evil Geniuses is the 14th team to qualify for the ONE Esports Singapore Major