Esports host Eefje "Sjokz" Depoortere will not be hosting the Mid-Season Invitational 2022 (MSI 2022).
The 34-year-old instead chose to be the desk host at the PGL Antwerp CS:GO Major, which runs from May 9 to May 22 and clashes with MSI, which will be held between May 10 to 29.
---
---
Sjokz will not be the desk host at MSI 2022
Although Sjokz is a familiar and beloved face on Riot broadcasts, especially in the LEC, MSI, and Worlds, fans will not see her interview players or be on the desk this time round.
"This was a very hard decision to make, and I'm thankful Riot understand," the Belgian explained on Twitter. "To be part of a Major in my home country is an honor I didn't ever think I would get."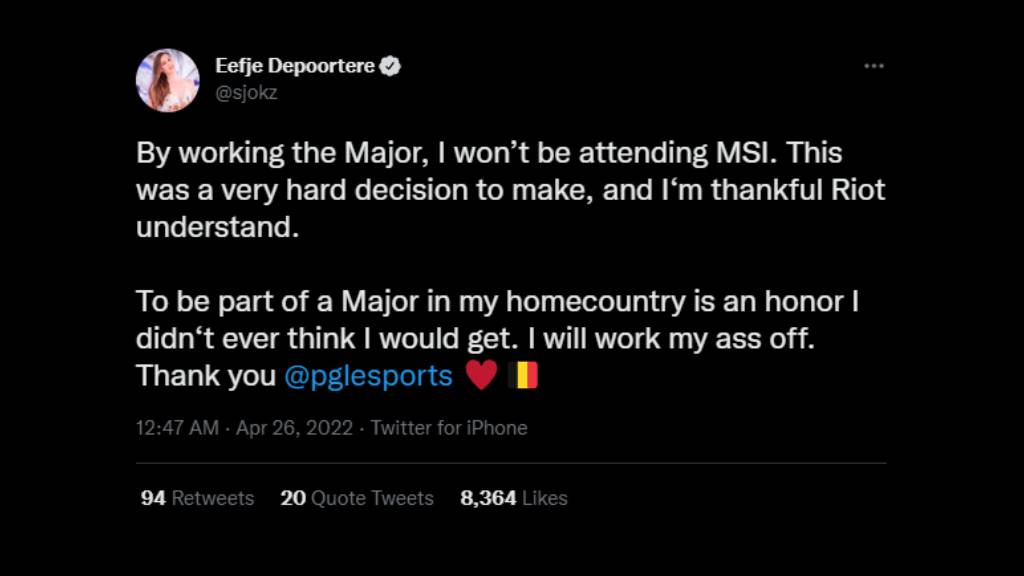 It is the first time a CS:GO Major is being held in Belgium. She is also a noted CS:GO fan, calling the first-person shooter her "first love".
At the time of writing, Riot Games has not announced the broadcast talents that will work at MSI, which will be held in Busan, South Korea. The English broadcast talents have operated remotely from Los Angeles and Berlin for the past few international events, though it is unclear if Riot will proceed with the same arrangement again.
Check out the MSI group draw here.
READ MORE: LPL representative at MSI will play remotely with 35 ping due to COVID-19