The Genshin Impact community has completely fallen in love with Kamisato Ayaka's older brother, Ayato.
HoYoverse's trailers and official demo showcased the beauty and elegance of the current head of the Kamisato Clan.
Lujiuerhei's insanely realistic Kamisato Ayato cosplay brings the upcoming Hydro character to life, complete with his favorite drink.
Genshin Impact fans are looking respectfully at this Kamisato Ayato cosplay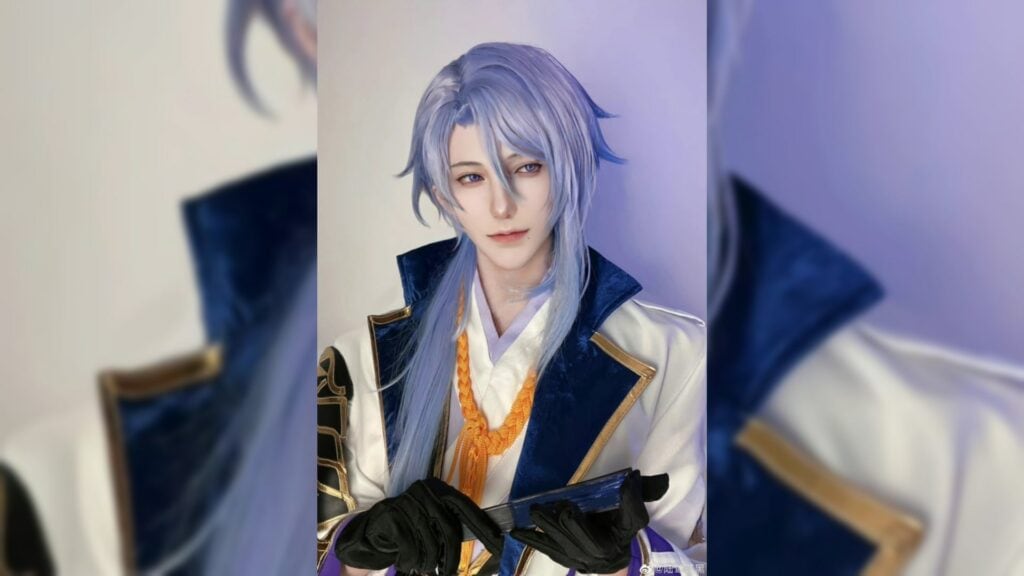 Chinese cosplayer Lujiuerhei (@lujiuerhei on Instagram) stunned Genshin players with his Kamisato Ayato cosplay. The cosplayer accurately captured Ayato's default look, from his signature cerulean hair to his pale indigo eyes.
His make-up is absolutely flawless, nailing down the character's thin eyebrows and lips, and gentle fox eyes.
---
---
Lujiuerhei's cosplay includes a large cup of milk tea, obtained in-game from Tomoki's street food stall located at the heart of Inazuma City.
"Sir Kamisato of the Yashiro Commission visited my shop last time and took a liking to our milk tea," the NPC exclaimed.
Ayato's idle animation shows him pulling out a cup of milk tea from his sleeves.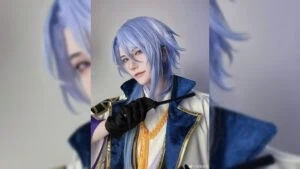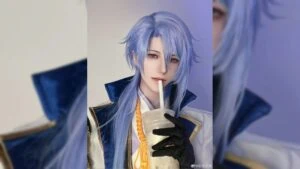 The cosplay also showcases Ayato's indigo hand fan, a seemingly staple accessory between the Kamisato siblings.
In a more formal photoshoot, Lujiuerhei completes his Ayato cosplay with a life-size replica of the 5-star sword, Haran Geppaku Futsu. The Genshin Impact weapon matches the commissioner's beauty and grace with its wave detail and lovely blue color reminiscent of the ocean.
Another photo shows the Ayato cosplayer holding a kitsune mask while giving a heart-stopping gaze to unsuspecting travelers.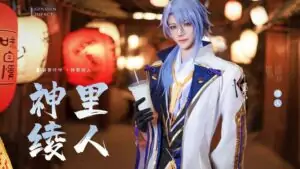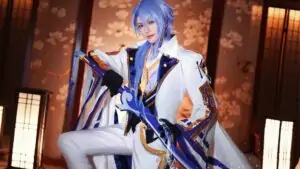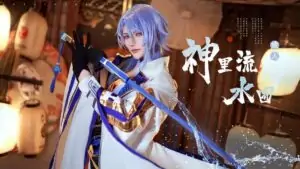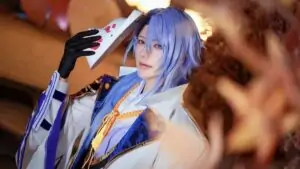 Ayato is one of the featured 5-star characters in the version 2.6 character event wish alongside the Anemo Archon, Venti.
Aside from Kamisato Ayato, Lujiuerhei has also cosplayed a bunch of Genshin characters such as Albedo, Kaedehara Kazuha, and Xiao. Lujiuerhei is best friends with Weilanran, a Genshin fan who has perfectly cosplayed the geo Archon, Zhongli.
---
---
READ MORE: The most perfect Zhongli cosplay exists and I can't breathe