Call of Duty Warzone Pacific Season 2 introduces fresh ways to play the battle royale game, including new weapons, armored war machines, bomber planes, and the deadly Nebula V gas.
The KG M40 is a brand new assault rifle that arrived with the Season 2 update. Raven Software describes it as a reliable "workhorse" that's "naturally steady and accurate", a nod to its low recoil. This build will help you capitalize on the gun's easy handling and turn it into a veritable laser beam for taking on enemies at range in Caldera.
Here's a look at the best KG M40 loadout for Warzone Pacific Season 2, according to streamer James "JGOD" Godoy.
---
The best KG M40 loadout for no recoil and longer range, according to JGOD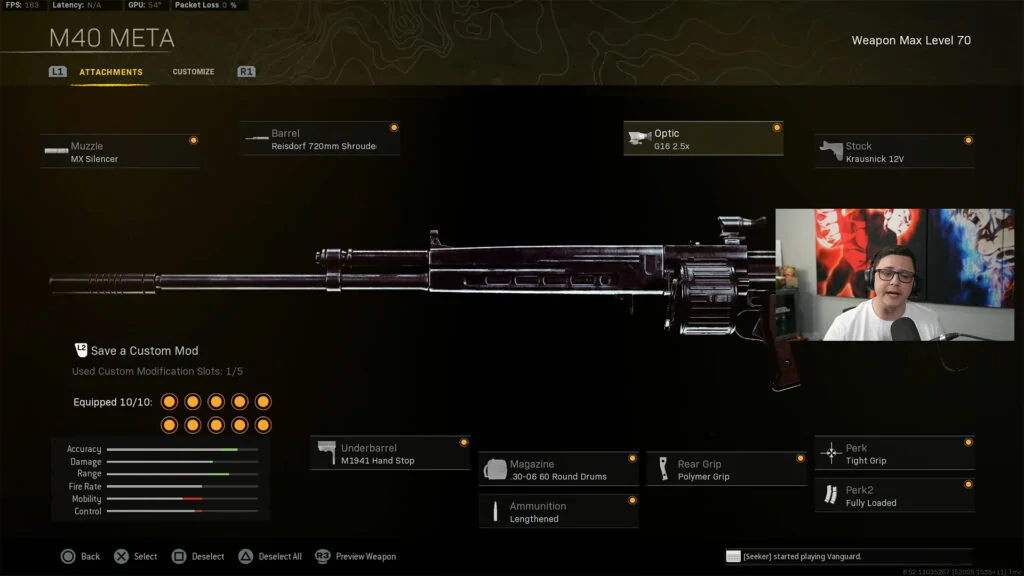 | | |
| --- | --- |
| SLOT | ATTACHMENT |
| Muzzle | MX Silencer |
| Barrel | Reisdorf 720mm Shrouded |
| Optic | G16 2.5x |
| Stock | Krausnick 12V |
| Underbarrel | M1941 Hand Stop |
| Magazine | .30-06 60 Round Drums |
| Ammunition | Lengthened |
| Rear Grip | Polymer Grip |
| Weapon Perk 1 | Tight Grip |
| Weapon Perk 2 | Fully Loaded |
The KG M40 can be unlocked for free at Tier 15 of the Season 2 Battle Pass. It's said to have a similar effective range as the NZ-41 and a fire rate above 600 RPM, according to the patch notes.
JGOD favors the MX Silencer over the Mercury variant because it improves both vertical and horizontal recoil. While it lowers your aim down sight speed, that isn't as significant if you're building the KG M40 to be a longer-range weapon.
The streamer also prioritizes higher bullet velocity and recoil control, which is why he opts for the Reisdorf 720mm Shrouded barrel. This particular barrel reduces scope sway and gun bob as well, an added benefit for distant engagements.
The choice of optic depends on your playstyle and whether you're playing on PC or console, but JGOD goes with the G16 2.5x as a console player.
The Krausnick 12V stock further adds recoil control, accuracy, and aiming stability – all key to winning long-range fights.
---
---
For the first weapon perk, he springs for Tight Grip, one of the most potent in the game. It increases accuracy during continuous firing, so you can easily trace enemies that are trying to get away. The Polymer Grip is an excellent pairing for Tight Grip, improving accuracy and recoil during sustained fire.
Following that, the .30-06 60 Round Drums magazine was selected because it has a slightly higher damage per magazine. Finally, lengthened ammunition adds faster bullet velocity, so your shots don't fall off as much.
Overall, JGOD says this loadout gives the gun outstanding bullet velocity that's on par with the RAM-7, making it perform almost like a hitscan weapon.
However, he cautions that the KG M40 is only strong because of its low recoil, and it might still struggle against other weapons that have a lower time-to-kill.
For a look at the complete stats of the new KG M40, you can check out JGOD's video below.
READ ALSO: FaZe Swagg built an insane US$10,000 gaming PC just for Warzone